Former WWE Superstar and most recently AEW star Jon Huber has died at the age of 41.
Jon Huber, who was better known as Luke Harper in WWE and Brodie Lee in AEW, died Saturday.  The news originally broke via AEW's twitter account.  The cause of death was not immediately known.  However, Huber's wife revealed via her social media he had died from a non-COVID related lung issue.
RELATED: KEITH LEE'S LOSS IS PUNISHMENT ACCORDING TO VINCE RUSSO
"I never wanted to write out those words. My heart is broken. The world saw him as the amazing @brodielee (fka Luke Harper) but he was my best friend, my husband, and the greatest father you would ever meet. No words can express the love I feel or how broken I am right now. He passed surrounded by love ones after a hard fought battle with a non-Covid related lung issue. The @mayoclinic is literally the best team of doctors and nurses in the world who surrounded me with constant love…," Amanda Huber said.
Jon Huber And The Wyatts Leave Their Mark On WWE
After a well regarded indie wrestling career Huber joined NXT known as FCW at the time as Luke Harper. He became one of the members of Bray Wyatt's Wyatt Family in 2012. Eventually Harper won the NXT Tag Championships with fellow Wyatt Family member Erick Rowan.
The group was called up to the main roster and began a reign of terror. The Wyatts had feuds with Daniel Bryan, CM Punk, Kane and The Shield. Eventually the members of the Wyatt Family went their separate ways and began singles careers.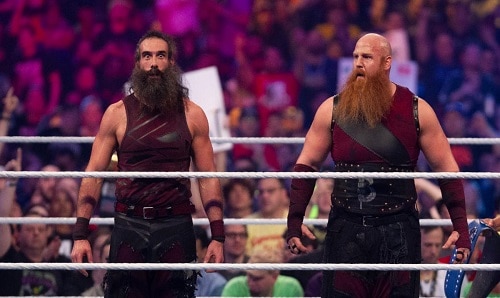 Luke Harper On The Loose
Harper achieved some success as a singles wrestler. The peak of his WWE singles success was Harper defeating Dolph Ziggler for the Intercontinental Championship. Harper's talent started to become noticed by fans and started to gain in popularity. However, the pull of the Wyatt Family was too strong and Harper eventually joined Wyatt again.
RELATED: TONY KHAN HOPES TO HAVE BRODIE LEE BACK "SOON"
WWE wanted to put Harper back in the tag division. Harper joined a tag team not as a member of the Wyatts. However, his partner was the same as he began tagging with Rowan again. The pair started going by The Bludgeon Brothers and once again became a duo to be feared in the tag division.
On Dec. 8, 2019, Harper was released from WWE. Like almost everyone who leaves WWE he ended up in AEW.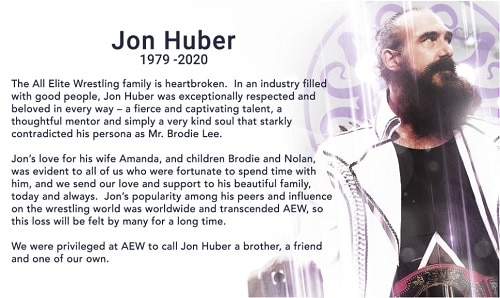 Brodie Lee Enters AEW
In March, Jon Huber made his AEW Dynamite debut as The Exalted One, Brodie Lee, and revealed himself to be the leader of the Dark Order.  Lee amassed an undefeated streak and eventually challenged Jon Moxley for the AEW World Championship which Lee came out on the losing end of.  In a short time Lee won singles gold by defeating Cody Rhodes for his TNT Championship.  Lee held the title for 46 days before losing the championship to Cody in October.  This would be his last match as he was sidelined with an injury.
Huber had a promising career ahead of him. He was starting to get recognized as a real talent and looked to be on the cusp of becoming a top level talent. This death is truly shocking as Huber died at 41 and Tony Khan was quoted as saying Lee was supposed to come back very soon. It was clear they had plans for him once he returned.
We hear at The Illuminerdi express our deepest condolences to the Huber family.  Jon Huber is survived by his wife and two children.  
KEEP READING: IS LANA BEING PUNISHED BECAUSE OF HER HUSBAND'S MOVE TO AEW?
Source: WrestlingNews, Amanda Huber Instagram