Keith Lee is on the naughty list and his loss this past week is the first step of his punishment according to Vince Russo.
Recently ex-WWE, WCW and TNA writer, sometimes booker and WCW World Heavyweight Champion Vince Russo sat down with Sportskeeda's Legion of RAW show. The subject of Lee going back to NXT came up. A few Superstars are going back to NXT to work a bit on their in-ring polish. Omos, Otis, Dabbo Kato, Dio Maddin (Mace of Retribution) and Lee being the bigger names.
Is Keith Lee Being Put In His Place?
However, Russo thinks that Keith Lee being sent back down is a little more complicated than needing polish. This week on RAW Lee lost clean in a handicap match against Miz and John Morrison. Russo saw that as Keith Lee being taken "down a few pegs" by WWE.
"Here's the fascinating thing to me. Okay? We read earlier in the week that Keith Lee was sent back to NXT for training during the week. So when I'm seeing Keith Lee get beat here, this is them taking Keith Lee down a few pegs. I know how it works. 'This guy thinks too highly of himself, let's take him down a few pegs,'" Russo said.
Did Vince Russo Get Hit On The Head With A Tennis Racket?
I don't agree with any part of what Russo said. WWE sending Superstars back to NXT is becoming more and more common. It's not the absolute death sentence it once was. Tyler Breeze and Fandango were excellent on the main roster, especially Breeze. Their characters just don't work as well on the main roster.  Ember Moon is back in NXT because she is coming back from an injury and NXT needs another capable female competitor. Finally Finn Bálor is the NXT Champion and Bálor was hugely popular on the main roster. None of these people are being punished by being back in NXT.
RELATED: CHARLOTTE FLAIR AND ANDRADE MAY RETURN TO WWE AS A COUPLE
Another way to look at Lee's loss is not to make Lee look weak or punish him but to make Miz and Morrison look strong. Miz and Morrison are a top tier tag team and Miz has the MITB briefcase. The pair could be broken up soon and they need momentum after the break. I honestly hope they break up because as much as I like Miz he is holding down Morrison. Morrison is an amazing talent and should be at mid-card level at least. Put him against Ricochet or Rey Mysterio and watch the magic happen.
NXT Is Just Additional Training In The Age Of COVID
It is quite possible that WWE needs Keith Lee to work on a specific area but a minor area of improvement, asked to go back to NXT or WWE has someone they want Lee to feud with. WWE and NXT are not on the road because of COVID so it's easy to send people over to NXT for a wide variety of reasons both big and small.
RELATED: VINCE MCMAHON QUESTIONS THE LONGEVITY OF ALEISTER BLACK'S CHARACTER
Keith Lee was the first and only double champion in NXT history as he held the North American and NXT Championship. He was an absolute force to be reckoned with in NXT and had become very popular. Russo believes that Lee being sent back to NXT means Vince is out of touch and doesn't watch NXT.
"Here's my question. Think about this, for a second, which blows my mind. Now bro, when I worked with Vince, Vince did not watch ECW. Vince did not watch WCW. It was WWE 24/7. He never watched the competing product. I'm just getting blown away because now Vince is sending Keith Lee back to NXT because Vince is deeming that he's not ready. Okay so then my question is, then why was he brought up in the first place, which leads me to answer, Vince never saw him work in NXT. So I understand you don't watch ECW, NXT is the WWE bro, it ain't WCW. This is your minor league company. Bro, he's not watching it. For you to bring this guy up and deem he's not ready and he needs to go back down, you weren't watching him," Russo said. H/T to SK Wrestling for transcription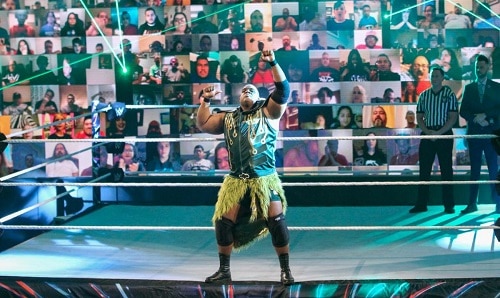 Vince Having To Approve Every Little Thing Would Be Insane
Russo is giving Vince way too much credit with what he does on a daily basis. Vince has final say on everything, but he doesn't decide everything. That would be insane for Vince to sign off on every bit of everything which happens in his huge company. I can almost guarantee Triple H came to Vince if he did at all and said "this guy is ready" and Vince gave his ok.
I also happen to know from podcasts with wrestlers being interviewed that almost none of the main roster people watch all the WWE brands or wrestling outside of WWE. As much as they love wrestling they are just too busy. Vince is no exception and he is old and doesn't have the energy for that.  Hence him giving Triple H NXT to look over.
If WWE was upset with Keith Lee and didn't like him why would they have a documentary of his career on the WWE Network? Obviously WWE sees value in him and ego doesn't send people back to NXT or we would have seen guys like Enzo Amore sent to NXT before. All the move back to NXT means is that they like Lee and want to see him thrive with additional training.
We will just have to watch what happens with Keith Lee in the near future.  
Do you see Lee losing on RAW and going back to NXT as a punishment? Is there someone in NXT who Keith Lee hasn't wrestled who you would like to see him go against? Hit those comments with a giant Spirit Bomb and show us how Limitless you are.
KEEP READING: CM PUNK DISCUSSES HIS THOUGHTS ABOUT GOING TO NJPW
Sources: Sportskeeda, Legion of RAW