Like valedictorian speeches, wedding toasts, or trailers before a movie, Agent Revelation has a lengthy and convoluted build-up before delivering on the goods its audience paid for (in this case B-movie sci-fi action).
The new film from writer/director/star Derek Ting has a solid idea at its center as well decent sets, effects, and action in its second half, but is marred by confusing editing and an exposition-heavy first act that may test some audiences' patience.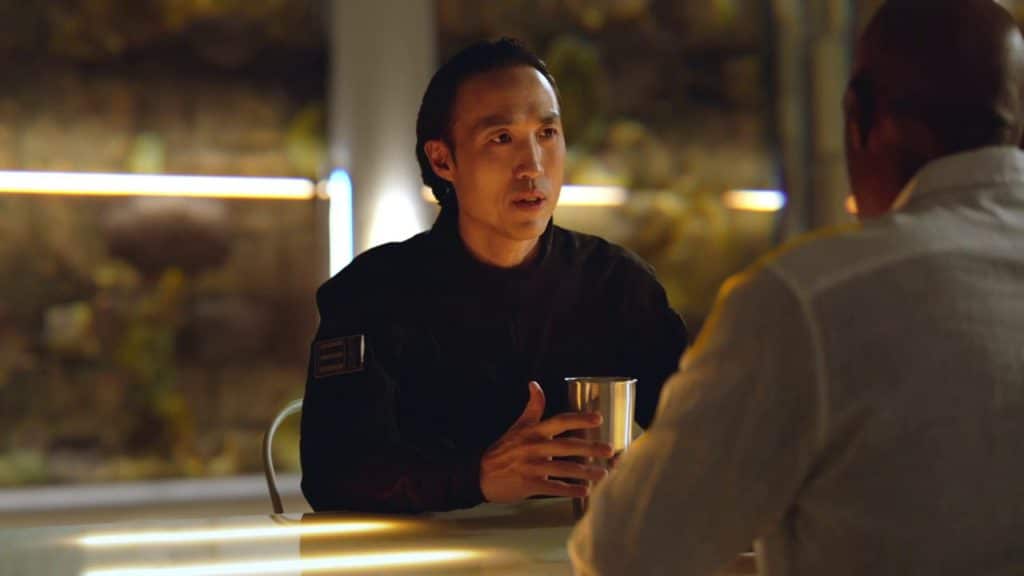 Jim (Derek Ting) wakes up in a secret military base. After surviving exposure to an alien substance, he has gained superpowers and now must train with soldiers to master them and defeat the alien race that holds a tight grip on planet Earth, all while gripping with past trauma.
Agent Revelation Official Trailer
Agent Revelation has some things going for it. Along with the action and effects, Ting does well enough in the lead. Outside of Kayla Ewell and Michael Dorn, the cast is largely made up of rising stars, and while I don't picture anyone winning any major acting awards for this, they're all passable.
RELATED: MAX CLOUD REVIEW: SCOTT ADKINS' SCI-FI COMEDY IS A SUPER RETRO BLAST
The problem with Agent Revelation is that flashbacks and heavy exposition are the soup of the day for the first 45 minutes, with only a few brief training sequences to break it up. When the action does kick into gear, Ting's direction is fine and he works convincingly as an action hero.
Many of Hollywood's biggest A-listers started out in B-movies just like this (George Clooney in Revenge of the Killer Tomatoes or Marisa Tomei in The Toxic Avenger come to mind), so only time will tell if Ting or the other cast members break out from Agent Revelation for lengthy careers.
RELATED: ARCHENEMY REVIEW: A MIND-BENDING MELDING OF GRITTY REALISM AND COSMIC FANTASY
After a rough start, Agent Revelation delivers just enough fun sci-fi action for those willing to wait for it and hints at greater potential for Derek Ting. Hopefully we'll see more from him. See it if you like B-level sci-fi, skip it if you don't.
Agent Revelation premieres on VOD on January 22nd, 2021.
KEEP READING: SHADOW IN THE CLOUD REVIEW: ELEVATING GREMLIN STORYTELLING TO NEW HEIGHTS