Riddle decided to hang out with WWE legend Gillberg after his appearance on RAW, but didn't waste the opportunity to take a shot at Goldberg.
This week on RAW Miz and John Morrison had their The Dirt Sheet segment.  They invite wrestlers to come down to the ring for a sit-down interview.  This week the pair had none other than the most overrated wrestler of all time, Goldberg. 
RELATED: DREW MCINTYRE TESTS POSITIVE FOR COVID-19 BUT GOLDBERG IS STILL NEXT
However, after his music hit Gillberg hit the stage, not Goldberg.
Gillberg Tells Us "Who's Next"
Gillberg has been used many times by WWE and wrestlers to mock Goldberg. Miz and Morrison asked Gillberg about how he feels going into his match against Drew McIntyre at Royal Rumble. However, before they could dig deep into Gillberg's gameplan McIntyre's music hit. A fat man from New Jersey came to the ring with a terrible Scottish accent, but a giant beautiful buttcrack he showed the world.
After RAW ended Gillberg hung out with old friends and made some new ones as well. One of those new friends was Riddle who took the time to talk with the wrestler with 30 years of wrestling experience under his belt. We have evidence of their new friendship via Riddle's Twitter where Riddle had a comment directed at Goldberg.
"Real legends are your Bros and this stallion is 10 times the man Willy G could ever be!"
Riddle And Goldberg Have A Bit Of A History
I agree with the statement completely, but I can see how it could get him in hot water.  I was very excited to see the WWE legend as we haven't seen Gillberg in many years.  Gillberg bears a striking resemblance to Goldberg, but they have two key differences.  Gillberg is half the size of Goldberg, but has twice the talent.
Riddle and Goldberg have not had the best relationship and it started in 2019. During the awful Undertaker vs Goldberg match in Saudi Arabia Goldberg tried to Jackhammer Undertaker. However, Goldberg botched the move and was razor close to dropping Undertaker on his head. After the match Riddled tweeted "worst wrestler in the business." Which is a completely true statement. This led to an awkward encounter at that year's SummerSlam.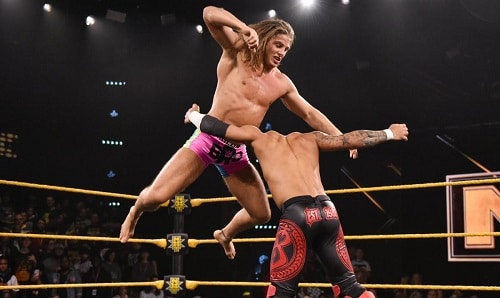 Feuding On Twitter
This is not uncommon for wrestlers to feud over Twitter and try to start a wrestling feud. Chris Jericho and Kenny Omega did it and Young Bucks and The Revival as well.
Goldberg is a big name and if Riddle wrestled him it would elevate Riddle. The problem is I don't know if Riddle is experienced enough to be able to carry a match with Goldberg. Another problem is I don't know if Goldberg would understand the tweet is Riddle is trying to set up a feud.
RELATED: CARDI B AND LACEY EVANS BICKER BACK AND FORTH ON TWITTER
Currently Riddle is in a feud with the Hurt Business and more specifically Bobby Lashley. This will eventually turn into a United States Championship match.
Goldberg will appear next week on RAW so we will see what his reaction will be to Gillberg, and maybe they will even interact.  What a treat that will be for Goldberg to interact with someone 100 times more talented than himself.
Are you excited to see more Gillberg?  Do you think this tweet will start a feud with Riddle and Goldberg? Jackhammer a comment or two and let us know what you think.
KEEP READING: A SURPRISE DEBUT FOR OMOS IS TEASED BY AJ STYLES AT ROYAL RUMBLE
Source: ProWrestling