AJ Styles teases a possible debut of Omos at this year's Royal Rumble.
Styles has been a guy not to be taken lightly since debuting in 2016. In that time he has won the WWE Championship on two separate occasions. He is a crafty veteran with more than a few tricks up his sleeve and has gotten the victory more times than I can count because of it. 
RELATED: RIDDLE RE-SIGNS WITH WWE AFTER TOUGH NEGOTIATIONS
However, since getting his bodyguard, Omos, he has become even more of a challenge to beat. He is 7 foot, 3 inches and is a looming presence anytime Styles wrestles. He was Akira Tozawa giant ninja and then offered his services to Shane McMahon over at RAW Underground. However, now he is Styles' ace in the hole when it comes to winning matches.
Styles To Enter The Royal Rumble But How Is Omos Involved?
Last week on RAW Styles officially announced he is entering the Royal Rumble match.
This week on WWE's The Bump, Styles talked up Omos and what he is capable of in the ring. Styles even went on to tease something happening with his bodyguard at Royal Rumble.
"Omos is just showing you guys a taste of what he can do. He is much more than just a guy who can throw a karate kick 7-foot high. He's much more than that. We've got a lot more to show you. Who knows what's gonna happen next. You know, the Royal Rumble is around the corner. Think about that," Styles said.
We don't know what Styles meant by this comment. Maybe he was just talking and trying to intimidate everyone else who enters this year's Royal Rumble match. Everyone would be looking over their shoulders in case Omos makes his way to ringside. He just may reach up and snatch someone out of the ring and ensure Styles' victory.
Will Omos Enter The Royal Rumble?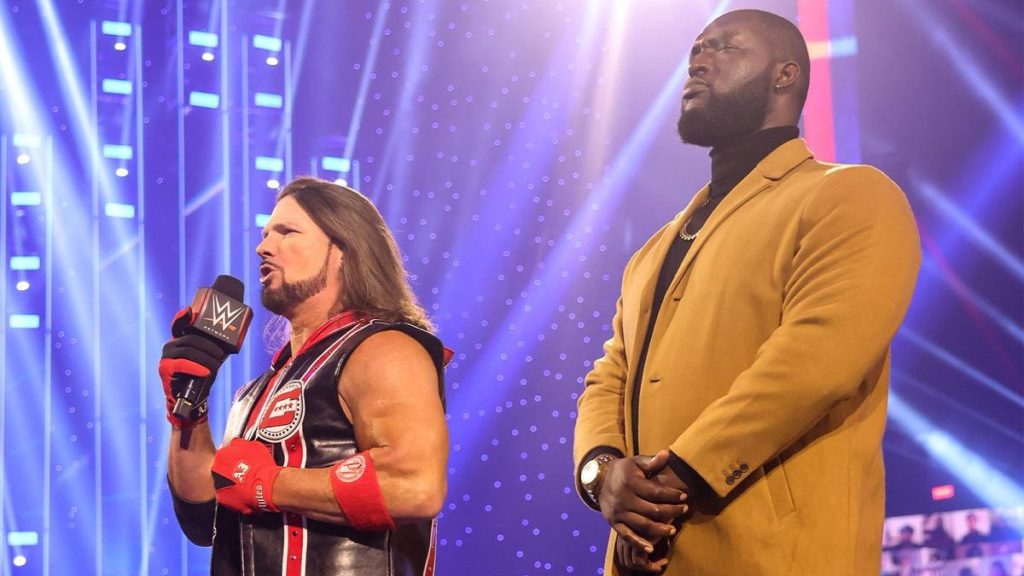 Another possibility which is most likely what Styles was alluding to is Omos actually entering into the match and helping Styles eliminate Superstars and ultimately win the Royal Rumble match. This would be a huge advantage for Styles. I mean a 7 foot tall advantage if you catch my drift.
Another possibility is a simple match at Royal Rumble with Omos vs someone. It is also possible the giant will jump someone and that will set up a feud with him or Styles and that person. Styles may just be teasing that run-in for a match.
RELATED: NEVER SAY NEVER TO A BOOKER T IN-RING RETURN
What do you think this tease is for? Do you think Styles can win the Royal Rumble with Omos' help? Do you think Omos himself will win the Royal Rumble? Who do you want to see him wrestle in his first feud? Leave your thoughts below in the comments or over on Twitter.
KEEP READING: DREW MCINTYRE TESTS POSITIVE FOR COVID-19 BUT GOLDBERG IS STILL NEXT
Source: SportsKeeda