There is nothing better than a good flick with a good soundtrack. Marvel's latest project, WandaVision, with Elizabeth Olsen as the Scarlet Witch and Paul Bettany as the Vision, continues their adventures in a twisted television reality. Along with the premise, is a score that reflects the different eras seen on the hit show.
A new soundtrack for the show's first two episodes has been made available with more installments to be released in the weeks to come. You can listen to the soundtrack right now by clicking HERE. Marvel has released a press release for the upcoming soundtrack and here is what they had to say.
WandaVision Soundtrack Episode 1-2 Press Release
Walt Disney Records releases today WandaVision: Episode 1 Original Soundtrack and WandaVision: Episode 2 Original Soundtrack. Debuting Jan. 15 exclusively on Disney+, Marvel Studios' "WandaVision" has already won high praise from both critics and fans. The third episode debuts today.

The digital soundtracks feature score by composer Christophe Beck ("Frozen 2," "Ant-Man and the Wasp") and the original theme songs are by Kristen Anderson-Lopez and Robert Lopez ("Frozen"). The Oscar®-winning songwriters penned unique songs for several episodes in the series, spanning from the 1950s to the early 2000s.

Beck composed and produced all score tracks on each WandaVision album. On composing unique scores for all nine episodes, Beck said "For each era, the music is a loving homage to the sitcom scores typical of the time period. This involved not only the instrumentation, but also the composition style."

According to Beck, the score features instruments that were typical of the era being represented in a given episode. Early episodes feature small orchestral ensembles, while later episodes embrace a rock-pop style. Beck also utilized period-specific recording and mixing techniques to achieve the authenticity filmmakers wanted.

In addition to writing the theme and songs, Anderson-Lopez and Lopez also produced each song. The theme for the first episode, said Anderson-Lopez, was written to evoke the dawn of television. "We wanted to have an optimistic group of voices singing jazzily (though not too jazzily!) about the love between these two — and the main question of the first episode, whether two Avengers in love can pass for normal in a typical American suburb," she said.

Lopez described the second episode's theme as "sexier" and "flirtier." "We decided to put lots of raunchy trombones commenting," he said, "and in one part we also used my favorite '60s keyboard sound, the RMI Rock-si-chord—a sort of electric organ harpsichord sound."

The WandaVision Original Soundtrack album producers are Kevin Feige, Matt Shakman and Dave Jordan. The albums for Episodes 1 and 2 will be followed by WandaVision: Episode 3 Original Soundtrack available on January 29, with subsequent albums to follow one week after each episode of the series airs.

WandaVision Original Soundtrack release dates follow:

Episode 1 soundtrack release date: 1/22

Episode 2 soundtrack release date: 1/22

Episode 3 soundtrack release date: 1/29

Episode 4 soundtrack release date: 2/5

Episode 5 soundtrack release date: 2/12

Episode 6 soundtrack release date: 2/19

Episode 7 soundtrack release date: 2/26

Episode 8 soundtrack release date: 3/5

Episode 9 soundtrack release date: 3/12

About "WandaVision"

Marvel Studios' "WandaVision" is a blend of classic television and the Marvel Cinematic Universe in which Wanda Maximoff and Vision—two super-powered beings living idealized suburban lives—begin to suspect that everything is not as it seems.

"WandaVision," the first Marvel Studios series created exclusively for Disney+, stars Elizabeth Olsen as Wanda Maximoff, Paul Bettany as Vision, Kathryn Hahn as Agnes, and Teyonah Parris as Monica Rambeau, who was introduced to audiences in "Captain Marvel." Kat Dennings will reprise her role as Darcy from "Thor" and "Thor: The Dark World," and Randall Park will reprise his role as Jimmy Woo from "Ant-Man and The Wasp." The series is directed by Matt Shakman with Jac Schaeffer as head writer. Featuring nine episodes, "WandaVision" is now streaming on Disney+.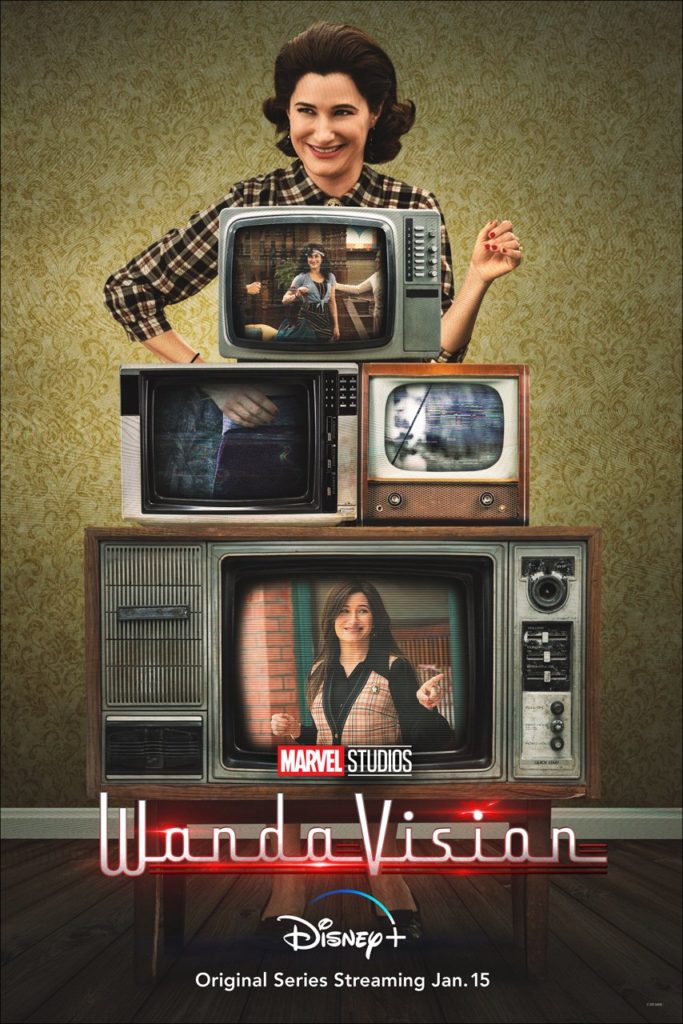 What are your thoughts so far on WandaVision and the music behind it? Leave your comments below and on our social media channels and stay with The Illuminerdi for more news and content.
KEEP READING: HEROES REBORN: WATCH MARVEL COMICS ANNOUNCE A WORLD WITHOUT THE AVENGERS IN NEW 2021 TRAILER