I've been waiting to hear about some movement on this film for a LONG, LONG time. I'm a huge fan of the original Alien Nation movie from director Graham Baker and starring Mandy Patinkin, James Caan, and Terrence Stamp. The film spawned a TV series that only ran for a single season, yet was so beloved by its fans that it spawned five made-for-tv movies that aired between 1994 and 1997.
When talks of a Alien Nation reboot began picking up years ago, it wasn't known whether it would be a film, a film series, or a TV series, but now, thanks to an episode of the Team Deakins podcast, we have an update. You should check out the episode in full to hear all of what Jeff Nichols had to say about it, but here's the TL/DR version.
An Alien Nation Limited Series?
Fox approached Jeff Nichols back in 2016 about the Alien Nation reboot. He had a whole new idea for a film that was going to be something completely different than the original. Disney bought Fox in 2019 and canned the movie. Fast forward a year and a pandemic and now Disney has come to him and asked about making it into a series. So, he's reworked his idea into a 10-episode series. He's turned in his pitch and now it's up to the studio to decide whether or not they want to roll with it.
Here is what Nichols had to say:
"I then had this idea of how I could take that title, but a situation that has nothing to do with the original movie, necessarily, and I got really excited about it…I spent three years building out an entire alien civilization, and this situation, and this setup, and all these characters and it's really what I've been doing for a long time," Nichols said, per SlashFilm. "We were set to go make it. It was going to be our next big challenge for Adam and I, which would be making a big, $100 million studio film, still in Arkansas. Disney bought Fox and killed it, which was a little soul-crushing, to say the least."

"So I have taken it and broken it into ten episodes, and it's under consideration right now…Who knows, people in far more powerful positions than me are deciding that. One of the tricks is, I want to shoot it like a giant film, and I'm not sure if we'll be able to get away with that."
RELATED: GORR THE GOD BUTCHER'S HOME WORLD TEASED IN NEW THOR: LOVE AND THUNDER SET PHOTOS
With the success of Watchmen on HBO, Devs on FX/Hulu, Good Omens on Amazon Prime, and now The Stand on CBS All Access (soon to be Paramount+), it makes complete sense that Disney would want to toy around with a limited series as well. Personally, I think it's a great idea. Limited events and/or mini-series were really big for a while and then just kind of died off for a bit. Both Syfy and USA had a number of them that were really fun and well done and I'm excited to see that medium make a return.
A mini-series or "limited event" has the advantage of telling a longer story than you'd get in a movie while not being constrained to having either fill an entire season or multiple seasons. However I think Alien Nation, if done well, could easily fill out multiple seasons. Essentially, it's a standard procedural crime-of-the-week type show, but with aliens and the mythology that comes from that. Defiance on Syfy was more or less a spiritual successor to Alien Nation.
RELATED: GET A BEHIND THE SCENES LOOK AT DISNEY'S EPIC STAR WARS ATTRACTION: GALAXY'S EDGE
So, at the end of the day, the Alien Nation reboot is still in limbo, but at least now we have an update and know who to blame if it continues to languish in development hell. I just watched the movie a few weeks ago, but now after this news, I think I'll start up the series again. Currently it's not streaming on Disney+ or Hulu, but it's only $10 on either Amazon Prime or Vudu.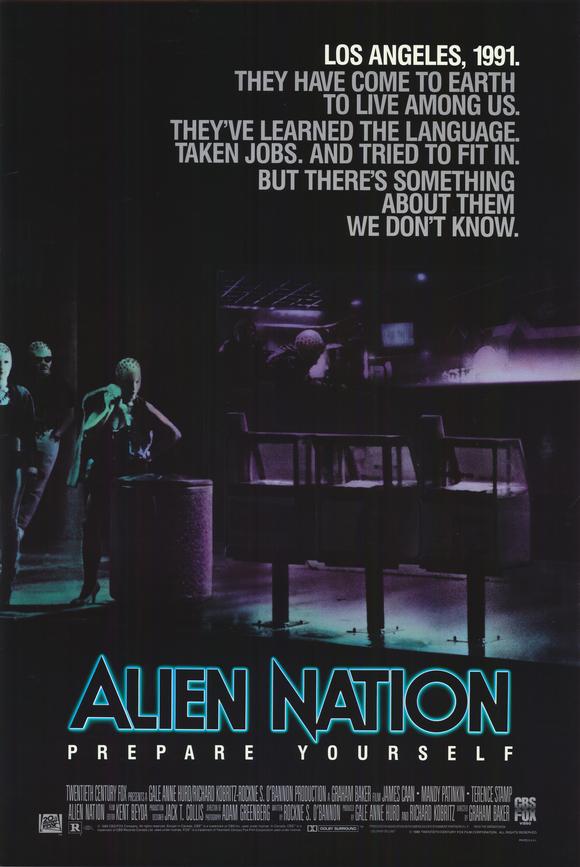 Are you excited for a potential revival of Alien Nation? Let us know why now is the right time for a new series in the comment section below or over on our social media!
KEEP READING: THE MANDALORIAN NEW SEASON 3 START DATE MAY HAVE JUST BEEN UNCOVERED
Source: Yahoo