Fans of Lara Croft and King Kong will be pleased to know that their favorite properties will be getting the anime treatment at Netflix. The streaming giant announced that it is collaborating with Legendary Television to expand the Skull Island and Tomb Raider universes into new anime series.
Skull Island will be produced by Powerhouse Animation, the anime studio who are behind hit anime series such as Castlevania and Blood of Zeus. Writer Brian Duffield (Underwater) will be an executive producer and writer for the series, alongside Jacob Robinson who will serve as executive producer under his company Tractor Pants.
Netflix's Skull Island Anime Details
The series is being described as a "new chapter in Legendary's Monsterverse franchise," Skull Island is "a thrilling animated adventure series that follows shipwrecked characters desperate to escape the most dangerous place on Earth—a mysterious island home to prehistoric monsters, including the greatest titan of them all, Kong."
RELATED: WATCH THE GODZILLA VS KONG TRAILER GO ON A RAMPAGE RIGHT NOW!
Not much is known about when the anime will take place before or if it will be after the events of 2017's Kong: Skull Island. It's possible the series can bridge the gaps between 70s setting of Kong: Skull Island to the upcoming release of Godzilla vs. Kong. Maybe we'll get to see the origins of Kong himself along with other monsters from the Monsterverse. It's worth noting that Powerhouse, is well-known for exploring the time period of their anime productions, like Castlevania.
Netflix's Tomb Raider Anime Series Details
As for the Tomb Raider anime, the series will not be connected to the live-action adaptation staring Alicia Vikander, rather it will be based off the popular Square Enix video game. The heroine's debut is set to pick up "after the events of the highly successful Tomb Raider video-game reboot trilogy, the animated series will chart the globetrotting heroine's latest, greatest adventure. Twenty-five years after her first game appeared, Lara continues to explore new territory."
RELATED: NEW OPEN WORLD STAR WARS GAME COMING FROM UBISOFT AIMING TO BLOW OUR MINDS
We're left to wonder if this anime will serve as a precursor for a future Square Enix game since it takes place after the reboot trilogy. Maybe we'll get to see Lara use her signature dual wield pistols at some point. Tomb Raider will be written by Tasha Huo (The Witcher: Blood Origin), also joining as executive producers from DJ2 Entertainment are Dmitri M. Johnson, Stephan Bugaj, and Howard Bliss, as well as Jacob Robinson who also producing Skull Island.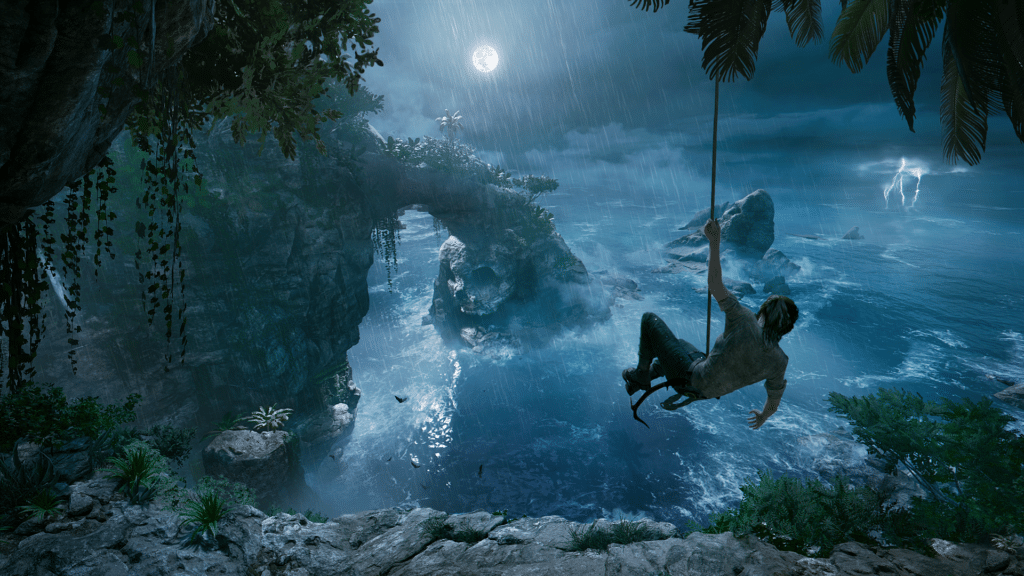 While its surprising to see Netflix giving Lara Croft her own anime adventure, it goes to show the lengths the streaming giant is willing to go with anime. Netflix has been doubling down on the anime market, it has plans to expand their reach with well-known titles in anime as well as creating original content using the medium. Let hope that the Skull Island and Tomb Raider adaptations will be as good as Castlevania with their approach to each series. Cross our fingers we get a bit of news or a teaser in the future, especially for Skull Island, since Godzilla vs. Kong is right around the corner.
What do you think about the announcement of the new anime projects in development based on Kong: Skull Island and Tomb Raider? Which property are you more excited to see on the small screen? Let us know your thoughts in the comment section below or over on our social media!
KEEP READING: GODZILLA VS. KONG: HERE IS WHY KING KONG IS SO HUGE IN THE MOVIE
Source: /Film