BLACK DINO FURY RANGER: JAVIER GARCIA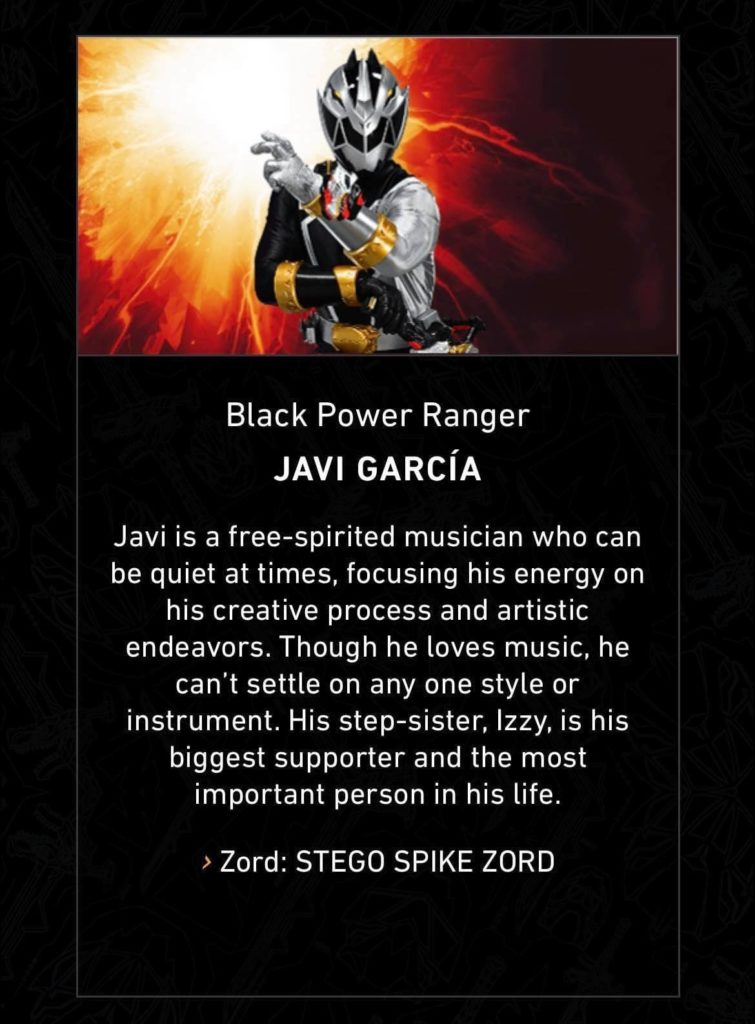 We have also here our first glimpse and character description of the Black Dino Fury Ranger Javier Garcia. We find out in the character study that Javier is a talented musician. This is not surprising as Javier's actor Chance Perez is actually a professional singer that appeared and starred in the limited reality TV show Boy Band.
It is also revealed that Javier's stepsister Izzy will be the Green Dino Fury Ranger. As mentioned earlier Javier and Izzy will be the fifth time Power Rangers will incorporate a Ranger sibling dynamic.
It is also safe to assume that Javier will be a soft-spoken and good-natured member of the group due to his free-spirited nature. Also, don't be surprised if we see some music or scenes involving Javier singing as mentioned earlier his actor is a successful musician and singer.
We also find out that Javier's Megazord is a Stegosaurus. This will be the third time that a Stego Zord will make its appearance in Power Rangers. The first time a Stegazord appeared was in Dino Thunder from the Dino Thunder White Ranger. Then its second appearance was in Dino Charge piloted from the Blue Dino Charge Ranger.
Hopefully, we can see Javier's full talent in Dino Fury. Javier will be played by Chance Perez.
PINK DINO FURY RANGER: AMEILA JONES
Last but not least we have our first glimpse and character description of the Pink Dino Fury Ranger Amelia Jones. We find out in the character study Amelia is a professional journalist. We also find out that she has a fascination with the paranormal or all things unnatural. So there is a high chance that we could see some episodes or scenes focusing on Amelia featuring Paranormal themes.
We also find out that Amelia works in an Entertainment Website called Buzzfblast (We can assume a parody of the hit Entertainment Website Buzzfeed). The description also describes her as passionate, so it's good to assume that Amelia will be the voice of the team mainly due to her journalistic experience and passion for her job. She might also have some investigational aspects or skills due to her experience in a Journalistic career. We also find out the setting or city where Dino Fury will be at. The city will be called Pine Ridge.
RELATED: 4 SHOWS FANS SHOULD WATCH TO PREPARE FOR POWER RANGERS DINO FURY
We then also find out that Amelia's zord is an ankylosaurus. This will be the third time an Ankylo Zord will be in the series. The first time the Zord was introduced was Dino Thunder and the second time was Dino Charge.
Hopefully, Amelia will bring joy and impress fans. Amelia will be played by Hunter Deno.
CHARACTER DESCRIPTIONS: THE VILLAINS
We have here is presumably our first glimpse and character description of Dino Fury's main antagonist Void Knight. Now according to the description Void Knight is an Alien Warlord with Knightlike armor. His armor is very similar to Villain Koragg The Night Wolf from Power Rangers Mystic Force.
It seems that Void Knight will be a special villain in this series. Instead of taking over the world, he wants personal power and gain. The character description also reveals what seems to be the Mcguffin or power source of this season. The name of the power source is called The Sporix. We currently don't know more much about the Sporix, but we can guess it will play a huge role this upcoming season.
Last but not least we have our first glimpse and character description of the 2nd main antagonist of Dino Fury Boom Tower. It says here in the character description that he will be Void Knight's general and presumably his minions or foot soldiers. Nothing more is said of the villain but we can assume and suggest he will have a special and huge role this upcoming season. Just like Void Knight his design and aesthetic are Knightlike.
Power Rangers Dino Fury is almost here and the fans are very excited. The upcoming season is based on Kishiryu Sentai Ryusoulger the 43rd Season of Super Sentai. Dino Fury will also be Hasbro's third Power Rangers season that they will produce and the first they will develop without the remnants of the Saban Brands crew.
What are your thoughts on these images from Power Rangers Dino Fury? Do they make you more excited for the upcoming season? Let us know in the comments below and be sure to follow The Illuminerdi on social media to be notfied of more Power Rangers news and updates like this in the future.
KEEP READING: KELSON HENDERSON RETURNS AS MICK KANIC IN POWER RANGERS DINO FURY