Power Rangers Dino Fury is almost here and fans can't wait or super excited for the new upcoming season of this amazing long-running franchise. Dino Fury will be the 28th season in the Power Rangers franchise. It will be also the fourth time that the series will be using a dinosaur-themed motif. Dino Fury will also Hasbro's second produced series, the first being last season's highly successful Power Rangers Beast Morphers.
Last fall they revealed the official cast of Dino Fury. Those cast members were Russell Curry (Red Dino Fury Ranger), Kai Moya (Blue Dino Fury Ranger), Hunter Deno (Pink Dino Fury Ranger), Tessa Rao (Green Dino Fury Ranger), and Chance Perez (Black Dino Fury Ranger). Filming started on October 4, 2020, and is scheduled to premiere this year presumably early Spring. Dino Fury's plot synopsis is as it follows:
"When an army of powerful alien beings is unleashed on Earth, threatening life as we know it, a brand-new team of Power Rangers, fueled by the pre-historic power of the dinosaurs, are recruited to deal with the threat". Now for the first time, Hasbro has released official first images and character descriptions of each Dino Fury Power Ranger.
RED DINO FURY RANGER: ZAYTO
We have here is our official first glimpse and character description of the Red Dino Fury Ranger Zayto. As told in his description Zayto will be an alien from another planet called Rafkon. It also states that Zayto might be an alien with some kind of dinosaur DNA due to him living on Earth during the era when Dinosaurs roamed the Earth.
This is actually big news as if Zayto lived on Earth when dinosaurs were not yet extinct it would make him the oldest Red Ranger in history. This would make him around a million years old. Zayto would also be the third alien based Red Ranger in Power Rangers. The first being Aurico in Mighty Morphin Alien Ranger, and 2nd being Andros in Power Rangers: In Space. His megazord will also be, not surprisingly, a T-Rex Zord. It will be called the T-Rex Champion Zord. It will be the same type of zord from his dinosaur-themed Red Ranger predecessors.
RELATED: DINO FURY TOYS HITTING SHELVES TO THE DELIGHT OF POWER RANGERS FANS
Zayto will definetly be one of the more fascinating characters in Dino Fury and there is a high chance his arc will be a fish-out-of-water story similar to Red In Space Ranger Andros. Zayto will be played by Russell Curry.
BLUE DINO FURY RANGER: OLLIE AKANA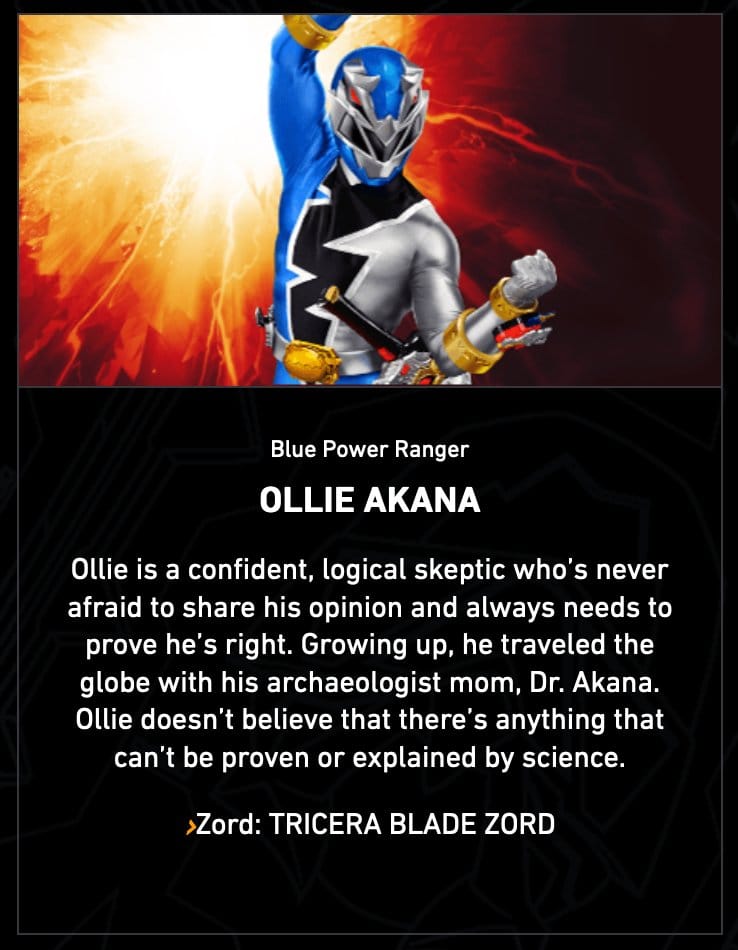 We have here is our first glimpse and official character description of the Dino Fury Blue Ranger Ollie Akana. As told in the description Ollie will be an archaeologist and presumably the brains on the team.
If Ollie is indeed the brains of the team he will be the fourth Blue Ranger that has scientific knowledge and experience. The first one is the original Mighty Morphin Blue Ranger Billy Cranston, the second is Blue Dino Thunder Ranger Ethan James, and the fourth is Blue Megaforce Ranger Noah Carver.
It also seems that Ollie will also be the expert in Dinosaurs due to his archaeological background and experience with his mother. There is also a high chance that Ollie's mother Dr. Akana will be an important character or ally to the Rangers.
His Zord is also a triceratops just like his Blue Dino themed predecessors Mighty Morphin and Dino Thunder Blue. The name of Ollie's Zord is the Tricera Blade Zord.
Ollie is described as being confident, and a logical skeptic, so be surprised if he is the second in command of the team. Ollie Akana will be played by Kai Moya.
GREEN DINO FURY RANGER: IZZY GARCIA
For the first time in Power Rangers history, we have our first official female Green Ranger. This is also the first time Power Rangers has done a gender-swap since Power Rangers: Wild Force. The Green Dino Fury Ranger was originally a male in her super-sentai counterpart Ryusoulger.
We also have our first glimpse and character description of our new Green Dino Fury Ranger Izzy (assumably Isabella) Garcia. We first learn that Izzy is a highly competitive, ambitious, and presumably a well-trained athlete. If we had to guess by reading her character statement Isabella might be one of if not the best-trained fighter of the team. That is mainly due to her athletic background.
We also find out that her stepbrother is the Black Dino Fury Ranger. This means we will see another Ranger sibling dynamic in a Power Rangers season. The first being Lost Galaxy, the second Lightspeed Rescue, the third Ninja Storm, and the fourth Ninja Steel.
RELATED: ALEXANDRA NUÑEZ CONFIRMS SHE WAS RECAST AS THE DINO FURY GREEN RANGER
We also find out that Izzy's Megazord is a sabertooth tiger. This will be the first time since Mighty Morphin that the sabertooth tiger will be a featured main Zord. Trini Kwan the original Yellow Mighty Morphin Power Ranger played by the late Thuy Trang was the first to pilot a sabertooth tiger zord.
Hopefully, Dino Fury has or makes special nods and honors the original Yellow Ranger. But yes with the arrival of our first female green ranger fans should be excited. Izzy Garcia will be played by Tessa Rao.
For more information regarding the Black Ranger, Pink Ranger, and the villains continue to page 2: