Luna #1 is a new comic written and illustrated by Maria Llovet, the mind behind comics such as Loud, Faithless, and There's Nothing There.
LUNA #1 OFFICIAL SYNOPSIS
For fans of Faithless and Die comes a new dark thriller from acclaimed writer & artist Maria Llovet about a young woman named Teresa, who's plagued by prophetic dreams that connect her to something powerful, something…divine. * When Teresa fatefully crosses paths with the Family of the Sun, she believes them to be exactly what anyone else in the late '60s would expect – a hippie cult whose leader claims to have met the divine. * But secret blood rituals, powerful drugs and sex runneth amok will bring Teresa face-to-face with the truth about the Family, herself and the dark secret behind her dreams.
LUNA #1: WRITTEN AND ILLUSTRATED BY MARIA LOVETT
The first thing that you will notice about Luna is how incredibly gorgeous the book is. Maria Llovet is an incredibly talented illustrator who pours unbridled passion, intimacy, and honesty into her work, and it shows. She draws her characters with a level of realism and love for the natural human body, which is quite refreshing in a medium that has fetishized the female figure for far too long.
This is undoubtedly a mature work that is inappropriate for children, as it does feature nudity, sex, and drug use. If you are of the appropriate age to consume this media however, you are in for a visual feast of vibrant colors, creative paneling, and breathtaking attention to detail. Each page is a work of art in it's own right, and could be examined for much longer than the time it would take to absorb the story beats. I found myself coming back to certain pages, simply staring in awe at the raw beauty of Llovet's artwork.
Furthermore, the incredible artwork factors into the story in a manner not unlike that of Awesome Mix in Guardians Of The Galaxy. After passing out (though there is certainly more to the story than mere fainting) in the desert, the comics most stunning full page of art is revealed, and it ties directly into the story. Teresa's grandmother would tell her to "Draw it all, Lunita", and that is exactly what she does. Realizing that the artwork featured on that page is drawn by the main character was a truly mind-blowing revelation, and I cannot wait to see how that plot point factors into further issues.
RELATED: BRZRKR: KEANU REEVES WRITING NEW LIMITED SERIES FOR BOOM STUDIOS
The pages are filled with doodles that are not bound by the panels, appearing on and sometimes over the gutters. This design choice gives the book a very personal feel, as if you are reading someone's diary. The aforementioned drug use also paves the way for some extraordinarily trippy psychedelic visuals which brought the issue to a gorgeous close.
LUNA #1 IS THE FIRST PART OF A FIVE ISSUE MINI-SERIES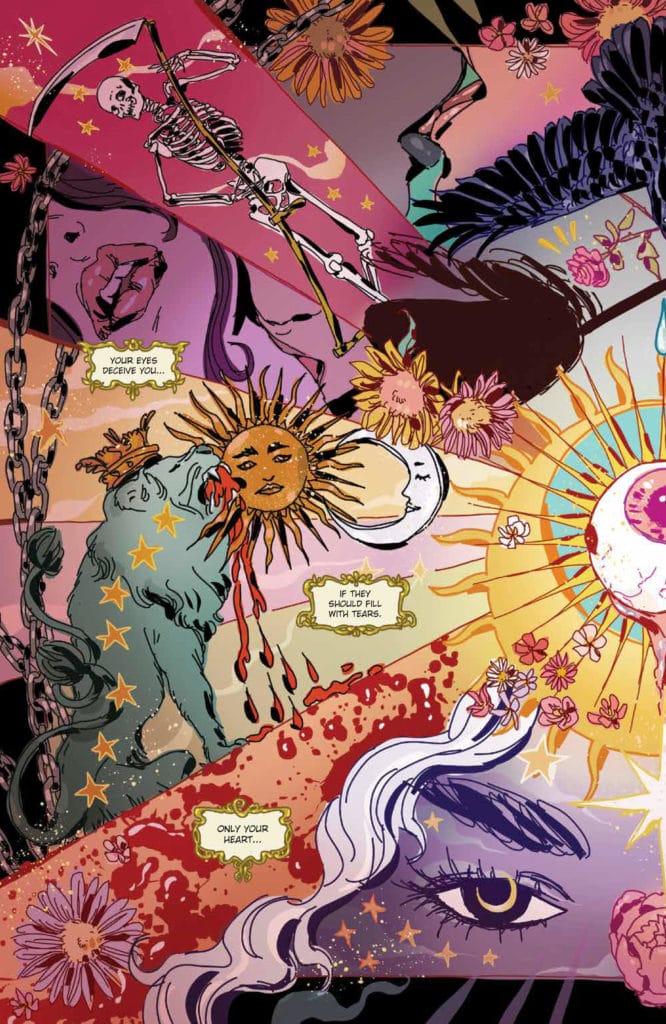 While the artwork is certainly the strongest element of Luna #1, the story was rather engaging as well. The "Family Of The Sun" certainly calls to mind the Manson Family, which should come as no surprise given the sixties setting and the general subject matter of this comic. They seem like a truly kind, caring group of people with good intentions at first, but Llovet makes sure the readers know that there is more than meets the eye at play in this story.
There isn't a lot of heavy characterization or detail to the characters, which isn't a big gripe considering that this is indeed the first issue. The first issue of Luna does a commendable job setting the stage for the remaining four issues. If I have one concern for the future of this book, it would have to be the relatively short length. With only four issues left, and several mysteries only beginning to unfold, will Llovet be able to tie everything together by the final issue?
Only time will tell. Pick up Luna #1 online or at a comic store near you, and be sure to let us know your thoughts in the comments below or on our social media!
KEEP READING: SOMETHING IS KILLING THE CHILDREN #14 REVIEW: THE GREATEST STUFFED ANIMAL BACKPACK EVER