It looks like the sky's the limit as what to expect from Marvel Studios' second Disney+ series! The new trailer for The Falcon And The Winter Soldier is peppered with new scenes that allow us to look a little deeper into this exciting and adventurous story.
The Falcon And The Winter Soldier Exclusive First Look Trailer
Surprisingly enough the trailer opens with actress Amy Aquino in an undisclosed role as a counselor for Sam and Bucky. She asks Bucky, "Mr. Barnes, why does Sam aggravate you?" and I can't help but laugh! Yep! The boys are back!
They are in civilian clothes during this session so it seems to be a requisite program of some sort. The scene cuts back to a familiar shot of the duo on an U.S. Military aircraft. They are on some sort of mission for the government; but with no cohesive plan. The implication is that they are being given a chance to work under The Accords, which is a surprise to me considering Bucky's past.
"Superheroes, cannot be allowed to exist…I have no intention to leave my work unfinished".

Baron Zemo
This is where The Falcon And The Winter Soldier trailer really gets good! The shot cuts from the Madripoor coastline to the familiar shot of the trio entering the city, to Zemo standing in front of a refurbished monument (the landscape of this shot is different from the first trailer; Zemo may have a personal mission to restore his family's honor within this single season) to the infamous Zemo mask!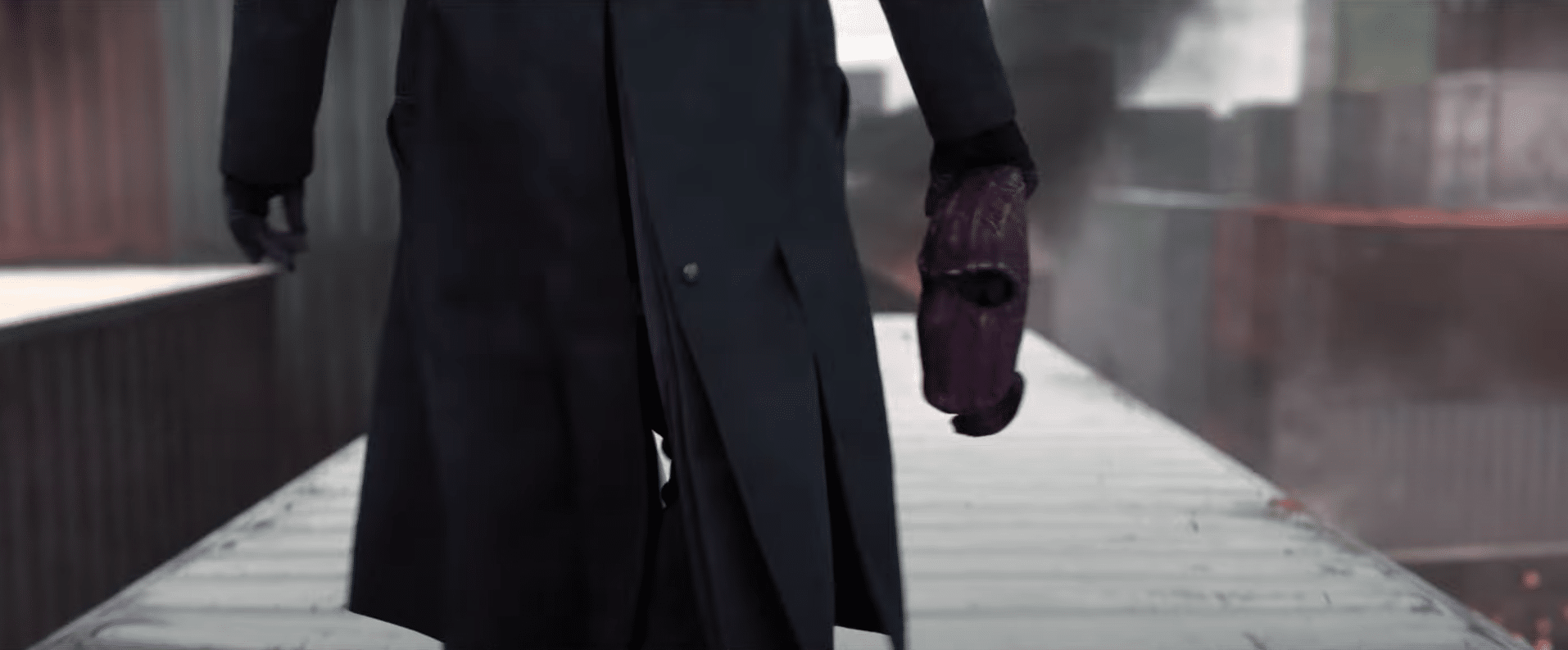 Zemo seems to be walking atop the shipping trailers of the same scene we've already seen Bucky and a hooded Sharon Carter trying to escape previously.
Explosions, military decorations, a pensive Bucky, then a deliberative Sam. The Falcon And The Winter Soldier looks action-packed even when they're just acting. It looks likes Bucky is going to teach Sam how to handle Captain America's shield at some point. We get a lot more footage of Madripoor. Images of what looks like a Black Market Art Auction & Party give us the sense of how reckless things are. There is a Picasso less than 3ft from a whole club scene. Sam is shown walking though the same place.
We get Sam looking kind of silly with his googles on crookedly, flying through the sky stating he has a plan. Bucky, still frustrated, wants to know what it is. We won't learn in this trailer but we do finally find Sharon Carter in a full shot; aiming her gun at the heroes. They seem to be in Madripoor based on their clothing. Maybe they went there to actually find Sharon.
RELATED: SEBASTIAN STAN ON THE "LETHAL WEAPON" DYNAMIC FOUND IN THE FALCON AND THE WINTER SOLDIER
The The Falcon And The Winter Soldier action cuts keep your heart pulsing. Sharon seems to have stepped her butt-kicking game up. (I wonder if she has gotten some kind of enhancements.) A flash of John Walker at the football field rally that Marvel constantly promotes and then BOOM! The most telling scene. Bucky is literally kicking someone around in what looks like The Brass Monkey Saloon (aka The Bronze Monkey Saloon), a bar right out of the comics. The attention to detail lets us know how invested Marvel Studios' will be in bringing this location from the mythology to life.
Apart from some more scenes letting us know that Sam enters an enemy plane mid-flight and Bucky gets jumped on top of the moving truck from the previous trailer, we've basically seen it all before. There is a quick image of Sam holding the shield in an illustrious pose, but he isn't wearing his new suit yet, so I was underwhelmed by that.
The trailer did a great job in communicating the chemistry on camera between Anthony Mackie and Sebastian Stan. I am no less excited to see this show, although it does seem like the only clear villains are the group wearing masks with a handprint on them. These terrorists are prominently shown along with a quick shot of four black and yellow wing suits. It's unclear if they come from the same organization. It's hard to believe that what appears to be low level tier bad guys could give these two Avengers that much trouble. I still think a major organization like A.I.M or Roxxon is somewhere in this story up to no good, but we will just have to wait and see.
Manchild out.
The Falcon And The Winter Soldier premieres on Disney+ on March 19th, 2021. What did you think of the new The Falcon And The Winter Soldier trailer? What did you catch? Let us know in the comment section below or over on our social media!
KEEP READING: THE FALCON AND THE WINTER SOLDIER: DON CHEADLE REVEALS HE WILL APPEAR IN THE NEW MARVEL SERIES