Nomadland paints a stunning portrait of life at its essence, capturing seemingly non-consequential moments of routine American life on the outskirts of society. Its docu-narrative approach emboldens its authenticity. Director Chloe Zhao and star Francis McDormand deliver in one of the year's best.
I think MCU fans should be pretty excited for what Chloe Zhao may be bringing to the table this fall with The Eternals (fingers crossed it doesn't move release dates again). Her direction here is superb. The way the movie ebbs and flows between documentary style to narrative style without missing a beat is immensely impressive. I feel strongly that she is the person to beat for this year's Best Director Oscar.
Nomadland Official Trailer
The movie's use of actual nomads, individuals like Linda May and Swankie, makes the movie that much more believable and feels more lived in. And what an impressive feat by these normal civilians to deliver such consequential and meaningful performances!
And of course there is Francis McDormand. This might not be her best performance, but it may be her most measured. As Fern, she embodies someone who feels forgotten by the world around her. Thusly, she surrounds herself with others who have also experienced great loss and learns to appreciate the beauty that lies in the simplicities of the world.
RELATED: THE MAP OF TINY PERFECT THINGS REVIEW: AMAZON PRIME VIDEO'S TIME LOOP ROMANCE IS AN UTTER DELIGHT
Nomadland sports a plethora of breathtaking shots of the natural beauty of the undeveloped portions of the Western U.S. This movie is as much about the natural world that surrounds Fern, as it is about her plight to find purpose in her latter years. We all could learn from nomads. Maybe if we took in the beauty of the Earth that surrounds us, we would have more appreciation for the roofs over our own heads, and the friends and families present in our daily lives.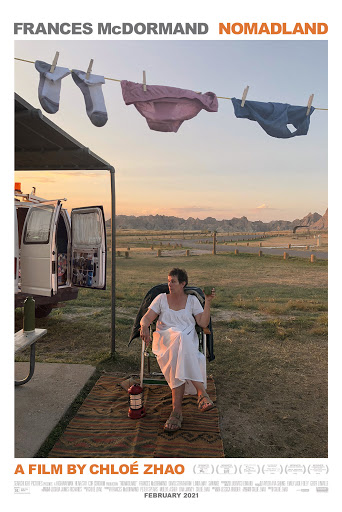 Nomadland is an exploration of one's freedom, of the opportunity that lies in a fresh start, and the idea of embracing life day by day. It's a much watch for cinephiles. It may not click on all cylinders for everyone, but how it captures the restlessness of the American spirit, at any age, can at least be appreciated by all.
Have you checked out Nomadland yet? Let us know what you thought about it in the comment section below or over on our social media!
KEEP READING: WOMAN IN MOTION REVIEW: INSPIRING DOCUMENTARY ABOUT HOW NICHELLE NICHOLS CHANGED THE WORLD