The Illuminerdi's Julia Delbel got the opportunity to participate in the press day for Disney's upcoming release of Myth: A Frozen Tale. Here is a highlight from the event..
---
Disney+ is providing a home in the streaming world for pretty much anything and everything under the Disney umbrella. This obviously includes a plethora of feature films produced by the various studios owned by the company and plenty of classic and original series as well. What often goes overlooked, however, is the collection of animated shorts from Walt Disney Animation Studios and Pixar available to watch on the service.
One such short is Myth: A Frozen Tale. Originally produced as a virtual reality-based project, the film has been reworked in order to be presented as viewable with regular media devices on Disney+. It takes place in the universe of the Frozen franchise and tells the story of the five spirits previously discussed in Frozen II and how their harmony maintains balance in the world.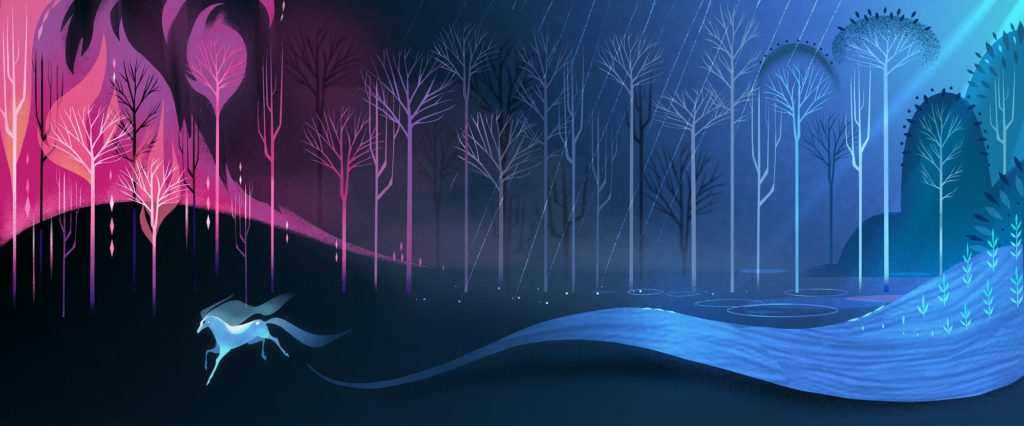 In a press conference for the project, director Jeff Gipson and production designer Brittany Lee shared how the team of about 100 people working on the short film strived to pay tribute to the history and legacy of Disney animation in a few different respects. This resulted in a project reminiscent of the Frozen movies, but with noticeable differences in the animation which combine the style of those films with others made throughout Disney history.
The creators of Myth wanted to emulate the shorts comprising 1940's Fantasia and evoke the same magic that only occurs when music and visuals work in tandem to tell a story, with Lee referring to the film as "the visual representation of what music can be".
Gipson described Fantasia as "one of the very first music videos" and explained his affinity for the medium of music videos because of the "freedom" they provide to the filmmakers working on them.
In Myth: A Frozen Tale, each element is represented by its own musical motif. This was inspired by Peter and the Wolf, a musical composition from 1936 featuring characters of various species with each one represented by a different instrument. In 1946, Disney released Make Mine Music, a package film made up of several animated musical shorts including one set to the piece.
RELATED: DISNEY RELEASES DELIGHTFUL CRAFTING RAYA FEATURETTE
Another Disney animated movie that came out over a decade after Disney's adaptation of Make Mine Music also provided plenty of inspiration for the animation of Myth, that being Sleeping Beauty. The idea behind the animation style of Myth is the viewer stepping into a pop-up book, and this aesthetic is similar to that of the 1959 film. Gipson and Lee cited Eyvind Earle, an artist on Sleeping Beauty and several other animated Disney movies as a major influence on the project.
Lee dropped another name, Mary Blair, as "one of [her] personal heroes and a huge inspiration" for both Myth and her work in general. Blair – who worked on such Disney films as Dumbo, Cinderella, and Alice in Wonderland – often opted to use color palates that weren't exactly realistic to life but were visually pleasing in a fantastical sense. This is something that is also prevalent in Myth, particularly with colors used for background elements such as the sky.
RELATED: GREMLINS: SECRET OF THE MOGWAI: NEW HBO MAX ANIMATED SERIES ADDS MING-NA WEN AND BD WONG TO IMPRESSIVE CAST
Myth: A Frozen Tale doesn't just use design elements from past Disney projects, but combines them with cutting-edge modern animation technology that blends a sense of nostalgia with excitement and hope for the future. The film's use of virtual reality technology is perhaps the most prominent example of the latter, and Lee cited it as her biggest challenge while working on the project since it was all new to her and the rules and shorthand she'd previously studied while learning about animation didn't necessarily apply with the format.
Myth: A Frozen Tale Synopsis
Inspired by the exciting environments, themes and elemental characters from Walt Disney Animation Studios' Frozen 2, acclaimed director Jeff Gipson (Cycles) brings to life this imaginative and vibrant tale set in an enchanted forest outside of Arendelle.

A family gathering for an evening of bedtime stories sets the stage for a magnificent adventure to a colorful and mythical world, which includes close encounters with the Nokk (a water spirit in the form of a mighty stallion), Gale (the playful wind spirit who can manifest as a light breeze or a raging tornado-like force), the Earth Giants (the massive creatures that form the rocky riverbanks and are capable of intense destruction when awakened), and the Fire Spirit (a fast-moving and mercurial salamander named Bruni). As the story unfolds, these spirits come to life and the myth of their past and future is revealed.

Production designer Brittney Lee drew upon the Studios' legacy of great artists (Eyvind Earle, Mary Blair, and Frozen's own production designer Michael Giaimo) along with her own instincts to create a visual landscape that was unique in its colors, shapes and style. Just as Disney's musical milestone, Fantasia, combined the power of music with striking visuals, producer Nicholas Russell and director Gipson, enlisted composer Joseph Trapanese (Tron: Legacy) to help them enhance the experience for Myth: A Frozen Tale.

Evan Rachel Wood (the voice of Queen Iduna in Frozen 2) lends her voice as the narrator of the film. Finally, Myth is a tip of the hat to Gipson's own family tradition of telling bedtime stories, including a particular story passed down from his great-great-great grandfather about a brush with the outlaw Jesse James when he was a young farm boy growing up near Kansas City.
Myth: A Frozen Tale is about more than Frozen lore, it's a love letter to the legacy of Disney animation. The short will be available to watch on Disney+ beginning Friday, February 26. What do you think of Disney's new project? Let us know in the comment section or over on our social media!
KEEP READING: NAOMI: NEW CHARACTER DESCRIPTION FOR LEAD WITH PRODUCTION IMMINENT FOR CW'S SUPERHERO PILOT