Critical Role has announced the next Mighty Nein member to get their own graphic novel in the Mighty Nein Origins is none other than Yasha Nydoorin set for release September 15.
Critical Role's partnership with Dark Horse was first announced at 2017 San Diego Comic Con with the first Vox Machina Origins. Critters have loved being able to experience more of their favorite adventurers' stories. In Vox Machina Origins fans can see what the campaign 1 party got up to before the live stream. Not only covering events from the home game, but how the group first came together as well. Critical Role announced they would be expanding their comics with Tales of Exandria, which will explore the non-player characters that Dungeon Master Matt Mercer embodies during the game, and The Mighty Nein Origins.
RELATED: CRITICAL ROLE ANNOUNCES TALES OF EXANDRIA A NEW COMIC MINI-SERIES COMING IN 2021
The Mighty Nein Origins is a series of graphic novels that dives deeper into the origins of the members of the Mighty Nein. Campaign 2 introduced the Mighty Nein from the beginning of their adventure when they first met and has been ongoing since 2018. The first Mighty Nein Origins graphic novels are set for release this summer with Laura Bailey's Jester Lavorre being the first character with a graphic novel set for release in June and Liam O'Brien's Caleb Widowgast shortly after in July.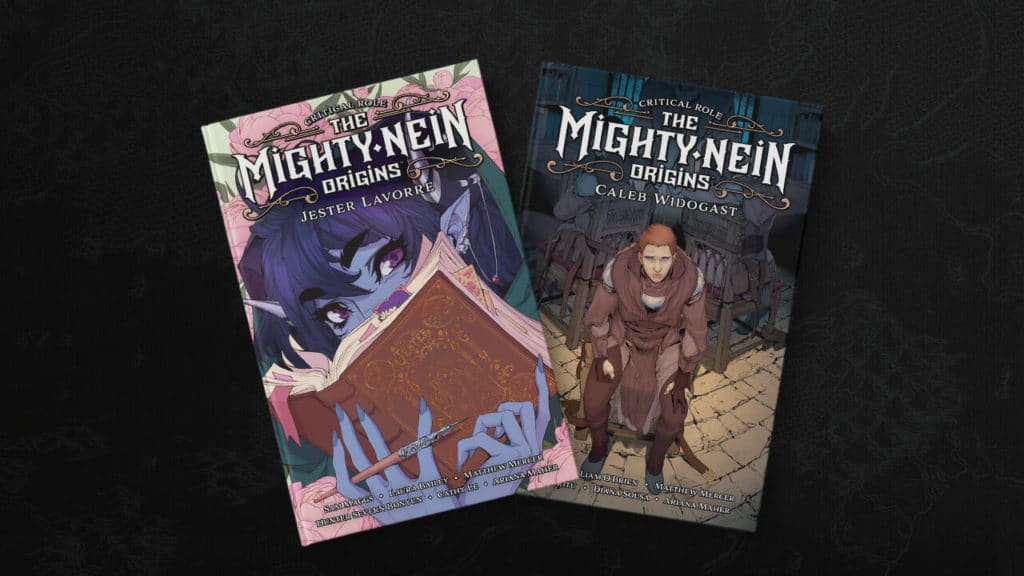 Fans are eagerly awaiting these graphic novels to learn more about these beloved characters and now it looks like Critters have another Mighty Nein Origins graphic novel to looks forward to this fall. Critical Role: The Mighty Nein Origins: Yasha Nydoorin is set to hit shelves September 15, 2021 and will focus on the origins of Ashely Johnson's Aasimar Barbarian Yasha.
CRITICAL ROLE: THE MIGHTY NEIN ORIGINS: YASHA NYDOORIN OFFICIAL SYNOPSIS
For Yasha, there has always been a storm on the horizon. Maybe it formed with her adoption by the Dolorov people in the harsh lands of Xhorhas. Or perhaps when she fell for her first love, Zuala. Or still later, when grief and madness drove her from her village and out into––somewhere else. Maybe, on the other hand, Yasha IS the storm.
Critical Role: The Mighty Nein Origins: Yasha Nyroorin is written by New York Times bestselling author Cecil Castellucci (Soupy Leaves Home, Batgirl), artist William Kirkby (Critical Role: Vox Machina Origins, Rat Queens), colorist Diana Sousa (Critical Role: The Mighty Nein Origins: Caleb Wisowgast), and Critical Role letterer alum Ariana Maher (Critical Role: Vox Machina Origins, Star Wars: The High Republic). Critical Role: The Mighty Nein Origins: Yasha Nydoorin has been developed with direction by Dungeon Master Matt Mercer and Ashley Johnson who created and plays Yasha on Critical Role.
What is so exciting about Yasha's graphic novel is that there is a lot to explore about the barbarian's mysterious past. Yasha herself can't remember pieces of her past and doesn't understand that she is Aasimar so this graphic novel could reveal pieces that even Johnson doesn't know about. We do know that Yasha grew up in Xhorhas and was a part of the Dolorv tribe where she met and fell in love with Zuala another member of the tribe.
They married in secret because the rules of the tribe did not allow the pair to be together. The penalty for breaking the tribe's rule is death and when they were discovered Yasha fled leaving Zuala to her fate. Following this Yasha cannot remember many months after this. Yasha's story is ripe for further exploration and Critters can undoubtedly look forward to learning more about the Aasimar barbarian.
Critical Role: The Mighty Nein Origins: Yasha Nydoorin is set to for release September 15, 2021. Critical Role: The Mighty Nein Origins: Jester Lavorre is set for release June 16, 2021 and Critical Role: The Mighty Nein Origins: Caleb Widowgast is set for release July 14, 2021. Are you excited to learn more about Yasha Nydoorin? Which Mighty Nein member's graphic novel are you most looking forward to? Leave your thoughts in the comments below or on our social media.
KEEP READING: CRITICAL ROLE ANNOUNCES THE MIGHTY NEIN ORIGINS GRAPHIC NOVELS COMING IN 2021
Source: Screen Rant