Bad Trip is a hilariously shocking buddy road movie whose full commitment to lowbrow jokes and game cast make it a must-watch for fans of the comedian's particular flavor of comedy.
Eric Andre has made a career pushing comedic boundaries. His style of humor is crude, raunchy, and often shocking, but most of the times also quite hilarious. He's recently moved into voice acting with supporting roles in the 2019 The Lion King and Netflix's Disenchantment. However, his new film Bad Trip, co-starring Lil Rel Howery (Get Out) and Tiffany Haddish (Girls Trip), sees him take center stage by marrying a road trip buddy movie plot with his outrageous antics to great results.
Friends Chris (Eric Andre) and Bud (Lil Rel Howery) have been stuck working dead-end jobs in their small town for ages. When an attractive woman named Maria Li (Michaela Conlin) gives him her number and location in New York, he gets Bud to steal the car of his jailed sister Trina (Tiffany Haddish) to drive there. The duo have various misadventures across the country, while both are unaware Trina broke out of jail and is hot on their trail to get her car back.
The best thing about Bad Trip is its comedic fearlessness. There are several shocking yet hilarious gags here that I wouldn't dare spoil, with the best part being many of them were filmed in front of unknowing citizens, a la Borat. (The end credits show the people reacting to being filmed for the movie).
RELATED: BAD TRIP'S LIL REL HOWERY WAS ATTACHED TO STAR IN GAMBIT WITH CHANNING TATUM
Unlike the Jackass and Smosh movies, Bad Trip succeeds in combining Andre's unpredictable shock humor with a structured narrative. Not every joke hits, but the ones that do more than compensate for the few misses and allow Andre, Howery, and Haddish to let loose, have fun, and keep us laughing in the process.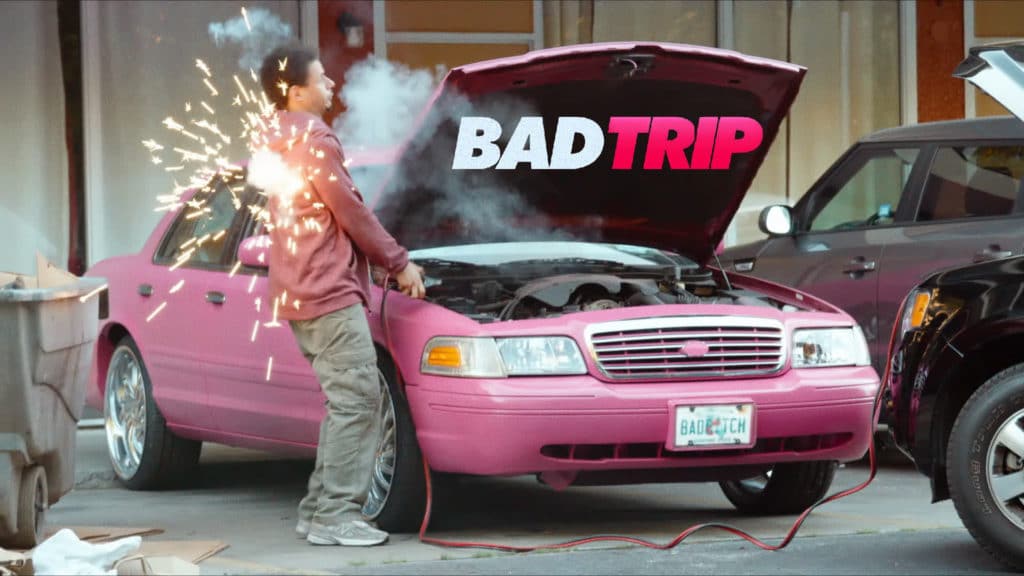 Bad Trip is a hilarious, often shocking late-night comedy that gets the job done. Take this Bad Trip.
3.5 out of 5 stars (above average)
BAD TRIP OFFICIAL SYNOPSIS
This hidden camera comedy follows two best friends as they go on a cross-country road trip full of hilarious, inventive pranks, pulling its real-life audience into the mayhem. Bad Trip stars Eric Andre, Lil Rel Howery, Tiffany Haddish, and Michaela Conlin. The film is directed by Kitao Sakurai from the minds of Dan Curry, Kitao Sakurai, and Andre – and produced by Andre, Jeff Tremaine, David Bernad, and Ruben Fleischer.
Rated R for Crude and Sexual Content Throughout, Nudity, and Language.
Bad Trip is available to stream on Netflix now. What did you think of the movie? Tell us what you thought in the comment section below or on our social media!
KEEP READING: BAD TRIP: LIL REL HOWERY REVEALS A SCARY SCENE GONE WRONG THAT HAD HIM LITERALLY RUNNING FOR HIS LIFE