WWE's biggest event of the year, Wrestlemania 37, is just a few days away! Like the previous year, this year's spectacle will be a two night event. (Thank New Japan for this idea later.) With an already stacked card, It would be hard to put any other match on the card. However there is one match that recently had the potential of being on the card: Aj Styles vs Triple H. 
AJ Styles and Omos are set to face The New Day for the Raw Tag Team Titles on Night 1, but it was originally going to be something different. AJ Styles has recently made it public that he wanted to have a match with Triple H at this year's Wrestlemania. In fact, he gave Triple H multiple requests to have a match with him.
Triple H Gets Real About Facing AJ Styles
In a recent report from PW Pro Wrestling, Triple H had revealed why he had to turn down AJ's request. During a media call to promote NXT Takeover: Stand & Deliver, Triple H talked about how AJ Styles tried to get him to wrestle: 
"He pestered with me every time I saw him! He would ask me about it and ask me about my schedule and as we got closer, man, I've said this before, getting ready for WrestleMania is a different thing. And the older you get, the harder it gets.

When he first came to me, I said, 'AJ, I'm not going to tell you no. Personally, I'd love to work with you and at this point, you can carry me to something.' So, I'd love it."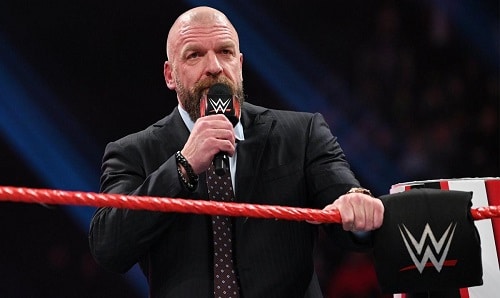 He continued on and explained that getting in Wrestlemania shape was something he didn't have much time to do.
"There's a part of me that wants to do it, and then there's just a bigger part of me that says, 'I'm so busy 24/7, that to even try and contemplate how to train in the way I would want to train and get in-shape – and by shape, I don't mean look—in-shape ring wise so you don't embarrass yourself once you get in there at 52.

It's a lot of work and I don't know that I have – I'm not afraid of the work. If I could make more hours in the day, I could find time to do it. It's just time."
This is understandable on Triple H's part because he's on record for how he prepares for his matches at Wrestlemania. In 2019, leading in his match with Batista in Wrestlemania 35, a WWE documentary crew interviewed Triple H on his workout regiment, diet and what to expect. 
Although this match would have had the potential of being a modern classic, Triple H has not retired from wrestling, so there is potential for a match of this caliber to happen someday. Triple H's last match in the squared ring was at Wrestlemania 35. Although the pandemic has changed how WWE was going to do Wrestlemania 36 – The Cerebral Assassin was never put on the card – andhe has gone on record expressing his happiness about it during an interview with ESPN Sportscenter.
"Right now, I'm a full-time office guy. It's funny, ironically I wasn't scheduled to be in this year's WrestleMania anyway. Every year as time goes by, it gets more and more hectic for me. Getting in the ring just becomes an added burden. Especially this year, with the way things turned out, and what we have to accomplish, I was very thankful I wasn't scheduled to be in the ring this year, because it would have been almost virtually impossible to do everything else that's happening."
Let us know what you guys think? Would have loved to see Triple H vs Aj Styles?  Would it have been on the caliber of Styles's matches with John Cena or Daniel Bryan? Will Triple H compete at next year's Wrestlemania or should wrestling fans prepare themselves for a retirement announcement later this year?  Let us know in the comments below or Twitter. 
KEEP READING: WILL OSPREAY WINS THE IWGP WORLD HEAVYWEIGHT CHAMPIONSHIP AND ISSUES CHALLENGE
Sources: Pro Wrestling, sportzwiki