IMPACT Co-Executive Vice President Scott D'Amore discussed the list of WWE's recent releases and them getting signed to IMPACT.
Last week 10 WWE Superstars were released from their WWE contract. This happens every year after WrestleMania, but what makes this a little funny is the date. This and last year the releases were announced on April 15.
Last year a big chunk of the people released ended up in IMPACT including The Good Brothers (Doc Gallows and Karl Anderson), Eric Young, Heath Slater, EC3, Matt Cardona (Zack Ryder) and Brian Myers (Curt Hawkins). With so many ending up in IMPACT last year the question arises how many will end up in IMPACT this time? Especially when some of those released were ex-IMPACT/TNA talent including Samoa Joe, Chelsea Green and Mickie James.
RELATED: SAMOA JOE AND OTHER BIG WRESTLING NAMES RECENTLY RELEASED FROM WWE
Scott D'Amore On Recent WWE Releases
Scott D'Amore was on Sitting Ringside with David Penzer and was asked his thoughts on the group of released Superstars.
"I'm kind of curious by the fact that people seem to be shocked that this happened. Historically, this is exactly what happens. They get through WrestleMania and then they make some adjustments to their talent roster. My phone started lighting up and there is definitely some talent I could see gracing an IMPACT Wrestling ring.

It's always unfortunate when any talent gets let go, it's part of any business. Like so many people last year, it's a great opportunity to take this setback and turn it into something cool and something that can propel them forward. It'll be an interesting time over these next 90 days and we'll see where everyone lands in July," Scott D'Amore said. H/T to Fightful for the transcriptions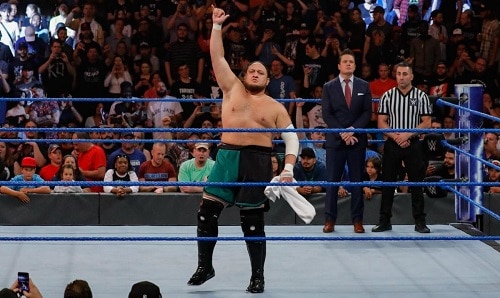 The Second Wave Of Ex-WWE Wrestlers?
I completely echo Scott D'Amore's thoughts on people being surprised. This always happens after WrestleMania and none of these wrestlers were doing much of anything.  he only ones who were doing anything at all in the ring were Peyton Royce and Billie Kay.  We also don't know the details behind many of these releases. There could have been behavior problems backstage or they just plain asked for a release and weren't public about it.
RELATED: CHRIS HERO SAYS VINCE MCMAHON ISN'T INTERESTED WITH BEING CURRENT WITH WRESTLING
We will see where these wrestlers will end up after their 90-day non-compete clause is up which would be July. At this time this year's IMPACT Slammiversary doesn't have a date yet, so we just may see some unexpected appearances. I think at least one or two of the released group will end up in IMPACT and it will most likely be Green.
Do you think IMPACT is the best place for these wrestlers? Do you agree with Scott D'Amore? Who do you think would do well there and who wouldn't? Is there anyone in IMPACT you want to see wrestle one of these wrestlers?  MPACT the keys with your fingers and leave your comments below or over on our social media.
KEEP READING: JOHN CENA'S SOCIAL MEDIA TEASE WITH NXT STAR SPARKS HOPES FOR A RETURN TO THE RING
Sources: FightFul, ProWresling, Sitting Ringside with David Penzer