It's that time of year again. 
Samoa Joe and others including Billie Kay, Peyton Royce, Mickie James, Chelsea Green, Tucker, Kalisto, Mojo Rawley, Bo Dallas and Wesley Blake have been released from their WWE contracts as of Thursday.
RELATED: MATT CARDONA REVEALS SEVERAL WRESTLERS RELEASED FROM WWE WANTED RELEASE
Every year after WrestleMania WWE releases a handful of WWE Superstars from their WWE contracts. Undoubtedly the biggest names on the list are Joe, Royce and Kay.
Hey Samoa Joe, Where You Going With That Pink Slip In Your Hand?
Samoa Joe had been with WWE since debuting in NXT in 2015. While in NXT Joe won the NXT Championship twice and is tied for holding it the most times. Once he was called up to the main roster Samoa Joe won the United States Championship twice.
Joe had been in the world title picture off-and-on the entire time he was on the main roster. This includes a feud and match with Brock Lesnar. Samoa Joe could always be counted on to put in a good performance and match.
However, in 2019 the wrestler started to suffer from injuries. This put Samoa Joe in a new position, as a color commentator until 2021, only wrestling sporadically. Joe excelled in the commentary booth. So far there has been no comment from Joe in regards to his release. It isn't clear whether Samoa Joe asked for his release so he could wrestle elsewhere or if he was surprised by it.
Joe is 42 years old and retirement is nearing soon for him, so he may just retire from in-ring action. After his 90-day non-compete clause is up he has a few options where to go. He made his name in TNA/IMPACT Wrestling so it would make sense for him to go back. Of course AEW is an option as well.
A Giant Loss Of An Iconic Duo
The other two big names released were Kay and Royce aka The IIconics. The pair debuted in 2015 over on NXT and were popular, but weren't exactly dominant. However, once they were called up to the main roster they began to shine. The IIconics were the second ever WWE Women's Tag Team Champions and held the titles for 120 days.
RELATED: LARS SULLIVAN QUIETLY RELEASED FROM WWE
Once the pair was forced to break up any momentum they had was stopped dead. The pair were more of a joke as a team who were surprisingly good wrestlers. However once apart, the humor aspect was turned way up especially for Kay.  In the last few months Royce was starting to get a solo push and recognized as a threat to the women's championship, but the push fizzled out. Again it isn't clear if they asked for their release, but it would make a lot of sense because WWE wasn't doing a whole lot with the pair.
I would be shocked if the pair didn't end up in AEW, especially Royce. Royce is married to Shawn Spears, aka Tye Dillinger, and he's in AEW. AEW is still lacking a strong women's division even though it has gotten better. The pair could add a lot of spice and personality to the division.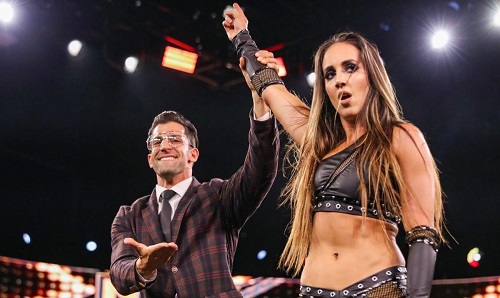 Promising Young Talent And Long Overdue Talent Released
Chelsea Green is a release I just don't get. She has it all and is someone WWE could have pushed really hard and gotten a lot in return from. She can wrestle, talk, be a great heel and she just gets it. Green will most likely end up in IMPACT as she is engaged to Matt Cardona aka Zack Ryder and he's over in IMPACT and Green did well there previously.
One of my favorite wrestlers of all time, Mickie James, was also released. James is getting older and hasn't doesn't much in a long time. I hope she makes her way to a backstage role somewhere because she is truly a great wrestler.
Tucker, Kalisto, Mojo Rawley, Bo Dallas and Wesley Blake aren't a big loss for WWE. However, I did see some potential in Dallas, but hopefully he can go somewhere else and prove himself and get rehired like Drew McIntyre.
The biggest news is that somehow Titus O'Neil survived another WWE cut. However, at least they got Rawley this time.
What do you think of these releases? Is there anyone in particular you were shocked by? Where do you think Samoa Joe, The IIconics and Green will end up? Is there anyone in particular you would like to see any of them wrestle? Perhaps a Samoa Joe vs Kenny Omega match? Or maybe a Kalisto vs Fenix or Pentagon match? Is there anyone you think should have been released instead of any of these Superstars? Be IIconic and leave your thoughts below or over on Twitter.
KEEP READING: FRANKY MONET MAKES NXT DEBUT AND SARRAY TO FOLLOW
Source: WWE