Star Wars Day, May 4, is upon us and the premiere of the highly anticipated series, The Bad Batch is here. The Bad Batch is set to be an exciting successor to The Clone Wars following the titular characters, voiced by Dee Bradley Baker, who were first introduced in the final season of Clone Wars.
In a recent virtual press conference for The Bad Batch, Jennifer Corbett, producer and head writer of The Bad Batch talked about working with Dave Filoni on the new animated series:
"I got to work with Dave [Filoni] on Star Wars Resistance, which was such a great experience. And getting the chance to develop the series with him, it's kinda like a master class in writing Star Wars? And he, with this being a sequel series of sorts, The Clone Wars, it was kind of crucial that he be involved in this process very much. Because these are characters that he's created and it's the world that he knows, but every day, every script is a learning experience. And it's so exciting to see this show grow and develop with this team. And he's been fantastic to learn from."
Dave Filoni's Influence Over Modern Day Star Wars Is Strong
Dave Filoni has been an integral part of Star Wars since the beginning of Clone Wars. Filoni worked with George Lucas for years on Clone Wars and has now become the expert and the backbone for the Star Wars television franchise. He executive produced Clone Wars, Rebels, Star Wars Resistance, and now The Bad Batch and that is just for Star Wars animation. In live action, Dave Filoni is executive producer on the award-winning series The Mandalorian as well as it's many upcoming spin-offs.
RELATED: STAR WARS: THE BAD BATCH'S NEW TRAILER DROPPED AND HERE'S WHAT WE CAN EXPECT THIS MAY 4TH
Producer Brad Rau shared when he met Dave Filoni and what it is like to collaborate with the Star Wars expert.
"Dave [Filoni} he's awesome. I've known Dave for a long time. When he was starting Clone Wars, I first met him up at the ranch-Skywalker Ranch, and I happened to just be starting my own animation studio at that time. So, I was unable to join the force of The Clone Wars.

It was one of my regrets that I rectified later on in Rebels, to join as an episodic director. And then on Resistance. And he's an awesome guy, a good friend. Really good, I couldn't think of a better mentor. Especially for Star Wars. The stuff he tells us every day, is fantastic. And amazing. And just collaborating with him and being able to work with you, Jen, so closely on this show's been awesome. It's been a dream come true."
DEE BRADLEY BAKER EXPLAINS HIS NEW ROLE(S)
Dave Filoni may be the creator of these characters, but there would be no Bad Batch without the talents of voice actor Dee Bradley Baker who voices not only the Bad Batch, but the other clones in The Bad Batch, Clone Wars, and Rebels. Dee Bradley Baker revealed how he approaches voicing the members of Clone Force 99 and how it is actually easier with how different each member of the team's voices are.
"Clone Force 99 is kind of another step beyond what I've been asked to do in The Clone Wars series. The Clones are, the tricky part for them is that the differentiation is much tighter between characters. Although it has to be decisive. It has to be clear. The Bad Batch are actually much further apart from each other, which oddly makes it a little bit easier to jump from character to character to character. I mean, for me it feels like I'm jumping from rock to rock on a stream. I can see the rock. The writing is clear. And that's what I jump to…is that character.

And it's like, I can see them. I feel like I know them, and it actually [Dee Bradley Baker laughs] it actually helps that they're further differentiated vocally, and also in terms of their personality and their mood, shall we say? It comes off looking more as a magic trick then it does maybe with the Clones, but it's still a really fascinating process as a voice actor to just have these scenes where I'm just talking to myself. Just switching from character to character to character as we go through the script. Which is typically how we do it. We just go straight through it. It's great that it's fantastic fun. It's really an interesting project."

Dee Bradley Baker
JENNIFER CORBETT REVEALS HOW DEE BRADLEY BAKER RECORDS THE BAD BATCH
Jennifer Corbett revealed how Dee Bradley Baker jumps between each of the characters during the recording session:
"And it's impressive to watch him (Dee Bradley Baker) do it in the room, because when we first started, I thought he was gonna go a character at a time. And just watching him like, act out a scene with himself, with all of these Clones. But there's no pause. He just goes right into it. And I was blown away. And each time we do one of these record sessions, I'm just amazed at Dee's talent. "

Brad added, "Same. Yeah, sometimes I accidentally say, "Okay, so Wrecker, oh wait, I mean, wait, Dee."

In response Dee Bradley Baker was quick to bring out Wrecker jokingly assuring Brad in the clone's voice "It's all right, you can talk to me. I don't care. It's fine, I'm here. [Dee Bradley Baker laughs]"
The Bad Batch at it's heart is about a group of soldiers, specifically in a post war galaxy, with the comradery and relationship being an extremely important part of making the series work. Head writer Jennifer Corbett is able to bring a unique authenticity to this as she explained when asked if her experience in the Navy helped her while writing The Bad Batch.
"When I first saw the original story arc for The Bad Batch that was meant for The Clone Wars, the final season, I immediately responded to it because I got the dynamic between this squad. And I understand how people in the military become like, brothers and sisters very closely when you're sent on missions together. When you're in close quarters and kinda the camaraderie and also the banter that comes with living with people, so closely, in high stress situations.

So, I think that's what I try to bring to it, is how this squad, even though they are these elite soldiers, they are this family. But they don't have to agree all the time, and all the things. And all the different perspectives that each of them brings, because they're all so very different. And, I think that speaks to the military. No one comes from the same background, everybody has their different reasons for doing what they're doing. And, it is a family dynamic in real life."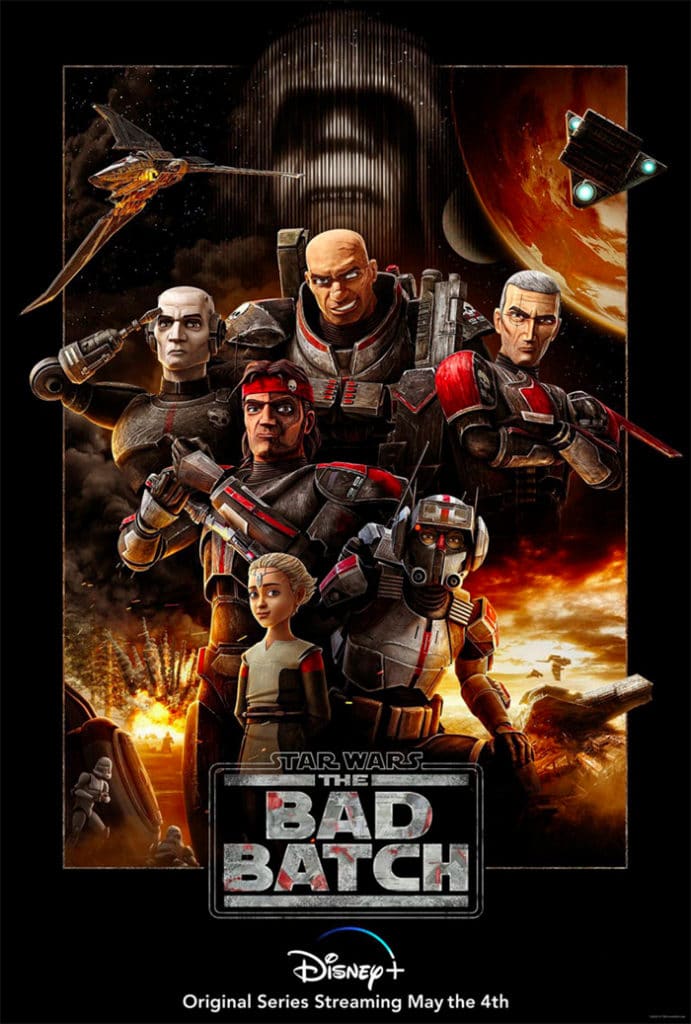 With Dee Bradley Baker's vocal performance and Jennifer Corbett bringing unique perspective to the series, it should make the dynamic of The Bad Batch feel especially realistic. While The Clone Wars was a series about every side of the war including soldiers, especially Clone Troopers, Jedi generals, people trying and often failing to stay out of the Clone War, and the politics of war in the Senate, The Bad Batch will be a new perspective. In a post Clone War galaxy with the Empire on the rise it will be fascinating to see how the different members of the Bad Batch cope when they no longer serve the Republic.
STAR WARS: THE BAD BATCH OFFICIAL TRAILER AND SYNOPSIS
Star Wars: The Bad Batch follows the elite and experimental clones of the Bad Batch (first introduced in The Clone Wars) as they find their way in a rapidly changing galaxy in the immediate aftermath of the Clone War. Members of Bad Batch—a unique squad of clones who vary genetically from their brothers in the Clone Army—each possess a singular exceptional skill that makes them extraordinarily effective soldiers and a formidable crew. In the post-Clone War era, they will take on daring mercenary missions as they struggle to stay afloat and find new purpose.
The Bad Batch premieres on Disney Plus with a 70-minute episode on May 4, better known as Star Wars Day. Are you excited for The Bad Batch and the vocal performance of Dee Bradley Baker? Were you impressed by Dee Bradley Baker's recording process? What do you think about head writer Jennifer Corbett bringing her own military experience into the writing of The Bad Batch? What is your favorite Dee Bradley Baker role? Leave your thoughts in the comments below or on our social media.
KEEP READING: