The last holdout from the wrestling territory days, NWA, just announced an all-women PPV to be produced by Mickie James.
On Tuesday NWA Owner and Smashing Pumpkins frontman Billy Corgan made a big announcement. During their weekly program, NWA Powerrr, Corgan announced on August 28 NWA will host an all-women PPV. 
RELATED: MARK HENRY REFLECTS ON HIS DECISION TO SIGN WITH AEW
This is not the first time something like this has happened in the wrestling world, but this is still not a common occurrence. However, just to make this PPV an even bigger deal is women's wrestling legend Mickie James will be the producer for the event.
Ushering In A New Age For Women's Wrestling and NWA?
After James was recently released from WWE no one knew where she would end up. This announcement signals she will make NWA her new home and be joining her husband Nick Aldis in the promotion.
James and Corgan made it very clear they take this event very seriously and stressed that this isn't just a money grab. They want to prove women's wrestling can bring in money, deserves to be at the top of the marquee alongside the men's wrestling and is something people will tune in for. We will see if fans will spend their money to watch this special night of women's wrestling. One thing which wasn't explained in Corgan or James' statement was if James will wrestle during the PPV.
Women's Wrestling Legend
I can't think of a better women's wrestler to be the driving force behind this special event.  James was part of the first women's wrestling explosion which hit the WWE in the mid-2000s. She came onto the scene as the stalker of Trish Stratus and was the thing she is most known for.
James' addition to the WWE roster gave some of the best young female wrestlers like Stratus, Lita, Victoria and others someone competent to wrestle. At the time many of the wrestlers were given a push because of their looks and not their talent. However, James was part of the select few who could perform at a very high level.
RELATED: TONY KHAN REVEALS WHY HE DOESN'T PROMOTE IMPACT ON AEW
In 2010 when she was released from WWE she had become a five time Women's Champion and a one time Diva's Champion. After her release she went over to TNA now known as IMPACT Wrestling and decided to dominate that promotion's women's division. While in TNA she won the Knockouts Championship three times. In 2016 James made her return to WWE, but played a supporting role to younger wrestlers like Alexa Bliss. In April of this year she was released due to budget cuts.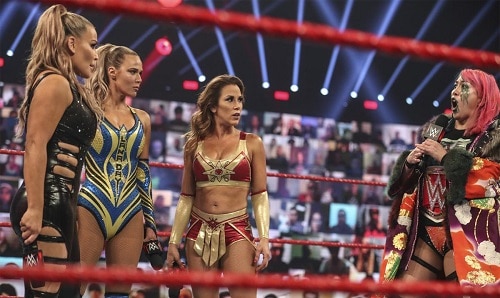 James Is The Perfect Person To Produce This Event
Having a wrestler with as much experience as James does as a producer is a great asset. I can't wait to see how this event turns out and hope it brings about more women's wrestling matches because I've always been a fan.
This all-women wrestling event won't be the only big thing happening over in NWA. The following night, August 29, the NWA 73 PPV will honor NWA's 73rd anniversary.  Both events will take place in St. Louis, Missouri.
Are you excited to see this all-women PPV? Do you think James will wrestle during the event? Are there any women in NWA or in the indies you would like to see James wrestle? Are there any female indie wrestlers who are must haves for this event? Leave your thoughts on the upcoming event and James below.
KEEP READING: A NEW PARTNERSHIP BETWEEN WWE AND NJPW LOOKING UNLIKELY
Source: WrestleZone