The first episode of What If…? is set to feature Captain Carter and Steve Rogers and nuggets of juicy info continue to surface.
Marvel is set to bring dozens of new characters and stories into the MCU over the next two years, most of them adding directly to everything established in the Infinity Saga. However, one of those properties is well known to be taking a different path with the first ever animated MCU entry in What If…?.
It's still unclear whether what happens in this series will impact anything that happens in the live-action Phase 4 movies and shows, but that doesn't make What If…? any less exciting of a story. This is due to fans' excitement over seeing characters like King T'Challa as Star-Lord, a zombie version of Captain America, and so much more.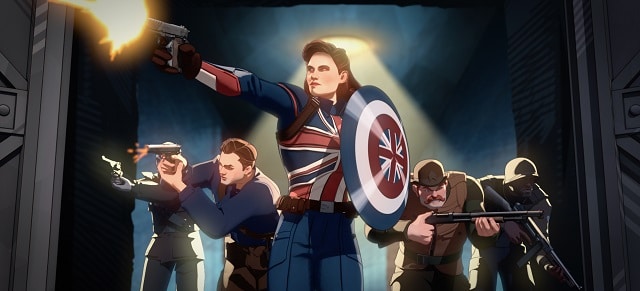 Recently, we at The Illuminerdi have had the incredible opportunity to share some news about what fans can expect to see in this summer's MCU Disney+ outing. This includes stories like Party Thor and Black Widow fighting her way through an Ultron-decimated world.
Websites like The Direct have uncovered new banners that give a closer look at What If…? including Peggy Carter and Steve Rogers, the leads in the series' first episode! So with each passing day there are new reasons to get hyped for the series' debut.
New Details For Captain Carter's Episode of What If…?
While Peggy was seen in Captain America: The First Avenger as Cap's love interest and a founding member of SHIELD, she's set to take a new turn here. For What If…?, Project Rebirth will have Peggy taking the Super Soldier Serum and officially becoming Captain Carter, as has been seen in previews and past images.
As for Steve, he is sidelined for Project Rebirth due to an undisclosed injury, but he has a new way to fight Hydra this time around. To do this, Howard Stark creates the very first Iron Man armor, which is called the "Hydra Stomper".
RELATED: PARTY THOR: EXCITING NEW STORY DETAILS ON THOR'S WHAT IF…? EPISODE: EXCLUSIVE
While these new versions of Steve and Peggy have been teased numerous times in promotional material so far, it's exciting to hear this new level of detail on what will comprise their story in What If…?.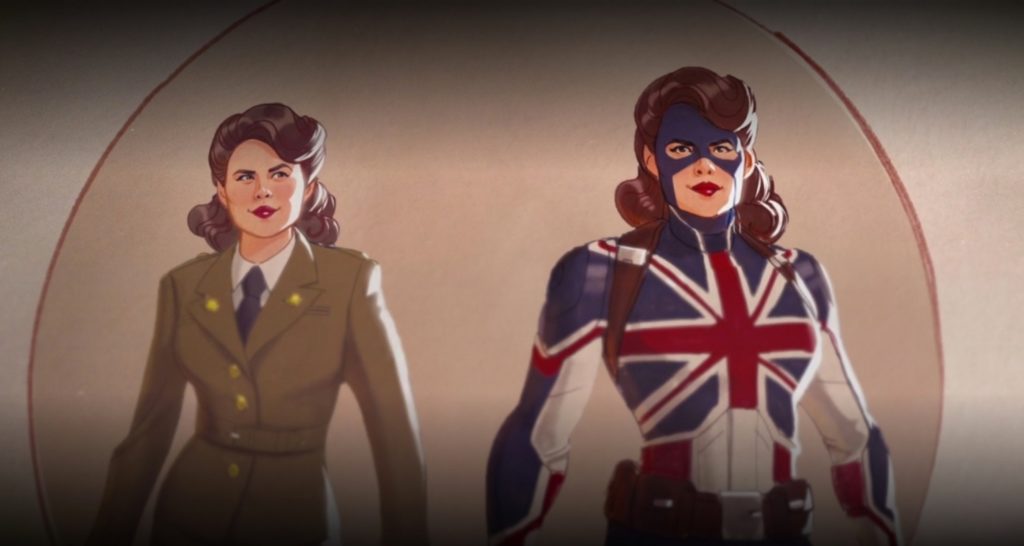 It seems all but confirmed that this first episode will follow Steve and Peggy's journey through Captain America: The First Avenger with key details adjusted. Peggy will take on a whole new responsibility as Captain Carter, and it's exciting to know that Steve will still have a chance to play the role of a hero alongside her as well.
RELATED: WHAT IF…? STORY REVEAL FOR BLACK WIDOW'S POST-APOCALYPTIC EPISODE: EXCLUSIVE
Howard's genius will be on full display as he creates the first ever Iron Man suit about six full decades before his son, Tony, does it in the MCU's core timeline. It will be interesting to see what other surprises are waiting in the upcoming episode.
"Space. Time. Reality. It's more than a linear path."
What If…? will debut on Disney+ in late Summer 2021. What do you think of the name Captain Carter? How do you think Steve Rogers gets injured in the episode? Who do you think Captain Carter will face off against in the debut episode of Marvel Studios' new animated series? Which episode of the upcoming animated series are you most looking forward to? Let us know your thoughts in the comment section below or over on our social media!
KEEP READING: WHERE IS THE MISCHIEVOUS LOKI IN THE WHAT IF…? PARTY THOR EPISODE?
Source: Brick Fanatics