The Walking Dead: World Beyond will return sooner rather than later for its second season, and star Aliyah Royale hopes to see her character Iris Bennett get a little more romance in it.
While she may have set out with a clear mission to find her father in the first episode, Iris has actually had a few brushes over the course of the first season. But who's a girl to choose between sweet yet tortured Silas and charming yet smarmy Percy? Especially in a world full of Empties and everyone's motivations suspect.
RELATED: DAVE BAUTISTA REALLY WANTED TO PLAY A ZOMBIE IN THE WALKING DEAD
When The Illuminerdi spoke to Aliyah Royale in preparation for the second season, as well as in celebration of the June 15 home release on Blu-ray and DVD, she seemed pretty sure of where Iris' heart lies. Read to find out her thoughts on Iris' suitors and what fans can expect in Season 2.
ALIYAH ROYALE TALKS IRIS AND TEEN LOVE IN THE APOCALYPSE
Poor Silas was overjoyed to go on an adventure with his crush when World Beyond started, but he soon had to face that she might only see him as a friend. Especially when Percy entered the picture, and Iris finally understood what a crush of her own felt like. Here is what Aliyah Royale herself had to say on the matter:
Over the course of the first season, there is potential teased both Silas and Percy, but what is your take on teenage love in the apocalypse at all? Where do those boys live in Iris' heart?
Aliyah Royale: You know, it's so funny. At first, no, not at all. She's not thinking about boys or love or anything in that realm. She really starts off like, "I'm going to find my dad," and not realizing that this whole time, she just wants to not be at the Campus Colony. She wants to be a person and experience danger. Even the loss and the suffering, she wants that, because wants to be something more than what she is. She was never going to grow to be anybody if she stayed there.

And then Silas comes along, and he's super sweet. But in her mind, it was a complete friendzone. I feel like she never considered that as an option, because she was so concerned with not dying. But then Percy comes along and is basically the adventurer that she wants to be, talking about how he's traveled; he's had to steal things and he got this car, and he seems so much more experienced than she is. I think she fell in love with the idea of being as adventurous and mysterious as Percy.

He caught her off guard, but I think it's cute. And I think there's room for both of them.
What moment has been most memorable for you to shoot, either from a physical or emotional perspective?
Aliyah Royale: If we're talking about love in the apocalypse, it would be the episode where Iris mentioned that she wants to see the Louvre if she could ever make it there – if it's even still standing. Percy took all of these artifacts that are super important to him, and he just – I could cry thinking about it, because no guy's ever done something like that – took his truck and made it something so beautiful. He made a mini-museum for Iris. That was the sweetest thing I've ever seen.

And I remember that night, it was the last scene up at three or four in the morning. It's freezing cold, and I remember them being like, "We're just gonna get the shot really quickly." I think we really shot that entire thing within 10 minutes, no joke, because it was the last shot up. I was like, "It's cold, get me out of here."

I was freezing and even a little annoyed, but the moment I got in the back of that truck and I saw it? Because they kept it hidden from me until the scene; they didn't want me to see it at all. It was a very real reaction. I saw it, and I was like, "This is the sweetest thing I've ever seen. I'm gonna cry."

A love like Percy has for Iris is a love that I would definitely want for myself.
Who do you hope to see Aliyah Royale's Iris with in Season 2 of World Beyond? Let us know on social media or in the comments below, and check back with The Illuminerdi for the latest TV news and interviews.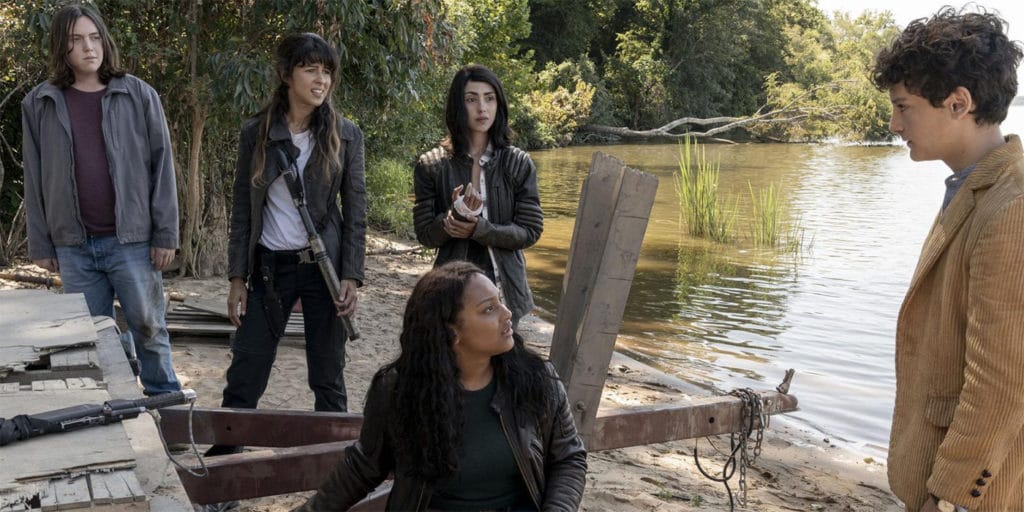 KEEP READING: ALIYAH ROYALE TEASES A HUCK SHOWDOWN IN THE WALKING DEAD: WORLD BEYOND SEASON 2