Short Circuit is a series of animated films spanning only a few minutes each, but containing exciting experimentation in animation.
Disney Animation members pitch their ideas, with the winning ideas being made into experimental shorts which challenge the boundaries of animation and story form. The pitches are chosen in a blind selection process, so the best ideas can be chosen regardless of the position or background of the creative.
Short Circuit Has A Long Lifespan
Now entering season two, Short Circuit's tiny films are evolving into chronicles of what it means to live, laugh, love, and cry as a human being. Driven by visual and musical storytelling, the new collection is art at its most powerful and its most universal. Sharing expressive colors, emotional scores, and a diverse mixture of 2D & 3D, humor & pain, inspiration & nostalgia, these five episodes are a tour de force of human expression and artistry. With this level of quality, I would be thrilled to see the series continue long into the future. This group of short films is truly an incredible achievement.
"Crosswalk"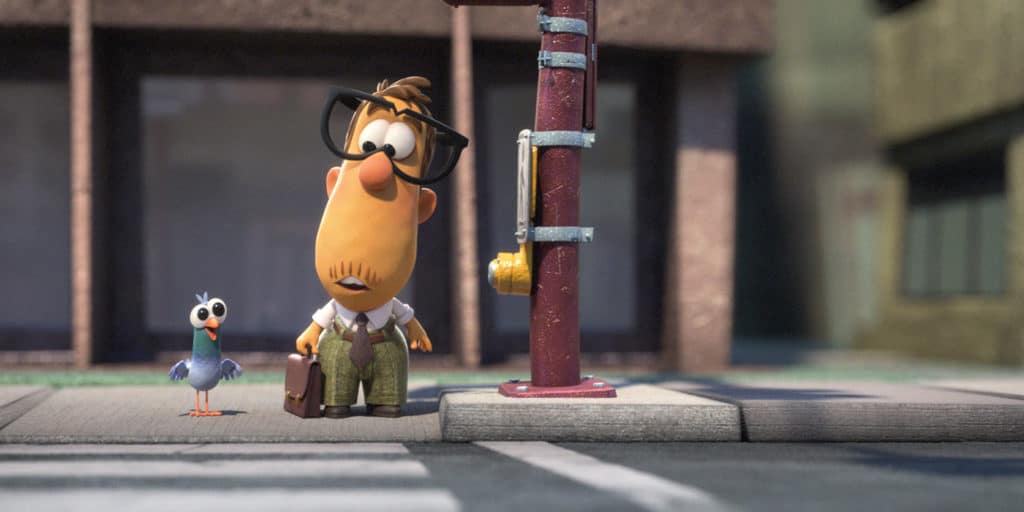 A law-abiding citizen must find his inner strength to cross the street at a light that won't change.
"Crosswalk" starts with the history of man juxtaposed with the history of animation as we transition from protozoa to fish to man then 2D sketch to 3D CGI render with animation that feels wonderfully handmade. Director Ryan Green noted that he was inspired by his frustration with pedestrian signals that perpetually say "DON'T WALK." In his own words:
"You can see way down the street in both directions and there's very little traffic, but the light takes forever. I remember standing there one day, just waiting and waiting and waiting. I pictured my ancestors showing up next to me and being like 'Hey what are you doing? We wanted to make a better life for ourselves, so we got on a boat and crossed the Atlantic, and we didn't wait for a robot to tell us to do it! Why are you just standing here? You can see that you can cross the street!'".
During the short, the electronic sign and the character have a hilarious battle. To handle the timing of the interplay, Green initially wanted a slower buildup, but needed to manage with the short runtime. He solved the problem by introducing the character and context instantly with the visuals, in a way that "feels like he's been waiting there for a while, then escalate from there and to get that manic, frenetic part where it's back and forth, back and forth."
I had a huge grin on my face the whole time, especially from the light's messages. The music is whimsical, but felt a bit dull and repetitive compared to the expressions in the visuals. Overall, this short is an amazing execution of a simple silly idea, paced perfectly for the micro-movie format.
Ryan Green's work as a story artist includes Zootopia, Moana, Ralph Breaks the Internet, Frozen II, Raya and the Last Dragon, and Encanto, with story lead on the short film "Us Again". Ryan Green also contributed to the character designs on "Songs to Sing in the Dark" and storyboards for "Dinosaur Barbarian".
"Going Home"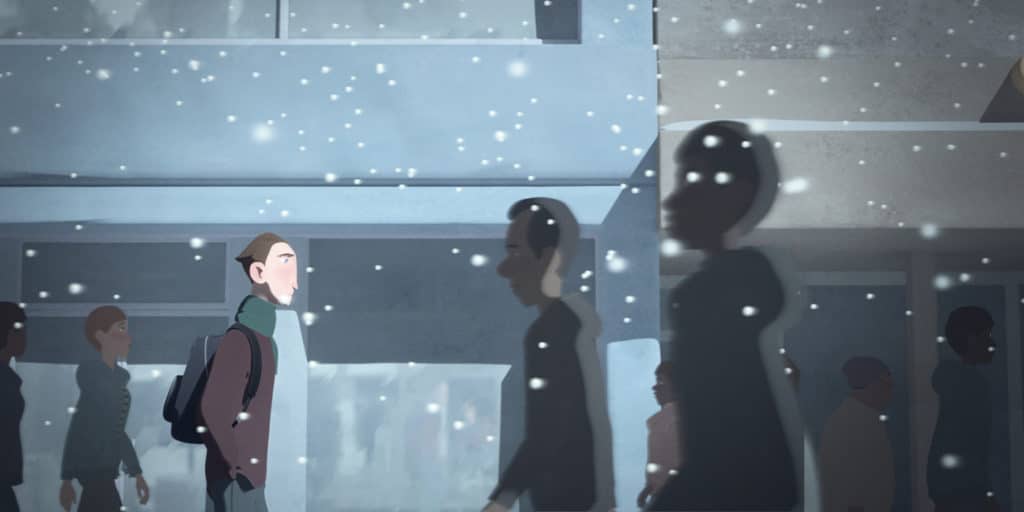 A story about growing up and the meaning of home in which a young adult repeatedly visits his hometown, but with every new arrival he starts to face the inevitable: change.
As an American living in Europe, I was moved beyond words by Jacob Frey's "Going Home". I haven't lived in my home community in nearly 10 years, so I related deeply to how subtle things feel increasingly unfamiliar with each visit. But as Frey expressed in the pre-episode interview, "The sad thing is that it's not just the set that changes, it's the people." It's difficult to explain in words, yet Frey captures that feeling of loss over time with total authenticity. The music is the final selling piece, a beautifully nostalgic piano tune reminiscent of Amélie-era Yann Tiersen.
During the virtual press conference, host Erin Glover remarked that one of the biggest strengths of this short was how the "melancholy and bittersweet" score was carefully synced to the speed of the film. In developing the short, Frey said he always wanted it to be "a very somber piano track" and felt that composer Jake Monaco (Flora & Ulysses, Forky Asks a Question) captured that exactly in his first version, with only minor tweaks needed later.
Frey noted that the animation and edits were developed before the music, so there had to be some back and forth between departments "to hit the beats a little bit better." Frey also mentioned that due to the rapid pace of the shifting seasons, they need to re-design each set four times and plan their edit points even before animating.
Their efforts were well worth it, as the music and visuals are an equal match for the power of the emotional story. This short has the revelational ability to convey emotions that are too complex for words; of sharing that yes, someone else understands this feeling so deeply that they can recreate the emotional experience in art. Just the opening interview alone nearly brought me to tears. Heartbreaking, sincere, and beautiful, "Going Home" is musical and visual storytelling at its finest.
Jacob Frey's animator credits include Zootopia, Moana, Ralph Breaks the Internet, Frozen II, and Raya and the Last Dragon, as well as the "Cycles" and "Puddles" shorts from Short Circuit season one.
RELATED: MOON KNIGHT: OSCAR ISAAC DESCRIBES SHOW AS "WILD" WHILE FILMING COMMENCES
"No. 2 to Kettering"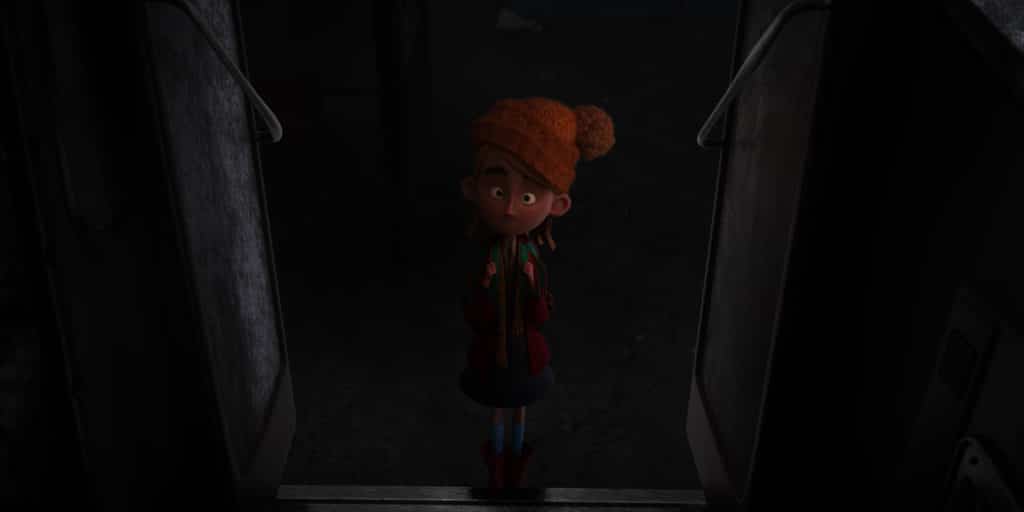 On a dreary, ordinary morning, a girl learns how the power of laughter can lift even the most sullen among her fellow bus riders along their journey to Kettering.
Director Liza Rhea uses color innovatively to drive the story development in "No. 2 to Kettering". The idea came to her during a meeting when she was imagining "What if there was a girl full of vibrant color, and she's living in a world that's bogged down with the weight of the world. She gets on a bus and everyone's going about their day, [but] she's all full of energy and bubbles."
Rhea wanted to express this contrast using color, so as the character interacts with the other passengers, "sometimes that color can be drained and sometimes she can infuse color into someone else" through her positivity. I loved this way of using color to drive the story development in such a depressing Tim Burton-y expressionist world.
Another major highlight of the short is the tactile stop-motion style in the CG animation and the care given to imitating the "real-world materials" in the 3D textures. But despite the clever use of color and fun visual style, I felt the short was missing the gleeful plot surprises of the other films, leaving me a little underwhelmed by the relatively linear story.
Liza Rhea's work as an environment modeler includes Ralph Breaks the Internet, Frozen II, Raya and the Last Dragon, and Encanto. Rhea was also an animation generalist on Voltron: Legendary Defender.
"Dinosaur Barbarian"
Battling evil is all in a day's work for Dinosaur Barbarian, but what about taking out the trash? Sometimes even a superhero needs to clean up his act.
The first Short Circuit film to be fully animated by hand, Kim Hazel's "Dinosaur Barbarian" is an absolute blast. Hazel complements a super fun idea with the loveable style of classic Hanna-Barbera cartoons like The Flinstones. What really makes this short stand out is how quickly the hilarious lyrics transition the basic premise into a whole new story.
To develop the rocking theme song, Hazel worked with the "collaborative, enthusiastic, and fun" Mondo Boys. During the press conference, she explained that she sent them a "poem" as an initial draft of the lyrics and story beats. Hazel recalled her reaction when she got their revision:
"I handed it off to the composers and they came back with something that completely blew my mind, both in terms of melody and the adjustments they made to my poem which made it a bajillion times better. … I gave them a word salad of what I was hoping to achieve with the song. When I got their first pass, I remember I was sitting and eating a sandwich on the weekend, and they emailed me their first pass. I– My mind– I didn't even know how to react. I was honestly speechless at how much they had taken everything I wanted and created exactly that in 90 seconds. It's amazing."
I'm always a sucker for visual/musical storytelling, and this hit a sweet spot. "Dinosaur Barbarian" needs a full series order ASAP, with an accompanying soundtrack album! The short must go on!
Kim Hazel's animator credits include Big Hero 6, Zootopia, Ralph Breaks the Internet, Frozen II, Raya and the Last Dragon, Encanto, and Baymax!. She also animated on "Lightning in a Bottle" for Short Circuit season one.
"Songs to Sing in the Dark"
Two creatures living in the depths of a dark cave engage in a battle of acoustic one-upmanship. As things escalate, they come to realize that they are stronger together.
With "Songs to Sing in the Dark," director Riannon Delanoy crafts an INSANELY cool synesthetic piece that explores the visualization of sound in three dimensions. Delanoy explained her unusual inspiration came from her parent's backgrounds in scientific research. She studied the use of sound in animal behavior and made connections to communication and conflict.
A key example was how bats rely on echolocation to navigate, but a tiger moth's interference pattern can jam a bat's echolocation signal. Similarly, sperm whales can "blast sound like a shotgun" to stun their prey and dolphins have "a kind of pictographic language" for sending images to each other using sound. Delanoy compiled all this data together and used her short to explore a scientific hypothesis:
"What if you took those abilities to their logical extreme? What would happen if you took a group of echolocating animals and let them evolve for millions of years in this totally dark cave in this massive evolutionary feedback loop? Maybe sound could become weapons and armor and camouflage and these these big threat displays. Maybe you could reinvent your appearance altogether in that environment and project any image you wanted into the mind of your observer. That sort of blue sky possibility for visuals and sound really appealed to me."
In particular, I loved the blacklight aesthetic of a dark world with neon colors emanating from a terrifyingly exhilarating cacophony of sound effects, chanting, and earthy musicality. This film is a wonderful evolution of Fantasia-style expressive musical animations. Although the literal story was a bit intangible at first, this short is the most spectacular of the set by far. An absolute visual and musical treat.
Riannon Delanoy's animator credits include Frozen, Big Hero 6, Zootopia, Moana, Ralph Breaks the Internet, Frozen II, Raya and the Last Dragon, and Encanto. Delanoy also worked on "Zenith", "Just a Thought", "Lucky Toupee" and "Downtown" for Short Circuit season one.

These five Short Circuit episodes were only 20 minutes altogether, including introductions with each director, and are well worth a watch. Have you seen season one yet? Let us know your thoughts on our social media!
Walt Disney Animation Studios' Short Circuit season two can be seen exclusively on Disney+ beginning August 4, and the 14-episode first season is currently streaming.
KEEP READING: SHORT CIRCUIT: DISNEY'S EXPERIMENTAL SHORTS RETURN FOR SEASON 2