Stars Zackary Arthur and Teo Briones of the new USA Network and SyFy series Chucky talk about how the series tackles issues teens face today.
The iconic horror character Chucky will make his debut on the USA Network with Don Mancini at the helm for the horror series. With 8-hours of content, we will dive deeper into the new characters in Hackensack, and the backstory of Charles Lee Ray, the serial killer trapped inside of the killer doll.
During a recent roundtable interview stars, Zackary Arthur, who plays Jake Webber, and Teo Briones, who plays his cousin Junior Webber chatted with us about the new horror series.
Zackary Arthur and Teo Briones talk about some of the relevant subject matters that teens face and how that will be at the forefront of the show. Classic Child's Play fans are in for a treat as the two talk about Don Mancini's dedication to not relying on CG and make Chucky work practically.
RELATED: HALLOWEEN ENDS: JAMIE LEE CURTIS SAYS 2022 FILM WILL "MAKE PEOPLE VERY ANGRY"
I'm just curious, this is a reboot of a really great classic horror franchise. Did you go back and watch the films, or were you familiar with them? Do you like them?
Teo Briones: Yeah, I never actually watched the films before getting the job, but then when I was hired, I was like, "I might as well go back and watch these movies." and then I realized just how great the movies are. I loved them so much, they're funny and scary, and yeah, they're great.
Zackary Arthur: Actually, growing up, I was never allowed to watch super scary movies, just because my parents said no. They thought I was going to go to prison or something from watching that. But the kids at my school who watched the Chucky movies were the cool kids. And so I remember I really wanted to watch them. When I found out that I was auditioning for the role, I binged, actually, all the Child's Play movies in like two days. That's my experience with it, at least.
RELATED: THE PURGE 6: NEW EXCITING DETAILS ON THE FRIGHTENING STORY FOR THE NEXT INSTALLMENT: EXCLUSIVE
Chucky Series Will Address Teen Bullying
Illuminerdi: In recent years, bullying has become a true horror story for a lot of teens out there. Can you talk to me about how the show kind of touches on that?
Zackary Arthur: Yeah. You know, this show… Jake, I feel like a lot of people can empathize with him because he's being bullied, he doesn't have a good home life. And because he's coming into his sexuality, I feel like a lot of people can empathize with him. This show deals with a lot of super real problems that happen today, like all the time. It's just, filming it, even acting in those scenes, it's super scary. And I feel like a lot of people who are going through this, hopefully, that they will see it, and feel like that they're represented, or maybe they're heard. I hope it helps a lot of people.
The Illuminerdi: Teo, Junior obviously grew up a lot differently than Jake, can you talk to me about their relationship, and how we see it progress throughout the course of the series?
Teo Briones: Well, at the start, they definitely resent each other. Junior is like the son that Lucas never had. So, Jake really resents him for that, and he also has this much better life that he wishes, in some way, that he could have had. Junior's really just insecure because of the pressure that his father is putting on him to be a great runner, and it's good on the surface, but his home life as well is really not great either.

He just takes out all of his frustration and anger… or not all of it, but some of it, on Jake, and he bullies him for no reason at all, because he's gay, and he's different, he's a loser. He just finds all the little things to pick on him about, and yeah, he's not great at the start of the show, no.
Zackary Arthur: Yeah. You know, what's great about this series is that you do get to see kind of both sides of the coin, you know You start to see why people… who are the boys in the show, why they became bullies.

Actually, one of my favorite scenes was when we were doing the dinner scene, where it was Teo, Bree, and that side of the family, and then the other side of the family. And what I thought was most interesting about that, is because you have the rich and successful side of the family, and you have the poor and kind of looked down on part of the family. And it's the tension, even filming that, that was a great scene.
RELATED: FRIED BARRY EXCLUSIVE INTERVIEW: DIRECTOR TALKS ABOUT HIS UNIQUE TWIST ON ALIEN ABDUCTION STORY
Chucky Is Back To His Original Look
Samuray Del Sol: I just wanted to say, to everyone, what is it like working with Don Mancini? I know his process of creating Chucky, I'm a huge fan, like I said. And yeah, I just wanted to get your mind, how's it like working with him?
Zackary Arthur: Oh yeah, no. It's great. Don, he's just a mastermind, especially because he is the creator of the franchise. He knows exactly what he wants, exactly how he wants the scenes, and it makes it, it's just so helpful. And on top of that, he is actually just like a really good dude.
Samuray Del Sol: That's great. I was going to say to all of you, what were the challenges in doing this series, and what other challenges did you have, making this?
Zackary Arthur: Well, one thing about the set, it was very organized. So there weren't really problems or anything that were bad. I guess, I mean the doll's creepy. I mean that's one thing.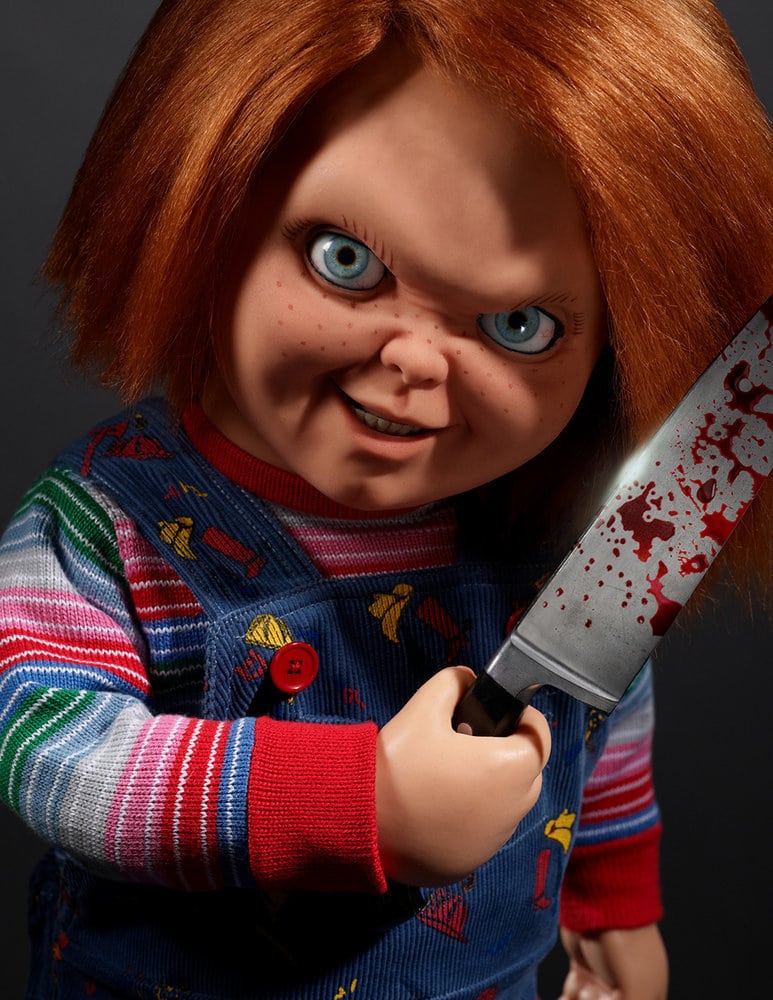 Samuray Del Sol: Yeah, that's my other question, how is it working with Chucky?
Zackary Arthur: Oh dude's freaky, really freaky. Like, okay, so it's one thing seeing him on TV, you would think that seeing him in real life would be less creepy.
RELATED: THE LAST OF US: 1ST LOOK PHOTO REVEALS PEDRO PASCAL AND BELLA RAMSEY IN HBO'S APOCALYPTIC SERIES
The Illuminerdi: That's amazing. Another question I had for you guys is, one thing that I found really cool, that Samuray Del Sol was just saying. Kalisto, my guy down there, was that how Chucky kind of moved, like it felt a lot more organic, and a lot more real. Can you talk to me about how practical effects were used to enhance the storytelling in Chucky, versus digital, obviously?
Zackary Arthur: Oh, it did. You see, so there's no CGI with the doll moving, and it's all puppet steering and robotics. The only thing they did is to move, like, the sticks holding him up, I guess. It's all the puppeteers in the show are great, and amazing. So yeah. It's nothing CGI.
We'll Be Getting A Deeper Origin of Charles Lee Ray in Chucky
The Illuminerdi: Now, putting Chucky on TV kind of allows for more story to be told, some more backstory on the Charles Lee Ray character. How much of that will we dive into, throughout the course of the series? Without giving any spoilers away, obviously.
Zackary Arthur: Definitely. In this series you do get to see kind of the origins, I guess you could say, with Chucky, Charles Lee Ray.
Chucky premieres on October 12th at 10 pm on USA & SYFY. In the new CHUCKY television series, an idyllic American town is thrown into chaos after a vintage 'Good Guy' doll turns up at a suburban yard sale. Soon, everyone must grapple with a series of horrifying murders that begin to expose the town's deep hypocrisies and hidden secrets.
Meanwhile, friends and foes from Chucky's past creep back into his world and threaten to expose the truth behind his mysterious origins as a seemingly ordinary child who somehow became this notorious monster. CHUCKY is produced by UCP and executive produced by creator Don Mancini, David Kirschner, Nick Antosca, and Alex Hedlund. Harley Peyton will also serve as executive producer. Mancini, who penned the film franchise, wrote the television adaptation, will direct the first episode, and serves as showrunner.
Are you excited to see the return of Chucky? Let us know on Twitter or in the comments below!