Halloween Ends will incorporate the pandemic in a very interesting way.
David Gordon Green revitalized the Halloween franchise with his 2018 sequel that shuffled aside the convoluted developments of previous installments for a direct follow-up from John Carpenter's seminal 1978 classic. 
RELATED: PAUL RUDD IS "KNOCKED OUT" BY JONATHAN MAJOR'S MENACING KANG PERFORMANCE IN ANT-MAN AND THE WASP: QUANTAMANIA
That film, also titled Halloween, proved a huge success and led to the greenlighting of two sequels: Halloween Kills which comes out in a couple of days, and next year's Halloween Ends (Though Jason Blum has hinted he'd like to continue the series after that). 
Halloween Ends Will Involve COVID
Just as the 2018 film took place and was influenced by the time in which it was released, Green has promised the upcoming 3rd installment will as well with the pandemic. In a recent interview, Green stated:
So if you think about it, I mean, where we're leaving these characters on Halloween 2018, the world is a different place. So not only do they have their immediate world affected by that trauma, having time to process that trauma – and that's a specific and immediate traumatic event in the community of Haddonfield. But then they also had a worldwide pandemic and peculiar politics and another million things that turned their world upside down.
No one can deny the world of 2021 and that of 2018 are vastly different from each other in a multitude of ways, and given that most popular horror films of the last few years have directly addressed the fears, dilemmas, and issues of their time, it makes sense for Green to follow suit by using the pandemic in his story.  The 2018 film had a bit more on its mind than your average slasher too, using the trauma experienced by lead character Laurie Strode in the original film to inform her character in the present as well as the impact that trauma had on her family. 
Of course, that's the plan for Halloween Ends, not Kills, so how effective Halloween Ends will be at tapping into the current zeitgeist will largely be determined by how well Kills can set that up. 
The trailers for Halloween Kills have told us the film will take place directly after the finale of Halloween and see the fallout of that film's events.  It's certainly a gamble by Green to have his 3rd film take place in the middle of the pandemic while we're still technically experiencing it, but if it pays off, that choice could lend some emotional weight and catharsis uncommon for your average slasher.  At the very least, we can expect it to deliver more of the gory goods.
The original Halloween was released in 1978 to critical and box office success, launching Jamie Lee Curtis as an A-lister and an iconic Scream Queen along with etching director John Carpenter into cinematic history.  Several sequels followed to varying degrees of reception, but none matching the level of success of the original. 
Halloween II in 1981 was an unrelated follow-up Halloween III: Season of the Witch in 1982, another direct sequel Halloween 4: The Return of Michael Myers in 1988, Halloween 5: The Revenge of Michael Myers in 1989, Halloween: The Curse of Michael Myers in 1995, Halloween H20: 20 Years Later in 1998, Halloween: Resurrection in 2002, Rob Zombie's duology of Halloween and Halloween II in 2007 and 2009, and finally Halloween in 2018. 
After 40 years and multiple sequels, reboots, and timelines, it's clear Michael Myers is one cinematic boogeyman who won't die easily.  Halloween Kills premieres in theaters and on Peacock on Friday, October 15, 2021 and Halloween Ends October 14, 2022.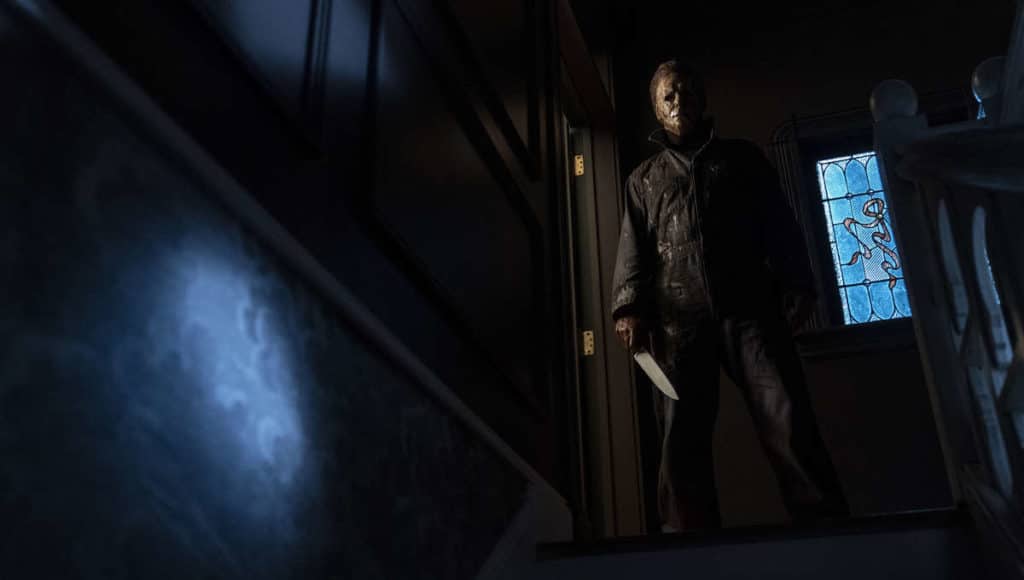 What do you think of David Gordon Green's plan for Halloween Ends?  Are you excited for Halloween Kills?  What's your favorite installment and/or kill in the Halloween franchise?  Let us know in the comments below and on our Twitter, and stay spooky, Illuminerds.
KEEP READING: I KNOW WHAT YOU DID LAST SUMMER REVIEW: A PROMISING BUT FLAWED FIRST 4 EPISODES
Source: Uproxx