NBC's new sci-fi series La Brea premiered a few weeks ago, introducing over 6.2 million viewers to the Harris family. The story centers on how they are split apart by a massive sinkhole that opened up under the La Brea tar pits and transported dozens of people to the year 10,000 BC.
Zyra Gorecki portrays Izzy Harris, who watched her mother and brother get swallowed by the hole and was left behind in the present day. We recently had the chance to speak with her about her character Izzy, her relationship with her family, and Amputee Blade Runners, the non-profit group she works with to help amputees obtain running prothesis.
RELATED: THE FRENCH DISPATCH REVIEW: A CREATIVE CELEBRATION OF JOURNALISM
You can watch the interview below or keep scrolling to read the transcript. New episodes of La Brea air Tuesday nights at 9pm and are available for streaming next day on Peacock and Hulu.
---
Zyra Gorecki Shares Her Thoughts On La Brea
*This interview has been edited for clarity*
In a show that feels like a cross between Land of the Lost and Terra Nova, your character Izzy and her father, Gavin, are the heart of the show. How did you get into the mindset of your character?
Zyra Gorecki: I think I've said this before, but as a real-life amputee, you have a different head space already to play an amputee character. And you have those experiences, and you understand what it's like. But Izzy has this ability to be vulnerable, and I am less good at that. So that was a learning curve, trying to figure that out, trying to figure out how to be vulnerable, how to not just go to your first emotion that you think of when you read the scene, but to find the pathway to that emotion.
But I think what really helped was being on set and just feeling all the emotions that you felt. Because a lot of the scenes, when I was holding on to Eve, when I was running, those feel really, really real to you. When I was holding onto Eve, you were up on this massive, massive platform, and you watched her fall. And it was very easy to get into character when you're on sets like we were.
How does Izzy's relationship with her father affect how she views her mother, Eve, and her brother, Josh?
Zyra Gorecki: I think it was definitely picking sides when it came to that. Izzy always picks her dad, right? That's her person, that's who she goes to for everything. And when they separated, she still chose him. And I think that she started to resent her mom from making her choose. And Josh chose her mom. And I think she really kind of drew the line in the sand and went, "This is what's going to happen, this is what's going to happen." I don't think she wanted to do that at all, but she disagreed with her mom as you tend to do when you're 16 years old.
Can you talk about what Izzy was feeling that lead her to go  off on her father in episode 2?
Zyra Gorecki: See, the thing is I think to me, it was like, you know when your friend does something stupid and even though you love them, you're still going to tell it's stupid? It was like that, where she still loves her father. No matter what happened, no matter if she thought he was a drunk, she continued to support him regardless.
And when she needed him the most, he wasn't there for her, after she watched her mom and her brother fall into the sinkhole. And he was still on this crazy tangent of these visions, and they're still alive. They're still whatever. And she just wanted to move on. She just wanted to continue with life and lick her wounds in peace. And so, she said the thing that would hurt him most, and that was, "Josh was right. You are just drunk." And I think that's kind of what snapped him out of it was, "I'm going to lose Izzy if I don't get my crap together."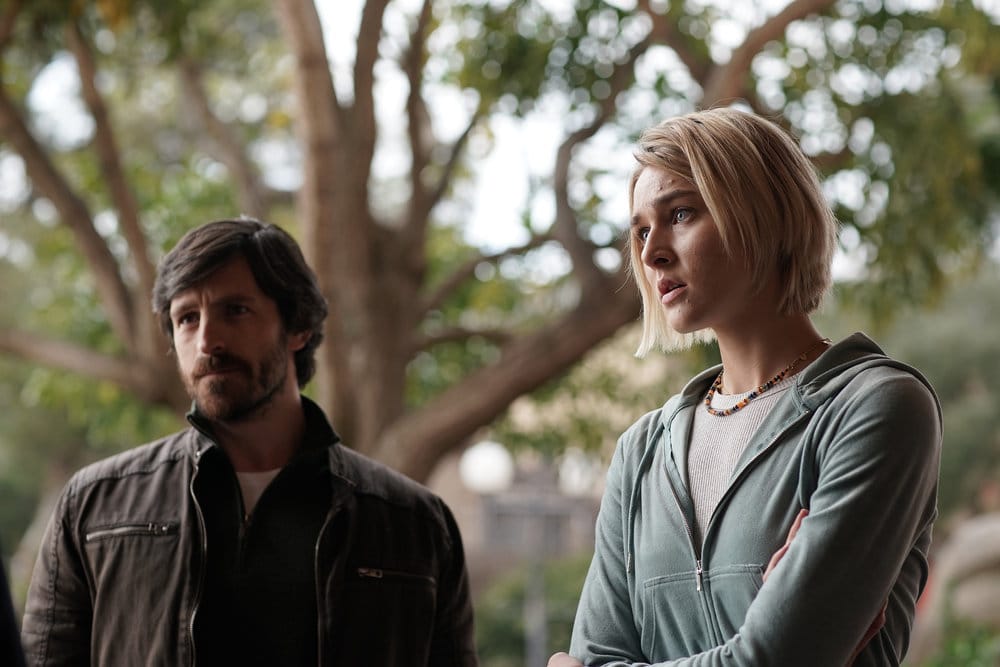 Are you able to discuss how Gavin's visions connect with the rip in space-time under La Brea?
Zyra Gorecki: I'm not the person to ask that question. That is David. He had a conversation with me about it, and I had no idea what was happening, most of it, I consider myself a relatively smart person. And I was sitting there, staring and just going, "What? What?" David. Ask David please.
Can you tell us about the charities and organizations for amputees that you work with?
Zyra Gorecki: Absolutely. So my biggest one is Amputee Blade Runners. They are the people who gave me my legs. They're the best legs that I have ever had. And the crazy part about them is they're a nonprofit organization down in Nashville, Tennessee. Tennessee cannot say, Tennessee for the life of me. And so, blades are 60 to $70,000, depending on if you have a knee, depending on what you need, whatever. It's considered recreational.
I don't know if you've ever tried to run in wooden shoes, but it's about like running in a regular leg. It's really painful. Doesn't really work if we're being honest. But Amputee Blade Runners, between volunteers, between working with brands, between donations, everything, they can get the cost of a blade down to $3,500.
That's manageable is what that is. Because you think, $60,000 – $70,000 for a leg, you're like, "I can't do that." I can donate like five bucks. I can't do that. But $3,500, you can get to that really quick with $5, $10, whatever it is. And they really do use every single cent. And those people work crazy hours.
I went down there on a Monday night, and we got in there I think 9:00 PM. And we said, "Oh, we're in Tennessee, we're in Nashville now." And they said, "All right, come into the office." I went and got cast for two legs. On average, it takes three months to get legs, one leg. It took four days to get two legs from them. And they're the most comfortable legs I have ever worn. And I could physically run again. It's the best feeling in the world, being able to do something that people have told… since having your leg amputated, that you couldn't do.
Did Izzy being an amputee come about due to your casting or was that always in the script?
Zyra Gorecki: No, actually, which is amazing, truly amazing. So David Appelbaum, the writer, for the story, he wanted Izzy to be an amputee. He saw that there wasn't a lot of representation for disability in the media specifically for amputees. And so, he said, "I want her to be an amputee." And so, they went out and they sent… They were trying to find this amputee. And they sent, I think an email to a camp I go to, which is called Camp No Limits. And Camp No Limits sent it out to all the campers. And they were like, "Hey, guys, does anybody want to audition for this role? It's for a 16-year-old girl, who's an amputee." And I said, "It is I." I auditioned.
And the first time they went, "You don't hate your family. You can be nicer." And so, I sent in another audition, and they were like, "All right, you're coming out to LA."
That's awesome.
Zyra Gorecki: Oh, yeah. It was bonkers.
About La Brea:
SYNOPSIS:
When a massive sinkhole mysteriously opens in Los Angeles, it tears a family in half, separating mother and son from father and daughter. When part of the family finds themselves in an unexplainable primeval world, alongside a disparate group of strangers, they must work to survive and uncover the mystery of where they are and if there is a way back home. Writer David Appelbaum executive produces with Avi Nir, Alon Shtruzman, Peter Traugott, Rachel Kaplan, Steven Lilien, Bryan Wynbrandt and Ken Woodruff. Universal Television, a division of Universal Studio Group, is the studio, producing with Keshet Studios.
CAST:
Natalie Zea, Eoin Macken, Zyra Gorecki, Jack Martin, Jon Seda, Chiké Okonkwo, Nicholas Gonzalez, Karina Logue, Veronica St. Clair, Rohan Mirchandaney, Josh McKenzie, Lily Santiago, Chloe De Los Santos
ZYRA GORECKI BIO:
NBC's La Brea stars 19-year-old newcomer Zyra Gorecki in her first major acting role as "Izzy Harris". She is one of the first below-the-knee amputee actors with a series regular role in a major broadcast television show. Gorecki is involved with a non-profit organization called "Amputee Blade Runners" that helps provide prosthetics for amputees.
With these blades Zyra has been able to participate in mud runs for Charity, wall climbing, and she leads an normal life. In addition to her acting career, which includes guest starring on Chicago Fire and her breakout role in La Brea, Gorecki is passionate about living and promoting a sustainable lifestyle. La Brea debuted impressively on NBC, September 28th, 2021 as the highest-rated new show of the fall season, triumphing over both new and returning shows.
About Amputee Blade Runners:
We are a Non-Profit organization that helps provide free running prosthetics for amputees.
Health insurance companies have declared running prosthetics as "not medically necessary" and do not cover their cost. Our organization helps amputees keep an active lifestyle by providing this vital equipment free of charge. Our goal is to provide a running prosthesis to one athlete in all 50 states. We currently have athletes in 31 states who serve as ambassadors to other amputees.
Please view our map and if you, or someone you know, is an active amputee and lives in a state in need of an ABR ambassador please contact us for more information or complete our grant application.
KEEP READING: GARRETT WANG SAYS HARRY KIM OPENED 'ADMIRAL KIM'S BAR AND GRILL'