The French Dispatch is Wes Anderson being as Wes Anderson as possible, for better or for worse.
Wes Anderson's The French Dispatch, from Searchlight Pictures, brings to life a collection of stories from the final issue of an American magazine published in a fictional 20th century French city.
RELATED: ARMY OF THIEVES MOVIE REVIEW: HUMOROUS HEIST FILM DELIVERS SOLID FUN
Read more in our review below:
The French Dispatch: As Wes Anderson As You Can Be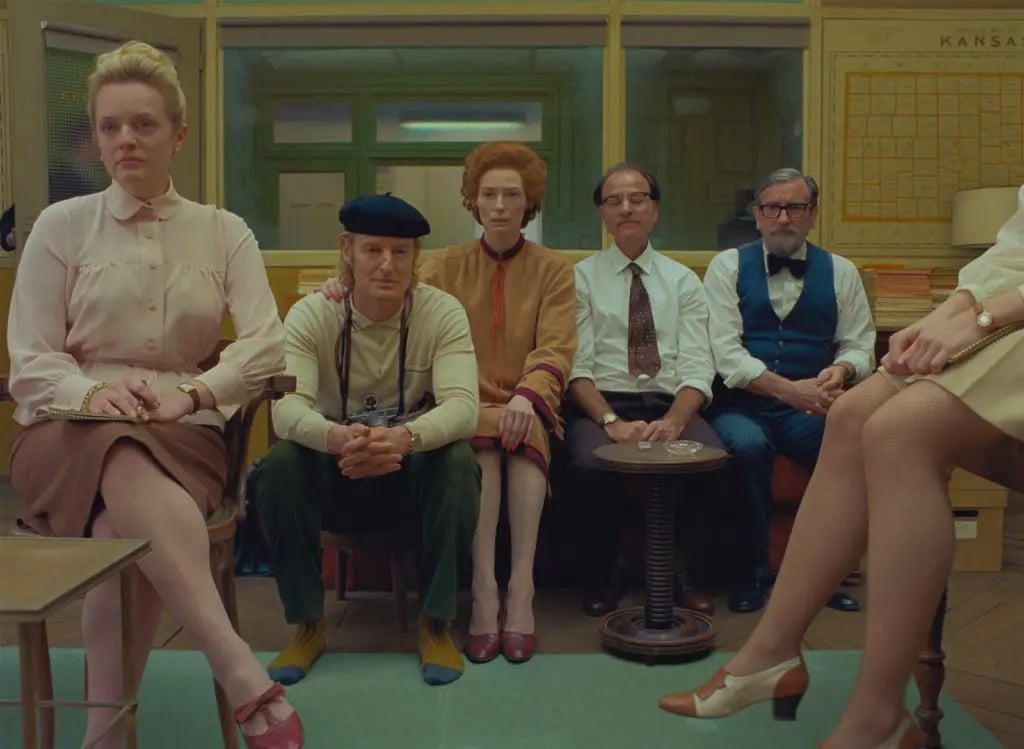 After his last live-action feature film The Grand Budapest Hotel premiered 7 years ago, Wes Anderson is finally back with the anthology film The French Dispatch. He fully brings to live his signature cinematic voice in this colorful celebration of journalism. The visuals are definitely one of the films highlights, like in basically all of Anderson's works. He masterfully combines color and black and white scenery, along with even animated sequences and it never feels out of place. His signature humor is also to be found, as he fully plays around with some witty dialogue and funny production design work.
Anderson assembled a stacked ensemble including his frequent collaborators like Bill Murray, Adrien Brody or Owen Wilson, but also newcomers like Jeffrey Wright and Timothée Chalamet, the latter Zeffirelli is a highlight of the film, leading to me hoping the the actor will continue to collaborate with the director, as her perfectly embodies a typical Wes Anderson character.
The film struggles due to its anthology structure. The film is divided in three stories (plus a prologue and epilogue). Every story stands on its own and aren't really connected to one another. That's why I found it hard to connect to the film, most of the time it felt unengaging and bland. Due to that, I even found the film to be a bit boring at times. While it all around does end on a high note, compared to previous stories of Anderson's films, I found this to be one of the least interesting. The same counts for the characters, which only characterization seems to be fancy dialogue.
The French Dispatch is a visual feast and a big playground for one of the most exciting and unique filmmakers. Sadly the film isn't as emotionally engaging as the directors previous works due to the story's anthology structure, leading to a rather unengaging viewing experience.
3,5/5
The French Dispatch is written and directed by Wes Anderson. The cast includes: Benicio del Toro, Adrien Brody, Tilda Swinton, Léa Seydoux, Frances McDormand, Timothée Chalamet, Lyna Khoudri, Jeffrey Wright, Mathieu Amalric, Stephen Park, Bill Murray and Owen Wilson.
The film is already available in select theatres and hits theatres everywhere October 28, 2021.
What do you guys think? Are you excited for the film? Which is your favorite film by Anderson? Let's discuss everything in the comments down below and on our Twitter.
KEEP READING: ONLY MURDERS IN THE BUILDING: EXCITING NEW CHARACTER DESCRIPTIONS FOR SEASON 2 OF THE STAR STUDDED MYSTERY COMEDY SERIES