WWE has released 18 of their NXT and main roster talent including Keith Lee, Karrion Kross and Ember Moon due to budget cuts.
WWE has been very calm with their releases and it's been nice to not see top Superstars and tomorrow's big names getting released. However, that all changed on a Thursday afternoon. Looks like AEW and IMPACT will have to start making some phone calls and drafting up some contracts.
Recent WWE Big Name Releases
The entire list goes as follows: Ember Moon, Keith Lee, Karrion Kross, Mia Yim, Gran Metalik, Nia Jax, Lince Dorado, Jeet Rama, Katrina Cortez, Trey Baxter, Zayda Ramier, Jessi Kamea, "B-Fab" Briana Brandy, Oney Lorcan, Franky Monet, Eva Marie and Scarlett Bordeaux.
Many of the wrestlers released were from NXT who had seen little screen time on NXT or on the main roster. Therefore some of these releases aren't all that surprising.
However, some of the NXT group released were some prominent NXT wrestlers. Among them is Oney Lorcan who has been part of NXT since 2017and is a former NXT Tag Team champion.
Franky Monet who was Taya Valkyrie on the indies and the wife of John Morrison. She is a very high level women's wrestler and former IMPACT Knockouts champion. Monet could have had a very bright future in WWE. To make things even more confusing is that she was only signed to WWE in February and debuted on NXT in April. Her first feud was against NXT Women's Champion Raquel González.
RELATED: FIRST NXT 2.0 TAKEOVER SCHEDULED FOR DECEMBER
However, as baffling as Monet's release was for NXT, two other releases were even more shocking. Scarlett Bordeaux was also released and every time she was used on NXT she was perfect. She was teamed up with her real life fiancé, Karrion Kross. She was his manager/handler of sorts. They made a perfect pair and were extremely popular. It looks like she is more of a manager than a wrestler which is great. Wrestling needs more managers, especially good female managers. However, maybe WWE wanted her to wrestle more. She was also rumored to get called up to the main roster with Kross, but that unfortunately never happened.
The most shocking NXT release is absolutely Ember Moon. She was a very popular and dominant wrestler in NXT and was called up to the main roster. Moon is a former NXT Women's champion and former NXT Tag Team champion. In 2019 she suffered a very serious ankle injury while filming a segment and it looked like she may not be able to ever wrestle again. However, in October 2020 Moon made her return to NXT where she eventually won the tag championship. Moon was another women's wrestler along with Monet who WWE could have used to strengthen their women's division and build a future for both NXT and the main roster on their shoulders.
The main roster was filled with some huge releases as well. Luckily no top level Superstars were released like Bray Wyatt and Braun Strowman were. However, a couple of people who could become top level champions in the next year or two if not less were released.
RELATED: DREW MCINTYRE REVEALS THE DREAM WWE OPPONENT HE HAS NEVER FACED: EXCLUSIVE
Bordeaux's fiancé, Kross, was unfortunately also released. He was very scary in NXT and seemed to have the perfect look for the main roster. He could have convincingly defeated some of those extremely dominant guys on the main roster like Roman Reigns, Brock Lesnar and Bobby Lashley if he was just given the push he needed. Unfortunately WWE fumbled his main roster debut and made him look really weak. However, he could have absolutely recovered if they just made his character more like his NXT gimmick and teamed him with Bordeaux.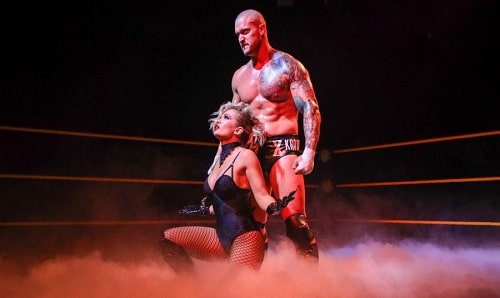 WWE also released another couple who could have been top level champions, Keith Lee and Mia Yim. This one is probably the most shocking because they just rebranded Lee with the "Bearcat" name and it looked like they were going to finally give him that big push. Lee is another person who could have defeated top level guys and it would have made sense. He is a former NXT champion and NXT North American champion.
Yim is also a very strong women's wrestler who could have been thrown into the women's division as a top contender. So we wouldn't have to see the same three women challenge for the SmackDown and RAW Women's Championships. She was also supposed to be reintroduced to the main roster in the near future after the failed Retribution faction was killed.
The following release will have a lot of people cheering, but it's still strange. Eva Marie is a Superstar who was probably the most hated wrestler in WWE. She was even more hated than Reigns and that is quite a feat. Personally I always appreciated that she started training with The Brian Kendrick and was trying to improve, but others didn't share those thoughts. This is the second time she has been released. She was actually just rehired in October 2020 and following vignettes made her debut in June of this year.
Another release which I was surprised to see was Nia Jax. Jax is a former RAW Women's champion and two time Women's Tag Champion. However, despite being extremely dominant in both NXT and on the main roster Jax has proven to be an unsafe worker. Her most famous example of being unsafe was when she punched Becky Lynch in the face, breaking her nose, cutting her face and causing a concussion. Her release may be for the best for the safety of anyone she would have to go against.
However, an interesting rumor came out with Jax's release. According to Fightful Select via Wrestling Inc., Jax was at least partially released because she was unvaccinated against COVID. They also stated five of the releases were of people who were openly unvaccinated. Their unvaccinated status wasn't the sole reason for their release, but was a contributing factor.
This brings up an interesting discussion as to exactly how many of the releases were of not openly unvaccinated wrestlers?
Which of these releases surprised you the most? Who do you think will be the hottest free agent out of the group? Of the big names who do you think will end up in AEW vs IMPACT? Are there any wrestlers you think WWE will immediately rehire like they did with Samoa Joe and Zelina Vega? Leave a comment below and let us know if you think WWE will release any more wrestlers in the coming days and who.
KEEP READING: 'FILTHY' TOM LAWLOR TALKS FREE AGENCY AND WE SPECULATE WHICH PROMOTION HE COULD BE HEADED TO
SOURCES: Wrestling Inc., Fightful Select