During the development of Star Wars: Episode IX – The Rise of Skywalker, Doctor Who alum, Matt Smith, was heavily rumored to have a role in the film. However, once the film came out there was no Matt Smith to be found.
Smith's role in the film was never confirmed by Disney or Lucasfilm, however, multiple outlets reported/speculated that the actor would be playing a young version of Emperor Palpatine.
In an interview with, Josh Horowitz, Smith briefly discussed his scrapped role in The Rise of Skywalker:
"I could not possibly say, but it was a pretty groovy thing," he tells Josh Horowitz during his appearance on the Happy Sad Confused podcast. "It was a big story detail, like a, you know, transformative Star Wars story detail but it never quite got over the line. It was a big shift in the history of the franchise… there was no costume (test), there were a couple of meetings to talk about it. Maybe I can come back, you never know."
It is interesting that Smith declined to comment on who he was supposed to play considering The Rise of Skywalker came out back in 2019. Perhaps this could be an indicator that his character will appear in a future Star Wars project down the line.
Why Did Lucasfilm Cut Matt Smith From The Rise of Skywalker?
These comments from Smith have really made fans wonder, who in the world was he going to play? A lot of fans seem to go back to the theory of Smith playing a young version of Emperor Palpatine. If he was indeed playing a young version of the Emperor this very well could be the biggest missed opportunity in the entire Star Wars franchise.
The Rise of Skywalker was a film that was supposed to be about Palpatine and his lineage with the film revealing that the Sequel Trilogy's hero, Rey, was secretly his granddaughter. In a film that was supposed to be the grand return of the Emperor, we learned very little new information about the character.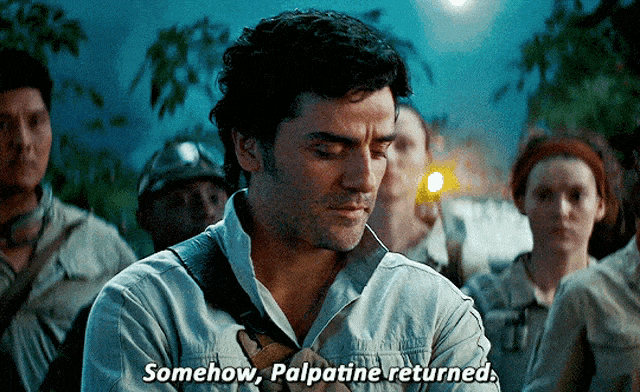 The famous line from Poe Dameron in the film, "Somehow, Palpatine returned" really describes my disdain for The Rise of Skywalker. This film was supposed to be the pompous return of one of Star Wars' greatest villains and didn't even bother to properly explain how exactly he returned in the film after his supposed death in Return of the Jedi.
RELATED: THE ACOLYTE: NEW WORKING TITLE AND LEAD CHARACTER DETAILS FOR MYSTERIOUS UPCOMING STAR WARS SERIES: EXCLUSIVE
If Smith was indeed supposed to play a young version of the Emperor or someone related to him, why in the world would Lucasfilm decide to cut him out? Smith described his character as a big shift in the franchise and since Palpatine was the primary factor in the film it makes sense for Smith's character to at least be involved with his "storyline".
The Rise of Skywalker desperately needed more exposition considering the film threw away nearly all of the material set up in the film before it. It would have been nice to see Matt Smith's character play out in the film somehow. Instead, Star Wars' expanded media such as the series, books, and comics are left to pick up the pieces.
Star Wars: The Rise of Skywalker stars Carrie Fisher as Leia Organa, Mark Hamill as Luke Skywalker, Adam Driver as Ben Solo / Kylo Ren, Daisy Ridley as Rey, John Boyega as Finn, Oscar Isaac as Poe Dameron, Anthony Daniels as C-3PO, Naomi Ackie as Jannah, Domhnall Gleeson as General Hux, Richard E. Grant as Allegiant General Pryde, Lupita Nyong'o as Maz Kanata, Keri Russell as Zorii Bliss, Joonas Suotamo as Chewbacca, Kelly Marie Tran as Rose Tico, Ian McDiarmid as Emperor Palpatine, and Billy Dee Williams as Lando Calrissian.
What are your thoughts on Smith's scrapped role in The Rise of Skywalker? Do you wish we could have seen him appear in the film? Let us know in the comments below. Also, be sure to follow The Illuminerdi on social media to be notified of more Star Wars content like this in the future!
KEEP READING: CHLOE ZHAO RUMORED TO DIRECT KEVIN FEIGE'S NEW STAR WARS MOVIE