As Mahershala Ali prepares to sink his teeth into Marvel's reboot of Blade, he can rest easy knowing the previous Blade actor, Wesley Snipes, is squarely in his corner. 
The Hollywood superstar defended Ali recently on Twitter, saying, "He will do great" before ending with a prayer emoji. Wesley Snipes has also clarified that he doesn't "have any involvement in the project, but I (Snipes) support the young artists and I support Marvel in their business decisions".  He also added that Ali has got "One heck of a job on his hands" playing Blade.
The Blade Legacy: Wesley Snipes & Mahershala Ali
Mahershala Ali quickly rose to prominence with 2016's Moonlight and has continued to become a mainstay with audiences thanks to his roles in the 2019 films Alita Battle Angel and Green Book, the latter of which won Best Picture at the Oscars. Ali has also starred in True Detective, Marvel's Luke Cage, Hidden Figures, The Hunger Games: MockingJay, Netflix's House of Cards, and more. Ali is known for his unique voice, charisma, and screen presence on every project and was officially cast as Bade in the Marvel Cinematic Universe in 2019.
Wesley Snipes was a seminal action star during the 1990s with such hits as 1993's Demolition Man, 1992's Passenger 57 and White Men Can't Jump, 1991's New Jack City, 1995's Money Train, and 1998's U.S. Marshalls. He portrayed Blade in the 1990s-early 2000's, beginning with Stephen Norrington's Blade in 1998, which is credited for jump-starting the comic book movie domination and co-starred Stephen Dorff, N'Bushe Wright, Kris Kristofferson, Donal Logue, and Sanaa Lathan. 
RELATED: WATCH THE NEW BLADE DEEP FAKE VIDEO THAT REPLACES WESLEY SNIPES WITH MAHERSHALA ALI
Blade II followed in 2002, this time directed by Guillermo Del Toro and adding Ron Pearlman, a pre-Walking Dead Norman Reedus, Lenor Varela, Luke Goss, and more to the fun. The third and final installment, Blade: Trinity, was released in 2004 amidst Wesley Snipes' well-documented financial troubles and had a legendarily bad production. That film was directed by David S. Goyer, who had written the previous installments and returned to those duties here.  The film co-starred Ryan Reynolds, Jessica Biel, Parker Posey, Natasha Lyonne, Dominic Purcell, wrestler Triple H, and Patton Oswalt among others. 
After a decade of direct-to-dvd action movies, Wesley Snipes' career has seen a comeback recently with the likes of 2014's The Expendables 3, 2019's Dolemite Is My Name, and 2020's Coming 2 America.
RELATED NEW SPIDER-MAN: NO WAY HOME POSTER AHEAD OF 2ND TRAILER RELEASE
Following Blade: Trinity, a television reboot ran for 1 season and 13 episodes on the Sci-Fi (Now SyFy) network in 2006 starring Sticky Fingaz, Jill Wagner, Nelson Lee, Jessica Gower, Neil Jackson, and more. The character of Blade also made an appearance on Fox's Spider-Man cartoon in the 1990s and has headlined video games, novelizations, and comics.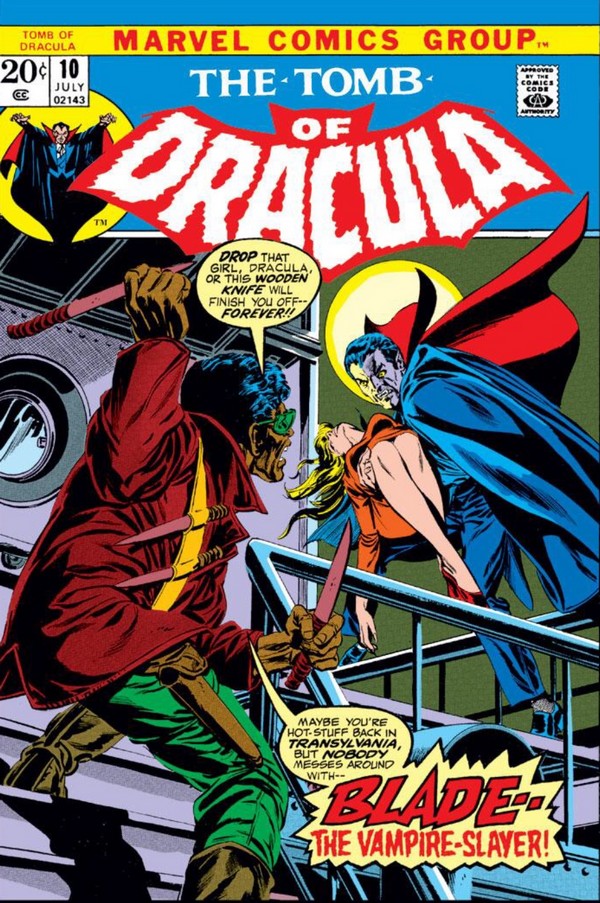 Blade was first published in The Tomb of Dracula #10 in July 1973 as a supporting character, but later got his own series. He was created by Marv Wolfman and Gene Colan and is trained in martial arts, swordsmanship, and is highly knowledgeable about vampire lore. He is a Dhampir, a half-vampire with enhanced senses, accelerated healing, superhuman strength, speed, and agility, slowed aging, the ability to sense supernatural creatures, ages slower than regular humans, and has immunity to both vampire bites and hypnosis.
What are your thoughts on Mahershala Ali's casting as Blade? Do you agree with Wesley Snipes' belief that he'll excel in the role?  Have you read the Blade comics and/or seen the movies or television show?  What are your favorite Mahershala Ali and Wesley Snipes performances?  Let us know in the comments below and on our Twitter.
KEEP READING: NEW SYNOPSIS FOR SPIDER-MAN NO WAY HOME TEASES MULTIPLE WEB-HEADS
Source: Coming Soon