Marvel Studios is gearing up for its fifth streaming release of the year with Jeremy Renner and Hailee Steinfeld's six-episode Hawkeye series, after about a month away from the Disney+ game.
Finally giving Renner the chance to shine as the leading star in his first solo project following ten years of supporting roles, this show is already being set up as a thrilling adventure in the MCU's more grounded narrative from a post-Avengers: Endgame perspective.
RELATED: HAWKEYE: DIRECTOR RHYS THOMAS EXPLAINS THE IMPORTANCE OF MATT FRACTION'S COMIC BOOK RUN ON NEW TV SERIES
Marketing for this show has kicked into high gear over the past few weeks with now only about a week until the show makes its long-awaited debut on Disney+ to close out the year for Marvel Studios. With new trailers and footage coming every couple of days, including another full clip from Marvel's Disney+ Day presentation of Barton and Bishop in action, Marvel is looking to give fans everything they need to be prepared for Clint Barton's sixth appearance for Marvel Studios.
Hawkeye Explores An Important Piece Of Clint's Story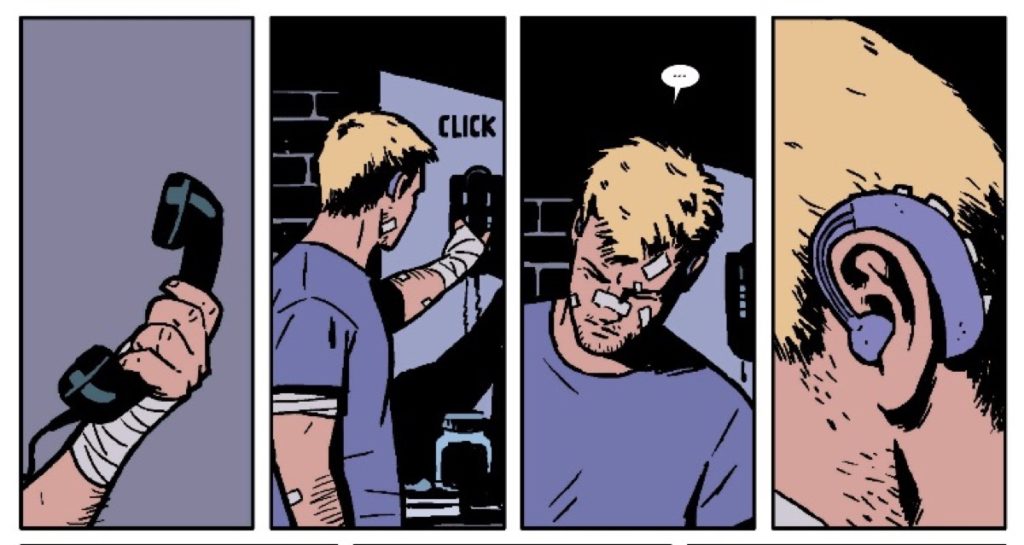 More than anything that came in Hawkeye's story from past, the Hawkeye series will provide the opportunity for more of Clint Barton's comic accurate storyline to make its way into the live-action MCU. Not only will characters like Lucky the Pizza Dog come into play, adding new dimensions to Clint Barton's ever-expansive story, the series will also show Barton dealing with the hearing loss that has plagued him so often through Marvel Comics' history.
The Hawkeye cast and crew all got together for the show's official press conference, hosted by ComicBook.com's Brandon Davis, to talk about their experience making the show and what fans can expect to see from the bow-wielding hero in his first solo series.
Specifically, Jeremy Renner tackled Hawkeye's hearing loss that will come in this series, which he's excited to finally bring in from the character's comic history. He even spoke about dealing with his own hearing problems and how he's able to portray a sort of vulnerability with showing that disability on-screen.
"I grew up…a lot of that's in my life. I'm only hard of hearing, so I'm not deaf. I thought it was just a really wonderful thing, cause it is, it's always been a part of Clint's character in the comics, and we found a way to make it a truthful entry point for his life and how it affects it life. And now, there is a wonderful vulnerability that comes in. There's a lot of ties into other characters because of it, in a fun way, in a negative way, in a positive way, it's really really interesting there. I found it to be quite a dynamic, interesting….sometimes an obstacle, sometimes an asset not being able to hear."
Although Hawkeye has been around longer than any other character than his co-stars in this series, the story will be tackling the character's hearing loss for the very first time on-screen. This also will make Barton the second-ever character that suffers from hearing problems after Lauren Ridloff first started that kind of representation with Makkari in Eternals a few weeks ago.
How that will be portrayed in Hawkeye is still a mystery, but if reports and interviews are saying anything, it's that Marvel is putting its best foot forward to do the job right.
Hawkeye will debut its first two episodes on Disney+ on November 24, 2021. Leave your thoughts in the comment section below or over on Twitter!
KEEP READING: THIS SPIDER-MAN: NO WAY HOME MOMENT IS WHY FANS THINK THEY'VE FOUND SECRET MARVEL HEROES IN NEW TRAILER