Spidey fans think that they have spotted one of the other Spider-Men in the new trailer for Spider-Man: No Way Home which was released yesterday.
There a quite a few moments in the trailer that seem to hint at other Spider-Men being featured in the film. You know, besides the fact that all of their villains are being featured in the film.
One moment, in particular, is when we see a shot of Zendaya's MJ falling and Spider-Man trying to save her. However, when we get a close-up shot of his hand it looks suspiciously like Andrew Garfield's Amazing Spider-Man costume.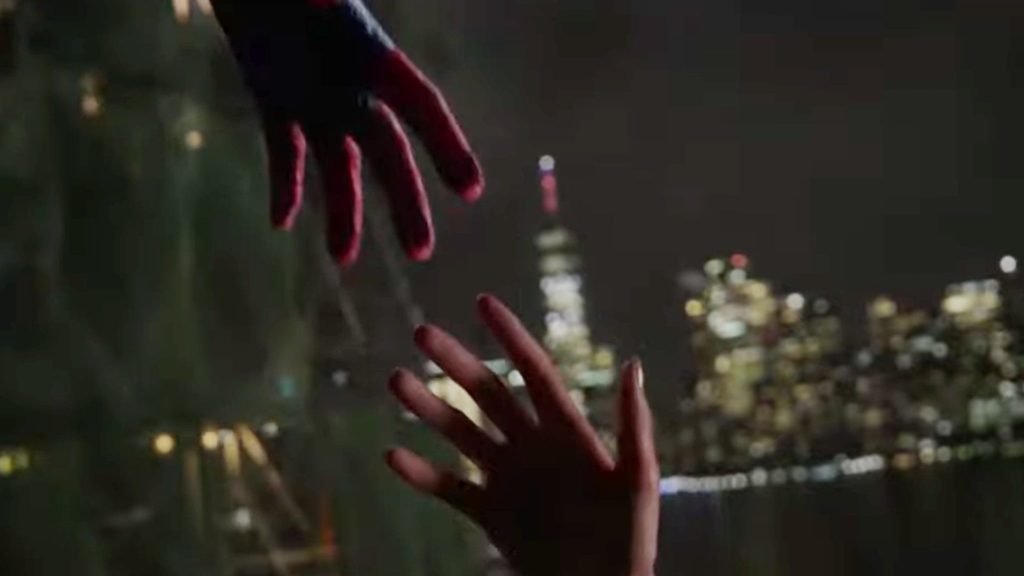 Now, as to why Andrew Garfield's Spider-Man would be the one to save MJ is a mystery. This seems like a moment they would want to save for Tom Holland. However, the scene does seem very reminiscent of the scene in The Amazing Spider-Man 2 where Gwen Stacy is falling down the clocktower, so it is definitely possible.
RELATED: SPIDER-MAN NO WAY HOME: WATCH THE JAW-DROPPING FINAL TRAILER NOW!
While it does seem silly to deeply analyze a half-second clip of a hand, there are quite a few other instances where it seems that the other Spider-Men have accidentally made their way into the trailer.
Other Hints at Tobey Maguire and Andrew Garfield in the Spider-Man: No Way Home Trailer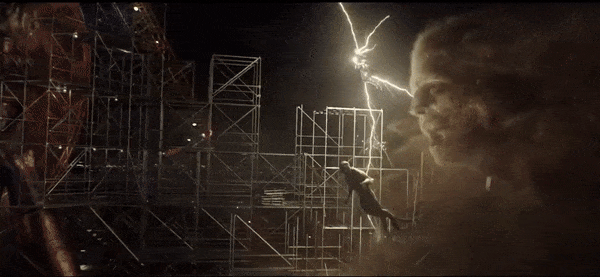 Another point in the trailer where it seems that Tobey Maguire and Andrew Garfield have been edited out is the wide shot with many of the villains. The way the shot is framed, it seems like there should be someone else going after Electro and the Lizard as Holland's Spidey seems to only be going after Sandman.
Some other damning evidence is in the Brazilian trailer, where there is an extended version of this shot where the Lizard seems to be punched by nothing. It could be the boards that Sandman broke while attacking Holland's Spider-Man, however the Lizard still seems to be jumping at nobody.
RELATED: SPIDER-MAN NO WAY HOME RUMORS CONFIRMED WITH NEW LEAKED PHOTOS
It would also just be weird for them to intentionally include a shot where the Lizard gets decked by a 2×4 thanks to Sandman's recklessness. While it would be comical if this was the case, it seems quite unlikely.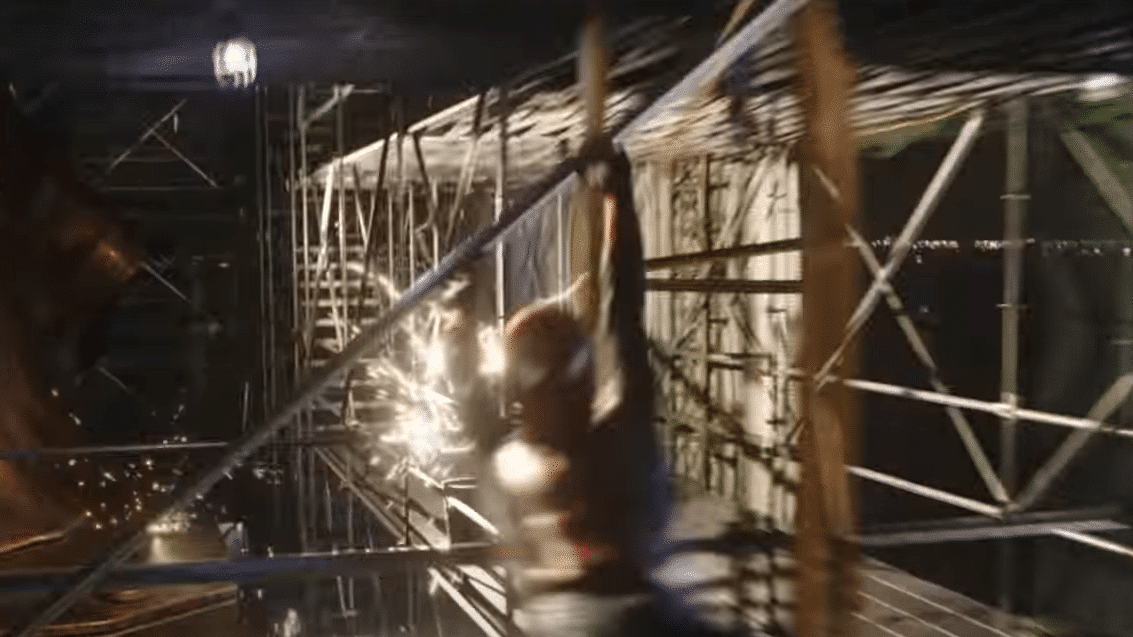 There is another less than a second moment in the trailer where we see Spider-Man swinging, however, that doesn't look to be Holland's Spider-Man. Especially not with the suits that we have seen in the trailer.
RELATED: NEW SYNOPSIS FOR SPIDER-MAN NO WAY HOME TEASES MULTIPLE WEB-HEADS
The eyes on the mask look much more like Tobey Maguire's costume from the Sam Raimi trilogy of films. Although this also could be Andrew Garfield's version of the character as his costume in The Amazing Spider-Man 2 also sported the larger eyes.
Of course, all of this is still speculatory however it is starting to seem more and more likely that we will finally see Maguire, Garfield, and Holland unite on the big screen in just a few short weeks!
Spider-Man: No Way Home stars Tom Holland as Peter Parker / Spider-Man, Zendaya as MJ, Benedict Cumberbatch as Dr. Stephen Strange, Jon Favreau as Harold "Happy" Hogan, Jacob Batalon as Ned Leeds, Marisa Tomei as May Parker, J. B. Smoove as Julius Dell, Benedict Wong as Wong, Alfred Molina as Otto Octavius / Doctor Octopus, and Jamie Foxx as Max Dillon / Electro, and Willem Defoe as Norman Osborn / the Green Goblin. The film is also rumored to star Tobey Maguire as Peter Parker / Spider-Man, Andrew Garfield as Peter Parker / Spider-Man, Kirsten Dust as Mary Jane Watson, Charlie Cox as Matt Murdock / Daredevil, and Tom Hardy as Eddie Brock / Venom.
What are your thoughts on the new trailer for Spider-Man: No Way Home? Do you think this teases that will finally see the other Spider-Men return? Let us know in the comments below. Also, be sure to come back to The Illuminerdi for more Spidey news and updates like this in the future!
KEEP READING: TOM HOLLAND WANTS A MILES MORALES FILM AND CLAIMS "IF I'M PLAYING SPIDER-MAN AFTER I'M 30, I'VE DONE SOMETHING WRONG."