Echo is a new hero who will make her MCU debut in Hawkeye. Join The Illuminerdi as we explore her history and potential future in the Marvel Cinematic Universe.
Daredevil Vol. 2 was originally written by Kevin Smith with art from Joe Quesada, created as part of the "Marvel Knights" line of comics. David Mack took over as writer with issue #9, the first in the six part arc, "Parts Of A Hole". This issue featured the debut of Maya Lopez, AKA Echo. 
RELATED: HAWKEYE EPISODES 1-2 REVIEW: A FUN START TO A STREET LEVEL ADVENTURE
In Echo's first appearance, we learn that when her father died, his "business partner", Wilson Fisk, sent her to a school for children with learning disabilities. It was at this school where her ability to perfectly mimic anything she sees was discovered. From then on, she was sent to a school for gifted youngsters (not that one), where she honed her abilities.
During the present day events of Daredevil Vol. 2, we see Maya Lopez as a gifted pianist, performing shows in New York City. "They say I can recreate any complex physical action that my eyes record", she explains, giving us a stronger understanding of her powerset. Her abilities are similar to Taskmaster's, though they are biological, not technological, and they apply to more than just combat.
ECHO FIRST APPEARED IN DAREDEVIL (1998) #9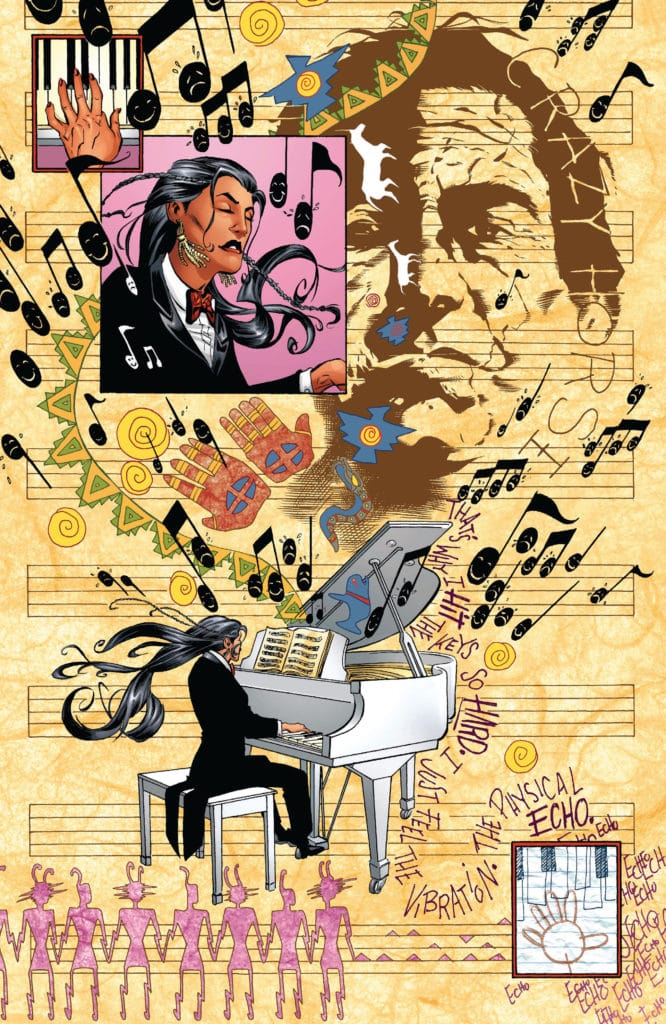 We later watch her demolish her opponent in a boxing match, to the delight of her adoptive father, Kingpin. Maya's relevance to Daredevil's world is revealed when Kingpin reveals his plan to insert his daughter into Matt Murdock's life.
Eventually, Lopez learns that Murdock is Daredevil, and Murdock learns that she is Echo. Together they uncover the truth behind the death of Maya's father. Kingpin was the one who killed him, and upon learning this, Echo becomes a vigilante, fighting for justice. Her costume includes a painting of a white hand on her face, which symbolizes the bloody handprint her father left on her when he was killed by Fisk.
Vincent D'Onofrio's return as Kingpin in Hawkeye is still a rumor, and should be treated as such. But when you consider his connection to Echo, the rumored return of Murdock in No Way Home, and the fact that Fisk had a relevant role in Hawkeye Vol. 4, of which Hawkeye is heavily inspired by, the return of Kingpin makes a lot of sense.
ECHO COULD KICKSTART A DAREDEVIL REVIVAL IN THE MCU
How cool would it be if Maya Lopez is the catalyst that brings Kingpin and Daredevil back into conflict, years after Daredevil was cancelled? Their fights were the stuff of legend in the earlier days of the Marvel Cinematic Universe, and many fans consider the potential return of the Daredevil universe to be one of the most exciting elements of Phase 4.
Should the beloved heroes and villains of the Marvel Netflix series come into the MCU proper, Echo will be one of the faces of Marvel Studios take on the expanded Daredevil universe. In the source material, she donned the Ronin mantle for a time. Considering this and that her debut is in Hawkeye, Echo may continue to have a presence in future Hawkeye projects as well.
Alaqua Cox will play Maya Lopez/Echo in the Marvel Cinematic Universe. She will debut in Hawkeye before starring in Echo, a solo series on Disney+ from head writer Marion Dayre. Dayre is most known for her work on the hit series Better Call Saul. She wrote multiple episodes, such as the season two finale "Klick".
ECHO: NEW MCU SERIES BEGINS FILMING IN 2022
The series does not currently have a release date, and has yet to begin filming. Rumors claim that Echo is targeting an early 2022 start for production. No cast members besides Alaqua Cox have been confirmed for the upcoming MCU TV series.
Rumors indicate that Charlie Cox might reprise his role as Matt Murdock/Daredevil in the show. Additionally, considering Echo's strong ties to the Kingpin Of Crime in the source material, an appearance from Fisk in Echo seems highly plausible.
The future is bright for Maya Lopez, and I for one cannot wait to witness Alaqua Cox's performance as one of the MCU's newest heroes.
Are you excited to see Echo appear in Hawkeye? Let us know your thoughts in the comments below or on our social media! 
KEEP READING: ENCANTO: LIN-MANUEL MIRANDA REVEALS HIS FATHER'S INFLUENCE ON THE FILM AND BREAKS DOWN HIS WRITING PROCESS FOR 2 NEW SONGS