Lin-Manuel Miranda lends his impressive musical talents to the newest Disney animated film, Encanto. This is not the first collaboration between Miranda and the House of Mouse, Miranda wrote the stunning music for the 2016 animated feature, Moana. Part of what is so unique about Encanto is how involved Miranda has been in the project since its inception. Encanto follows the Madrigal family each of whom has been bestowed a magical gift, except for Mirabel. When the family's magic is threatened Mirabel takes it upon herself to discover and fix the mysterious problem with her family's magic.
The Illuminerdi had the opportunity to attend the Encanto Virtual Press Conference with the filmmakers, where the creative team talked about the trip Lin-Manuel Miranda, Jared Bush, and Byron Howard took to Colombia to help with research for Encanto. Miranda revealed that his father tagged along for the trip as well which turned out to be extremely helpful especially in creating the Madrigal family matriarch, Abuela Alma .
RELATED: ENCANTO REVIEW: A MASTERFULLY ANIMATED MAGICAL TALE FULL OF HEART, HUMOR, AND TREMENDOUS MUSIC
"I don't know if my dad was invited by Disney or just sort of showed up on the trip. It still remains a mystery. But his experience and what he brought to the table actually ended up being invaluable. I remember him telling us a story about his grandmother in Puerto Rico. She had, lots of kids, and those kids married, and they all stayed under the same roof.

And she ruled with, such certainty that people would bring their paychecks to her, and she would reallocate [LAUGH] the wealth, amongst the kids, and the married couples, and her children and grandchildren. And that is the kind of rule that ended up informing, Abuela Alma, who really, loves her family dearly, but holds it super tight. And, that's just sort of where our story begins."
LIN-MANUEL MIRANDA REVEALS THE INSPIRATION FOR THE NEW SONGS "THE FAMILY MADRIGAL" AND "DOS ORUGUITAS" IN ENCANTO
RELATED: WALT DISNEY ANIMATION STUDIOS ANNOUNCES THEIR 1ST ANIMATED SERIES FOR DISNEY PLUS AND MORE EXCITING PROJECTS
Lin-Manuel Miranda has been involved with Encanto from the start and it shows in how integral the music is to the storytelling in this film. The first song in Encanto has the challenging job of introducing the entire Madrigal family, all twelve characters, and their specific powers. During the Encanto press conference Lin-Manuel Miranda explained how and why he created "The Family Madrigal" as an opening number not only for the audience, but the filmmakers themselves.
"I think that being there from the beginning, as Byron said, really allowed for more of a give and take than I've ever experienced on an animated film. There were songs where I sort of put points on the board and was like, "All right, here's our opening number. Here's how everyone's related, and what they can do." I wrote that opening number before we had a second act or a third act to our film, because we needed it for ourselves [LAUGH] to keep track of everybody. And these names may change and the powers may change, but we know the audience is gonna need a guide, and Mirabel's gonna be our guide, so let's write that song early."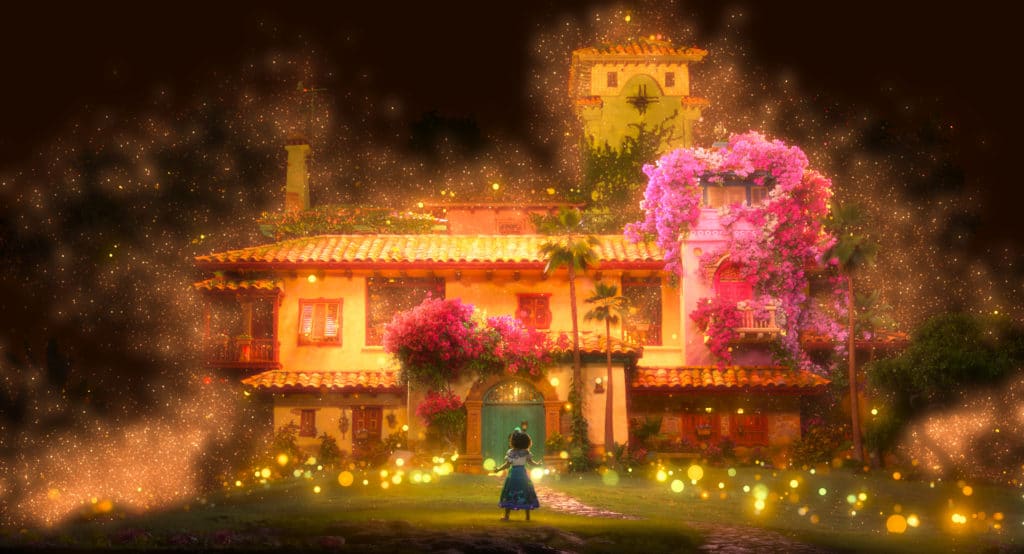 RELATED: KING RICHARD: WILL SMITH AND THE WILLIAMS SISTERS PRAISE THE IMPRESSIVE CAST OF THE NEW FILM
Lin-Manuel Miranda also talked about the inspiration for the new song "Dos Oruguitas", Two Caterpillars. Miranda revealed that the song was inspired by the animation department and that the goal of "Dos Oruguitas" was to create a folk song that felt as though it had always existed. This is the first song that Miranda has written from beginning to end in Spanish and during the Encanto press conference he was asked if it was more difficult to rhyme in Spanish when writing "Dos Oruguitas."
"And then Dos Oruguitas was really inspired by some of the visuals coming out of the incredible animation department. And I loved the way they embodied the miracle by having this flame from the candle turn into a butterfly, turn into, a cascade of butterflies. And in approaching this moment, without spoilers, it's a moment where we reveal a really kind of personal part of the Madrigal family history, and it didn't feel right to have a character sing in real time, which is what all the other characters are doing over the course of the movie.

And so, I thought, "I think we need a folk song. I think we need a song that feels like it's always existed." And riffing off of the butterfly imagery, I thought, "Well, you know, butterflies have to go through a miracle to even become butterflies." And so, I wrote this song about two caterpillars who are in love, and are scared of letting each other go, but of course have to let each other go to become their next selves.

It was a nature metaphor that was already baked into the visuals of the film, but speaks so specifically to what this family is going through in terms of trying to see each other more fully, and in terms of you have to change to get to the next level and you have to allow yourselves to change.

And then Sebastian Yatra takes it to a whole other level with his beautiful vocal performance of the song. But, it's not harder to rhyme in Spanish. I just have a much more limited vocab in Spanish. So, I had to really reach for my thesaurus, and outside my comfort zone, to really try to write a song that feels like it's always existed. That was the goal, and I hope we've achieved it."
It's interesting how Lin-Manuel Miranda wrote different songs for Encanto at different stages of the production process, with "The Family Madrigal" being written while the film was still be written and "Dos Oruguitas" being inspired by artwork from the animation department. Music is an integral part of many Disney animated films and Encanto is no different.
The music is an important storytelling aspect that is not only utilized well, but has been a part of the process from the start. The inspiration for "The Family Madrigal", introducing and keeping the characters straight for the audience and the creative team, and "Dos Oruguitas" is an amazing peek into the songwriter's creative process. Lin-Manuel Miranda is clearly passionate about Encanto and it shines through on screen especially in the amazing music of the film.
Encanto is exclusively in theaters November 24, 2021. Are you going to see Encanto? Are you excited for Lin-Manuel Miranda's magical Disney music? Leave your thoughts in the comments below or on our social media and check back with The Illuminerdi for more Disney and Encanto.
KEEP READING: PRESIDENT OF WALT DISNEY ANIMATION STUDIOS REFLECTS ON ANIMATED CLASSIC FILMS FROM SNOW WHITE TO ENCANTO AND INTO THE FUTURE