Harry Potter is here to welcome us back home as promised.
As a wise former Hogwarts Headmaster said, "Help will always be given at Hogwarts to those who ask for it". And fans are going to need help holding back their tears, as this year marks the 20th anniversary of the first film of the Harry Potter movie franchise, Harry Potter and The Sorcerer's Stone.
RELATED: HOW I MET YOUR FATHER OFFICIAL TRAILER SHOWCASES HULU'S HILARIOUS SPIN-OFF AND JANUARY '22 PREMIERE
Now for the very first time in nearly twenty years the beloved Harry Potter trio starring Rupert Grint, Emma Watson and Harry Potter himself Daniel Radcliffe make a joyous, heartfelt, emotional and magical reunion. Not just that alongside with many of their co-stars in the Potter films, such as Tom Felton, Bonnie Wright, Evanna Lynch, Ralph Fiennes, Jason Issacs, Matthew Lewis, Helena Bonham Carter, James Phelps, Oliver Phelps and more.
Harry Potter Flies Back To Hogwarts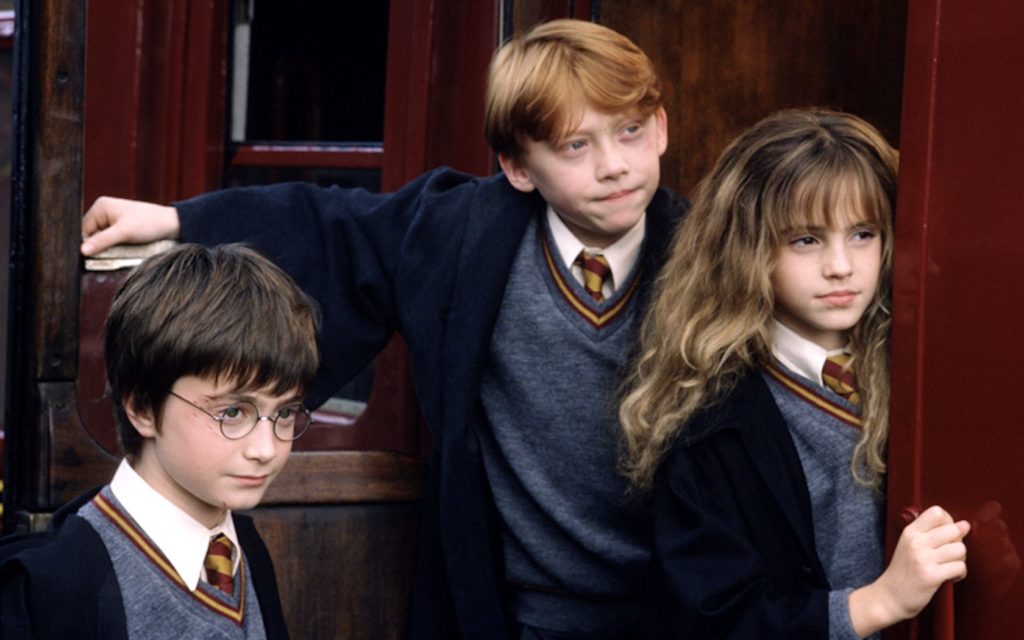 When it was announced that Warner Bros would be making a special Harry Potter reunion, called Harry Potter 20th Anniversary: Return To Hogwarts, fans of the beloved franchise became excited. Now the special will feature commentary from the stars and selected never before behind the scenes footage of all eight films.
The special will also be sit down commentary where all of the stars in Potter reminisce and talks about their favorite moments while filming Potter. The film will also mark the return of the first Potter film's director Chris Columbus, who will do commentary about memorable moments directing Sorcerer's Stone.
Warner Bros just released a new trailer for their Return To Hogwarts, and let's just say it's joyous, nostalgic and full of emotional tears.
We first see the Golden Trio – Emma Watson (Hermione), Rupert Grint (Ron), and Daniel Radcliffe (Harry Potter) – having a great conversation and reminiscing of their times. We then see Daniel walking through Diagon Alley and Emma Watson walking around King Cross Station at Platform 9 and Quarters. We then see Emma walking through the Great Hall, and see the iconic Hogwarts hall has been decorated with Christmas Decorations. We then Tom Felton (Draco Malfoy) in the hall and giving Emma a loving embrace.
Mark Williams (Arthur Weasley) sits at dining table in the Great Hall with James (Fred Weasley) and Oliver Phelps (George Weasley) while Matthew Lewis (Neville Longbottom), Evanna Lynch (Luna Lovegood) and Alfred Enoch (Dean Thomas) enjoy the Great Hall or have a glass of champagne together (maybe it's alcoholic Pumpkin Juice) as the orchestral band plays Holiday songs or maybe even music from the Potter films.
Helena Bonham Carter (Bellatrix Lestrange) and Jason Issacs (Lucius Malfoy) have a wonderful conversation on a glamorous couch, and some of the cast gather – including Bonnie Wright (Ginny Weasley). We are then shown never before behind the scene clips of Carter while she was filming a Potter film. Carter also explains that one of her favorite part playing Bellatrix pretending to play Hermione disguised as her character in Deathly Hallows Part 2.
We also see Carter talking to Radcliffe inside the set of her Vault at Gringotts bank. We are then shown Ralph Fiennes (Lord Voldemort) and some behind the scenes while filming Potter. The trailer then shows us scenes and montages of the eight potter films including behind the scene footages. We then are shown the Potter Trio commenting that they would always be a family and the franchise helped changed their life and their fellow cast mates.
Overall the trailer is very short but it gets to the point and shows the upcoming special's many highlights. Examples are reunion of the Potter Trio and most importantly behind the scenes commentary from the supporting cast. Watching this trailer just shows how close the Potter cast are and just like us these films helped changed their lives in a huge positive way. Harry Potter will always be the magical influence that warms are heart and always guides us home. Hope to see you all at Hogwarts.
Harry Potter 20th Anniversary: Return to Hogwarts will premiere on HBO Max on New Year's Day, Jan. 1, 2022. The special will be produced by Warner Bros. Unscripted Television and in association with Warner Horizon. The special will be filmed at the Warner Bros. Studio Tour located in London. The returning Potter cast includes Daniel Radcliife, Emma Watson, Rupert Grint, Tom Felton, Ralph Fiennes, Jason Issacs, Evanna Lynch, Matthew Lewis, Helena Bonham Carter, James Phelps, Oliver Phelps, Alfred Enoch, Robbie Coltrane, Ian Hart, Mark Williams, Gary Oldman, Imelda Staunton, Alfred Enoch, and Director Chris Columbus. Return To Hogwarts will be directed by Eran Creevy, Joe Pearlman, Giorgio Testi.
KEEP READING: JURASSIC WORLD: DOMINION 1ST LOOK OF THE DISASTROUS ATROCIRAPTOR