From the Indomnious Rex to Indoraptor, it looks like Jurassic World: Dominion will introduce another lab-created dino.
After a long wait of hearing about more surprises, fans got an exclusive first look at Chris Pratts' character on the run from a new form of raptor. The image, released by Empire Magazine , shows the 42-year-old actor with the new hybrid known as the "Atrociraptor." It appears this new breed of velociraptor has a brutal background compared to its genetic ancestor. Like any other velociraptor, they are known to hunt their prey stealthy.
RELATED: Watch the 5-Minute Jurassic World: Dominion Prologue Now!
But unlike velociraptors, Atrociraptors have the ability to hunt non-stop. In regards to the image, Director Colin Trevorrow shared more details about the Atrociraptor with Empire, detailing how it is evident this new hybrid species in Jurassic World: Dominion is more deadly.
"Its a sequence set in Malta. And the picture speaks for itself- it's Chris Pratt being chased by Atrociraptor. And if they catch up, he's gonna die, I can tell you that," said Trevorrow. "Where the Velociraptor is a little bit more of stealth hunter, the Atrociraptors are a bit more brutish. These things will just come at you. And in this Particular case, they've picked up his scent, and they're not going to stop until he's dead. They're pretty brutal. They're pretty vicious."

Colin Trevorrow, in Empire Magazine
First Look at the Atrociraptor from Jurassic World: Dominion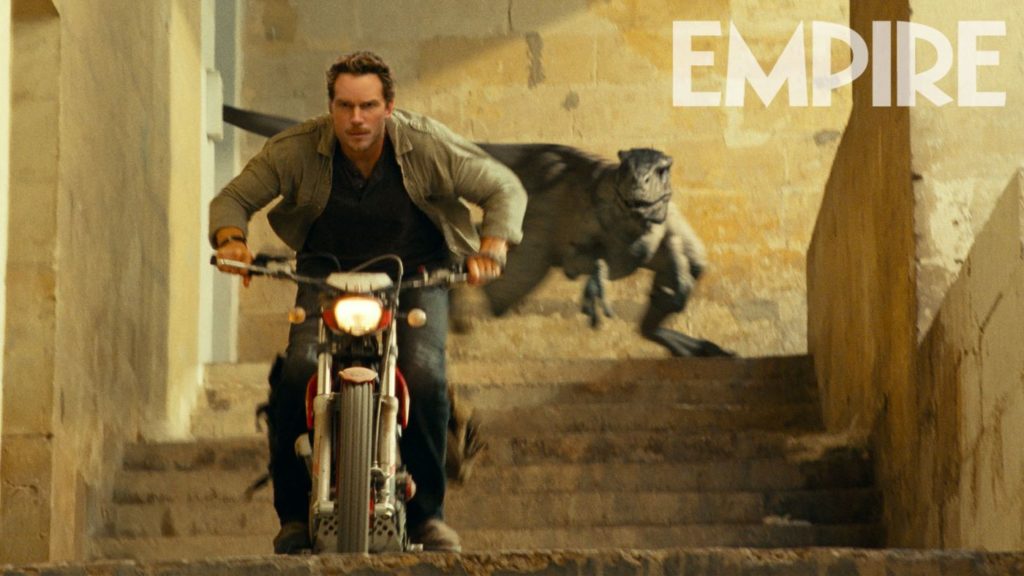 By looking at the exclusive photo for the upcoming film, the vicious creature would stop at nothing to hunt Owen down. However, there are more surprises to consider since the Atrociraptor is not the only hybrid fans will see. According to ComicBookMovie.com, the film will also introduce another raptor variant which is called the Pyroraptor and reports say that the creature could possibly be a fire-breathing dinosaur. Sound interesting for a raptor to breathe fire but since there are no images or concept art revealed, fans are going to have to wait and see.
RELATED: Jurassic World: Dominion's Difficult Shoot Wraps For Post Production
What's even more exciting is seeing the original cast from the original 1993 Jurassic Park film. Actors Sam Neill, Laura Dern and Jeff Goldblum will be involved with Jurassic World: Dominion in more than just a cameo capacity. Other returning cast members Include Jake Johnson (Lowery Cruthers), Omar Sy (Barry Sembène), Justice Smith (Franklin Webb), Daniella Pineda (Zia Rodriguez), Isabella Sermon (Maisie Lockwood), and BD Wong (Dr. Henry Wu). Reports also revealed new cast members of Jurassic World: Dominion, Mamoudou Athie (Sorry for Your Loss), DeWanda Wise (She's Gotta Have It), Dichen Lachman (Agents of S.H.I.E.L.D.) and Scott Haze (Venom).
Jurassic World: Dominion is scheduled to release on June 10, 2022. The film is directed by Colin Trevorrow, who also wrote the story, and co-wrote the screenplay with Emily Carmichael. The film stars Chris Pratt, Bryce Dallas Howard, Jeff Goldblum, Laura Dern, Sam Neil, among a number of returning casts from previous Jurassic World films and newcomers as well. The film is being produced by Amblin Entertainment and will be distributed by Universal Pictures. Dominion will be the third and concluding chapter of Trevorrow's trilogy, and 6th in the Jurassic Park franchise. All additional plot details, outside of The Prologue, are currently under wraps.
So what do you guys think of the new raptor hybrid, the Atrociraptor? What are you looking forward to in the third film? Let us know in the comments and follow The Illuminerdi on social for more Dominion content and updates.
Source: Empire Magazine
KEEP READING: Doctor Strange in the Multiverse of Madness Confirmed To Have More Cameos and New Character Introductions