With Avatar 2 only a year away, we got a first look at Jack Champion's character Miles Socorro.
He is known as Spider and happens to be the adopted human son of the Na'vi couple Jake (Sam Worthington) and Neytiri (Zoe Saldana).
RELATED: MR. AND MRS. SMITH: AMAZON EYEING MAYA ERSKINE AS NEW LEAD ALONGSIDE DONALD GLOVER IN UPCOMING SERIES
What we know about Champion's character is that he is the only human child in Jake and Neytiri's family, and the couple already have three Na'vi children: Neteyam (Jamie Flatters), Lo'ak (Britain Dalton), and Tuktirey (Trinity Bliss).
AVATAR 2 TEAM SHARES MORE ABOUT SPIDER
Producer Jon Landau gave more details about "Spider," explaining to Empire that Spider was born on the military base on Pandora. He was too young to return to Earth, so he was then raised by the Na'vi couple. Landau shared that Jake was the one who took him, while Neytiri sees the human child as one the sky people who brought harm to her home and the death of her father Eytukan.
"Jake took him in, but Neytiri always saw him as one of the people who destroyed her home and killed her father," said Landau.
"This time around, we're taking Jake and Neytiri and building the most universal theme of all around them, which is family. Jake comes from the human world, Neytiri from the Na'vi world. So, they're like a modern mixed-race couple, raising kids who perhaps feel they don't belong to one world or another."
It looks like the second film might sound more interesting when it comes to a whole new world especially with a family. As for the young human child "Spider," it would be great to see his lifestyle in the Na'vi world along with his adopted family.
Although, Avatar 2 is set for next year, the story will take place after the events from the first Avatar (2009) where fans will finally get to see Jake in his new form as he spends a new life with Neytiri and the Omaticaya Clan. Now that the couple has started a family not only will they be spending a happy life but also face some dangers along the way which includes the return of the RDA mining group after being defeated in the first film.
Most important is meeting different Na'vi clans since director James Cameron revealed a few concepts and set images where the cast members were filming in water. It was later announced that the new clan is called the Metkayina, a less known Na'vi clan located on Pandora's reefs.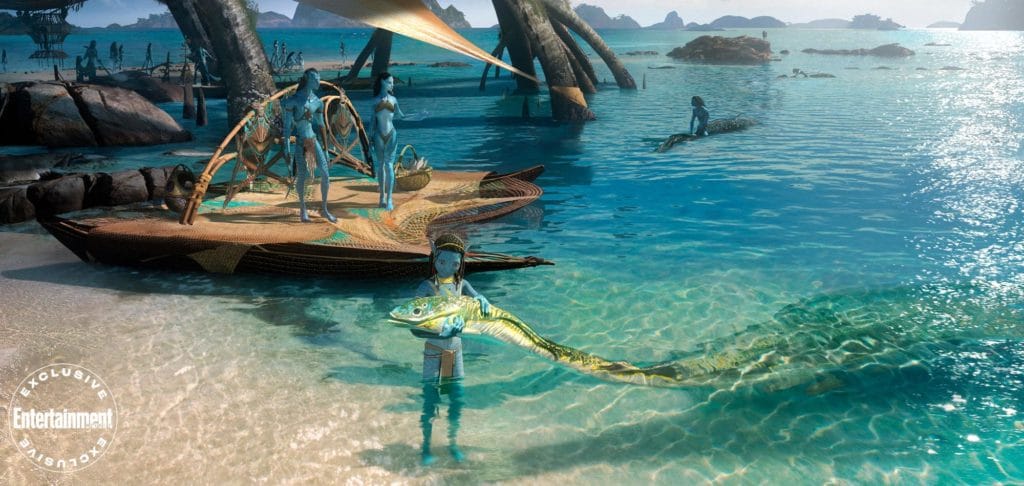 The upcoming film has some interesting surprises to consider. It includes new casts members such as Kate Winslet, Edie Falco, Michelle Yeoh, Vin Diesel, Jemaine Clement, and Oona Chaplin. Along with three young actors who will be playing the children from the Metkayina clan which are Duane Evans Jr (Roxo), Bailey Bass (Tsireya), and Filip Geljo (Aonung). We also can't forgot the returning cast such as Sam Worthington, Zoe Saldana, Joel David Moore, Dileep Rao, Stephen Lang, Matt Gerald, and Sigourney Weaver.
Avatar 2 is set to release on December 16, 2022, so what do you guys think of Jake and Neytiri's adopted son? Let us know in the comments and follow the Illuminerdi's social media page for more exciting content. Remember Avatar fans, Oel ngati kame (I see you).
KEEP READING: ELECTRO: SONY RUMORED TO BE DEVELOPING A JAMIE FOXX LED SPIN-OFF FILM
Source: Empire