The original match results for the main event of Day 1 which saw Big E defending his WWE Championship have recently been revealed.
The main event of the Day 1 PPV was originally a Fatal Four-Way match between Kevin Owens, Seth Rollins, Bobby Lashley with Big E defending his WWE Championship. However, COVID struck again.
Shortly before the PPV Roman Reigns announced he had tested positive for COVID. Originally Reigns was set to defend his Universal Championship against Brock Lesnar. This led WWE to scramble to try and salvage Lesnar's match. They decided to make the WWE Championship Fatal Four-Way match into an even deadlier Fatal Five-Way match by adding Lesnar.
RELATED: TONI STORM GRANTED RELEASE FROM WWE
The match saw Lesnar doing his usual squash match stuff and taking Rollins and Owens to Suplex City. That is until Owens and Rollins double-teamed him. This left Lesnar open to a big clothesline to the outside of the ring by Big E and a big spear through the barricade into the timekeeper's area by Lashley. Eventually, Lesnar just started giving everyone in his immediate vicinity F5 after F5. Lesnar used this momentum shift to get the pin on Big E and walk away with the WWE Championship.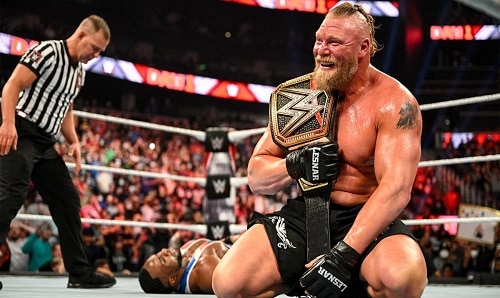 Now We Know What Was Originally Planned for Big E
Obviously, Lesnar winning a match the wasn't originally part of was not WWE's original plan. Luckily for us, we get a glimpse into what the original plan was because WWE On FOX's Twitter account botched a graphic they uploaded.
RELATED: WWE NO LONGER TESTING FOR COVID
According to a now-deleted graphic found by RingsideNews, the original plan was to have Big E retain his title. The graphic shows the match results for the entire Day 1 PPV with Lesnar's face and WWE Championship under that. However, under that, it lists Big E def. Lashley, Rollins and Owens. It looks like they forgot to replace the original text.
Also to give even more credibility to the original plan of Big E retaining is Wrestling Observer Live also noted Big E was supposed to retain. They also noted the title change was a direct result of Reigns having to pull out of his championship match. We don't know what the original plan was for the Lesnar and Reigns match or how Lesnar being the WWE champion will affect it if it does at all.
There is also no word on what WWE was planning for Big E post his win at Day 1. We also don't know if Big E will get a rematch or when it will take place. My money is he will get his rematch because they always seem to have that rematch clause in their contracts. 
RELATED: AJ Styles Coming To NXT: New Years Evil
The next PPV after Day 1 is Royal Rumble which will take place at the end of the month so maybe that is where the rematch will take place if Big E gets one. However, Lesnar vs Lashley is also rumored to be in the works as well so maybe that will be at Royal Rumble. Watching the PPV I could definitely see WWE starting to set up a feud between Lashley and Lesnar. Lashley has gone on record that he really wanted a match with Lesnar so he may finally get his wish.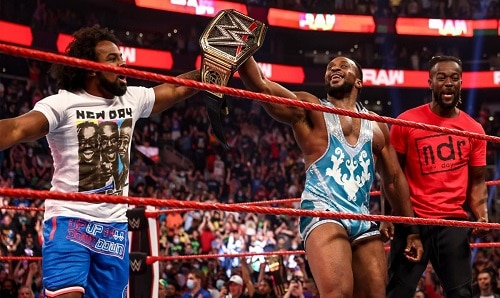 What do you think of Lesnar winning the WWE Championship and pinning Big E specifically? Do you think Big E retaining was the right choice? If not, who should have won? Would you like to see Big E vs Lesnar? What about Lesnar vs Lashley? Leave a comment below and let us know what you think the Reigns vs Lesnar results would have been on Twitter.
Sources: RingsideNews, Wrestling Observer Live, Wrestling Inc.
KEEP READING: CM PUNK OPEN TO FORMING A LONG-TERM TRIOS TEAM