Wolf Like Me was an unexpected rom-com horror that ended up being incredibly entertaining. Find out why in my review:
Emotional baggage is the unspoken truth expected to be revealed in relationships. Mary (Isla Fisher) and Gary (Josh Gad) have some very heavy baggage, to put it mildly, but not to judge. Gary is still recovering from the tragic death of his wife and to provide for his daughter. Then there's Mary, who for all intents and purposes seems like an emotionally evolved being who not only understands baggage but is able to help others carry it, won't let anyone near hers. That is, until fate and undeniable chemistry crash Gary and Mary together in Wolf Like Me.
Wolf Like Me flew completely under my radar. This is surprising because I also follow Josh Gad on Twitter. When the opportunity to check out a new show Gad came along, of course, I want to check it out. I'm also elated at opportunities to check something out that catches my interests yet know nothing about. It's a rare occurrence in this line of work and you have to seize the moment when it comes along. Long story short, I had no idea what the hell I was getting into. The title and key art had me interpret the show as a dark love story, the title sequence informed me of the horror element.
RELATED: Werewolf By Night: Laura Donnelly Joins The Cast Of Marvel Studios Highly-Anticipated New Halloween Special
But the opening scene of Wolf Like Me made it obvious, this is a show about being human. In what I can only describe as "It's funny because it's true," Gary and Charlotte (Emily Barclay) have my favorite break-up scene. Breakups are one of the worse scenarios in life, especially if there is a mutual affection for each other. But when there is an obvious unbalance in affection, it is painful. And this scene is PAINFUL. The scene begins with what appears to be a mutual understanding of Charlotte ending the relationship, but Gary's "understanding" is taking the power from her decision.
Wolf Like Me is Human?
There are two sides to this, and having been on Gary's side of the situation, I understand acknowledging the feelings and situation. But I also see why, Gary's "understanding" can be taken as gaslighting, and how Charlotte explodes the way she does. It is unfortunate that from the outside looking in, Charlotte looks to be overly emotional and Gary would walk away seeming like the lucky one. However, the way Wolf Like Me delivers this scene lets the audience know the major problem is with Gary.
This sets the show up beautifully, and really gives Gary a lot of dimensions. He was kind of a dick in that situation, but you see he's a decent guy who's trying. Decent people don't always have to be nice or kind. However, the goodness of Gary isn't brought out until he meets Mary. Mary comes crashing into Gary and his daughter, Emma's, life and appears to be everything they need to heal. They all seem to be what Mary has been looking for as well. But she fights hard to let them in, despite obviously really wanting to.
RELATED: Bel-Air Dropped Its Official Trailer… This is No Joke, Will
Gad and Fisher get to play some very deep people and get to really explore their baggage. While there is a supernatural element to the series, it is thoroughly human. Fisher makes this impossible scenario feel completely possible. Which is scary, for many reasons. Gad is incredibly relatable and solidifies the believability of the series. While it is hard to pinpoint any other single scene like the opening, their performances throughout the series are stellar.
But that might also be Wolfe Like Me's weak spot. Without knowing the hook of the series, a single episode is kind of nothing. It is just a very real story about two people with a chance meeting and with obvious issues. It doesn't really go anywhere, and it feels slice of life. After watching the first episode, I was confused about what the show was. Just seemed like setup for a romance, that felt like a rom-com being played straight. Fortunately, I kept watching, because it gets better as it all develops.
Wolf Like Me Works Better as a Whole
WOLF LIKE ME — "Episode 5" Episode 105 — Pictured: Emma Lung as Sarah — (Photo by: Mark Rogers/Peacock)

WOLF LIKE ME — "TBD" Episode TBD — Pictured in this screengrab: (l-r) — (Photo by: Peacock)

WOLF LIKE ME — "Episode 3" Episode 103 — Pictured: Isla Fisher as Mary — (Photo by: Mark Rogers/Peacock)

WOLF LIKE ME — "TBD" Episode 101 — Pictured: Ariel Donoghue as Emma — (Photo by: Mark Rogers/Peacock)

WOLF LIKE ME — "Episode 6" Episode 106 — Pictured: Nash Edgerton as Jayden — (Photo by: Mark Rogers/Peacock)
Wolf Like Me is a show meant to be binged. At the very least, it works because you know you can get the answer when you want it. If it had a weekly release, I likely would not have continued beyond the pilot. It is a show with a singular story, that just happens to be divided into six 30-minute-ish parts. Episodes by themselves will be known for events, but likely not the episode itself. It isn't necessarily a bad thing, but it helps knowing ahead of time that you need at least 3 episodes to really grasp the story.
My one critique of Wolf Like Me was what Gary thought was a date with an Asian woman. She is not insulted, her culture isn't made fun of, but she is used to highlight a huge misunderstanding. It has the vibe of the Hollywood trope to use Asian people and culture as others. It is far from the worse case of the trope, but considering the series is based on two Americans in Australia, why is the weirdest situation with an Asian with an accent. Halfway around the world, and the biggest cultural clash in a show with a supernatural element is with an Asian person? Just feels off.
RELATED: Josh Gad Confirms The Little Town Production Aims to Start in Glamourous Spring 2022
Outside of the awkward use of an Asian character, Wolf Like Me is a surprisingly human tale. The series works best as a whole, and fortunately, the entire first season is available at launch. Isla Fisher and Josh Gad are phenomenal and deliver incredibly human performances that will make audiences forget they are watching a show. And the story is just profoundly relatable and honest about the baggage all people bring to relationships. It is a grizzled love story that is brilliantly made more human by the inhuman elements. My Wolfe Like Me review gets a 3/5.
*It lost a point from me for the awkward Asian moment,
Wolf Like Me Season 1 is now available to stream on Peacock.
Wolfe Like Me Official Trailer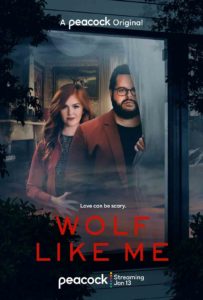 About Wolf Like Me
Everyone brings their own set of baggage to a new relationship. Gary (Josh Gad) and Mary (Isla Fisher) are no different. Gary is an emotional wreck and struggles to provide for his daughter since the death of his wife. Mary has a secret she can't bring herself to share with anyone. The universe brought these two together for a reason, they just need to keep following the signs. Series Creator / Executive Producer / Director: Abe Forsythe (Little Monsters) – directed all episodes 

Executive Producers: Jodi Matterson, Bruna Papandrea (Big Little Lies, Nine Perfect Strangers), and Steve Hutensky for Made Up Stories, and Isla Fisher 
Produced By: Made Up Stories in partnership with Endeavor Content and Stan 
Format: Genre-bending Romantic Dramedy, 6 episodes X 30 minutes 
Drop Cadence: All episodes 
Launch Date: January 13, 2022 on Peacock
Filming Location: Australia
Starring: Isla Fisher (Wedding Crashers, Definitely Maybe), Josh Gad (Central Park, Frozen) 
What do you think about the concept o Wolf Like Me? Will you watch it? What is your worse break-up story? Let us know in the comments below and be sure to share your reactions to the series with us on Twitter.
KEEP READING: How I Met Your Father Review: Charming, Hilarious, Apt, and Almost Legendary