Some surprising news recently came out that AEW star Cody Rhodes is currently not under contract with AEW.
Cody Rhodes' AEW contract had recently expired and has yet to resign from the company.  This has led to speculation that he may be leaving the promotion.  This has of course led to speculation as to where he may end up if he leaves the company.  The big debate is whether he would end up back with WWE and more specifically in the Royal Rumble match to take place at the end of the month.
RELATED: ROYAL RUMBLE MAY FEATURE A "FORBIDEN DOOR" ENTRANT
Rumors have been circulating that WWE wants a "forbidden door" entrant or a wrestler from a rival promotion to enter the Royal Rumble match. IMPACT Knockouts Champion Mickie James has already confirmed she will be in the match and WWE wants a male equivalent. Rhodes being a free agent has shifted the rumors over to his name.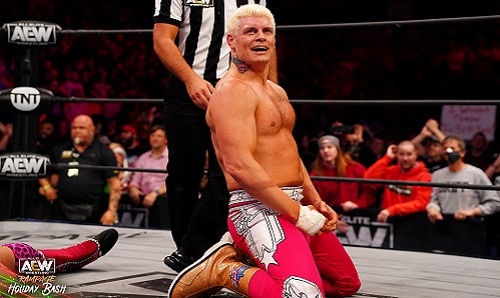 Cody Rhodes, A Free Agent And Two TNT Champions
However, on a recent edition Wrestling Observer Radio Dave Meltzer said Cody Rhodes will not be crossing the "forbidden door" and entering the Royal Rumble match.  Meltzer also went on to say unsurprisingly that no AEW talent will be appearing in the Royal Rumble match.  I think this is true and would be the last place WWE would pull from and I would be shocked if an AEW wrestler entered the match.
Despite being a free agent and not being on AEW TV yet this year Rhodes is supposed to be a part of this week's AEW Dynamite on Wednesday. He did go to an AEW Dynamite taping two weeks ago, but due to a family medical emergency he left the same day. It is believed that he was supposed to sign a new physical contract on that night, but due to leaving early he was unable to sign. The belief is he will sign the new contract while at this week's Dynamite taping.
RELATED: WWE VERY INTERESTED IN SIGNING AEW TALENT WARDLOW
Rhodes was unable to compete at the Battle Of The Belts event against Sammy Guevara. Due to Rhodes being absent from AEW lately and being the current AEW TNT champion Tony Khan had to improvise. Khan created an Interim TNT Championship and Rhodes was replaced in the match by his brother, Dustin. Dustin was unable to defeat Guevara and Guevara became the Interim TNT Champion. Guevara went on to defend the championship successfully against Daniel Garcia.
Perhaps Rhodes will issue a challenge to Guevara and set up a unification match to combine the two championships which are always fun and they get to call themselves the undisputed TNT champion.
This is all of course if Cody Rhodes resigns with AEW which he absolutely will.  He isn't just an AEW wrestler, he is the AEW executive vice president of the company.  That is a title he shares with Matt Jackson, Nick Jackson and Kenny Omega, but Rhodes seems to be a much bigger part of the day-to-day operations than the other three.  He seems to be second only to Khan when it comes to company operations.
It would be very surprising if Cody Rhodes decided to leave the company he helped to found.  I have not heard of any trouble between Khan and himself or anything which would make him want out.  The contract expiring is most likely because they simply forgot or the contract was already a done deal and just needed his signature.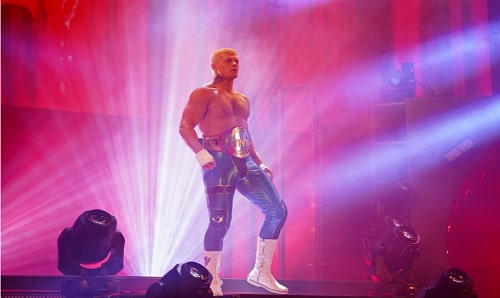 Do you think Cody Rhodes being a free agent is his way of getting out of AEW?  If he is leaving, where do you think he is going?  Do you think he is actually the "forbidden door" entrant?  Leave a comment below and let us know if you think AEW would diminish without Rhodes there on Twitter.
Sources: Wrestling Inc., Wrestling Observer Radio
KEEP READING: MUSTAFA ALI HAS ASKED WWE FOR HIS RELEASE TO PURSUE BIGGER "DREAMS"