Mustafa Ali has issued a statement of sorts after asking for his release.
Ali, who is a current SmackDown Superstar became a fan favorite over the past few years. Mustafa Ali's request for a release from WWE came as heartbreaking news for all his fans.
Ali issued a statement on his release via his Twitter and gave a very brief and mysterious statement on his reason for the release request. He unfortunately didn't give any information as to why he asked for the release or if he will continue with wrestling. It honestly sounds like a retirement statement, but only time will tell if that is true.
"I have a message that is much bigger than my dreams in pro wrestling. Despite my best efforts, I will not be able to deliver this message while working with WWE. Therefore, I am requesting my release from WWE," Ali said.
RELATED: COREY GRAVES MEDICALLY CLEARED AND LOOKING TO WRESTLE AGAIN
Mustafa Ali began his WWE career as a last minute replacement during the Cruiserweight Classic after a wrestler had to drop out because of visa issues. He put forth a great performance against Lince Dorado in the first round. However, unfortunately for Ali he came out the loser in the match. The match did lead to a WWE contract and showed the world that Mustafa Ali is someone to keep your eyes on.
Mustafa Ali's Career Starts To Heat Up
In December of 2016 Ali made his 205 Live debut against his Cruiserweight Classic opponent, Dorado, the match ended in a double count-out draw. He spent the next two years on 205 Live and helped to give the show its exciting feel with his high energy and spectacular high-flying acrobatics.
Daniel Bryan needed a hot young baby face to feud with as he said all the baby faces were pushing 40 years old. Mustafa Ali had proven himself on 205 Live and WWE decided to give him a chance against Bryan who was the WWE champion at the time. Ali lost the match, but gave a good enough showing to be moved up to the SmackDown roster full time. He eventually made his way into the Elimination Chamber match. However, he had to withdraw from the match because of an injury and was replaced by Kofi Kingston.
RELATED: ROYAL RUMBLE MAY FEATURE A "FORBIDEN DOOR" ENTRANT
Mustafa Ali eventually found himself in the title picture again when he was added to the WWE Championship match against WWE Champion Bryan and Kevin Owens. However, he was unable to capture the victory when he needed to. He continued to be involved in big matches and feuds which led WWE to give him the role of a leader of a faction.
Bathroom Break AKA Retribution Segment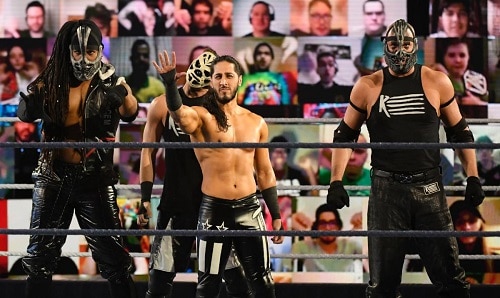 Retribution was a faction which was doomed right from the start. Despite having very talented members like Mia Yim and being led by Ali the faction never took off.  The faction was pushed really hard and every member gave it 100 percent, but it was a disaster.
Ali luckily found himself separated from Retribution before the faction finally died and technically the faction is still alive as two of the members still compete in its attire. He began a feud with Mansoor. The two had some very entertaining matches and ultimately came to a head at Crown Jewel.  
In November 2021 Ali welcomed a baby daughter and has taken time off to help with the baby. We haven't seen him since and now has decided to leave WWE.
Something to keep in mind is he has asked for his release and it's simply a request. WWE doesn't have to grant his release. WWE almost always grants their Superstar's release request, but not always. We don't know how much time is left on his contract, so it is possible we could see Ali in the WWE once again very soon.
Were you shocked by Mustafa Ali's release request? If he stays in wrestling, where would you like to see him end up? Leave a comment below or over on Twitter and let us know who you would like to see him wrestle now that he is on his way out of WWE.
KEEP READING: WWE VERY INTERESTED IN SIGNING AEW TALENT WARDLOW
Source: Comingsoon