The famous post-apocalyptic webcomic of a group of powered individuals, FreakAngels, will finally have its anime adaptation.
FreakAngels is a popular webcomic released in 2008 written by Warren Ellis and Paul Duffield. Due to its success and popularity, the webcomic eventually got published in book format by Avatar Press. Now it's been announced Crunchyroll will produce an anime series based on the webcomic. The plot of FreakAngels focuses on a super-powered group of young individuals, all at the age of twenty-three.
RELATED: SHENMUE THE ANIMATION PREMIERE DATE ANNOUNCED BY CRUNCHYROLL & ADULT SWIM
The story's setting is in a post-apocalyptic world where humanity's last refuge is London's Whitechapel district. The apocalyptic calamity happened six years before the story and trapped London in this mysterious purple dome energy. The FreakAngels preserve Whitechapel London's surviving neighborhood. However, their short-lived peace is interrupted when inner tensions flare, an exiled friend of the group returns, new problems and conspiracies emerge.
The anime adaptation of FreakAngels will have some elements based on the webcomics series. The anime will also include characters based on the series and their respective voice actors announced. These characters include KK (Marsha Thomason), Arkady (Julie Nathanson), Jack (Tru Valentino), Sirkka (Nazneen Contractor), Connor (Christian Lees), Mark (Daniel Gillies), Luke (Chris Geere), and Kat (Victoria Atkin). Crunchyroll also released an exclusive clip of the first episode before its official premiere next week.
The clip features the FreakAngels having a hilarious argument and talking about Mark (possibly their exiled friend). The unique first look then shows us potentially the series villains called the Mud Locks attacking Mike and bombing Whitechapel with rocket launchers. One of the rocket launchers hit the FreakAngels hideout, and we see them all using their telekinetic powers to escape and possibly stop the Mud Locks. The exclusive clip then ends with the anime's premiere date. Overall the exclusive clip serves its purpose. It introduces viewers to the FreakAngels themselves, setting, potential villains, and unique art style. The series will stream on Crunchyroll on January 27th, 2022.
OFFICIAL FREAKANGELS PRESS RELEASE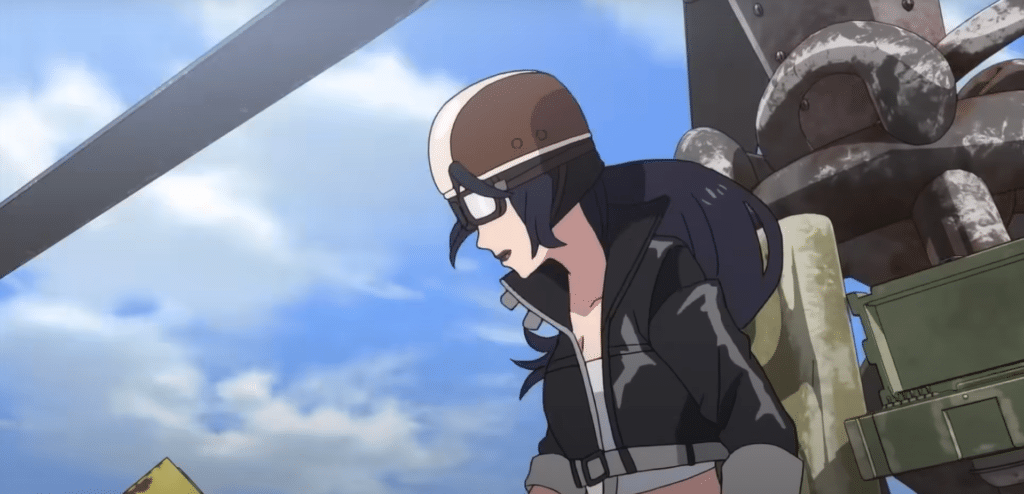 Crunchyroll is introducing today the voice cast of FreakAngels, the upcoming Crunchyroll Original series following a small group of psychically-powered friends as they protect each other and what's left of humanity in Whitechapel, London's last neighborhood. Crunchyroll also revealed a first look at the new series, providing a glimpse of the dangers that await the FreakAngels as they attempt to band together after so much time apart.
The full voice cast includes:
KK voiced by Marsha Thomason (Castlevania). A swaggering gearhead, the sort of cool mechanic girl who'll drink all your beer, set light to your house and drive off on your motorbike. KK is the spiky, violent big sister of the FreakAngels.
Arkady voiced by Julie Nathanson (Great Pretender). Eccentric, can seem like a playful child. Arkady is the most powerful person in the world, but she's dizzy and fragile. In private, she's exploring her powers. A gentle woman with a storm inside her.
Jack voiced by Tru Valentino (The Cuphead Show). A loner and a sailor who prefers to work with his hands, Jack keeps busy using his boat to scavenge flooded London for supplies and fend off raiders. He's the classic model of stoic manhood.
Sirkka voiced by Nazneen Contractor (Star Wars Resistance). She's a sincere pacifist, but her high morals and polyamorous lifestyle can sometimes cause friction with the other FreakAngels, especially Jack.
Connor voiced by Christian Lees (PISTOL). The damaged soul. Connor is up in his own head. He thinks too much. He's warm and emotional, with thin skin. He's going to have to pull himself together to pull the group together in the face of the threats to come.
Mark voiced by Daniel Gillies (The Vampire Diaries). Mark is the FreakAngel who was exiled. He used his powers to control people, and they threw him out. Since then, he's been roaming Britain, getting stronger, laying plans.
Luke voiced by Chris Geere (Animaniacs, Detective Pikachu). A rogue intellectual with a university poshness. He's broken, toxic, impossibly charming until you see his damage up close.
Kat voiced by Victoria Atkin (Assassin's Creed). Self-appointed "cop" of Whitechapel. She is quite mad, but devoted to everyone's safety. Solitary but intimidating.
Miki voiced by Mallory Low (DC Super Hero Girls, Final Fantasy VII Remake). The medic. Her wit is razor sharp. Good at healing people, not so good at talking to them.
Caz voiced by Anniwaa Buachie (X-Men '97). An urban engineer. She will build her way to a better future. She is the most mature and self-aware member of the group.
Karl voiced by Darren Jacobs (Death Stranding, Genshin Impact). Telepathy is strong with Karl; he isolates in his garden for mental quiet. Kirk is the only one he can stand. Prefers to tend to his garden, alone.
Kirk voiced by Tru Valentino (The Cuphead Show). Totally devoted to Karl, pissed off with everything else. He misses the old world, and is slow to trust anyone while very quick to anger.
Alice voiced by Della Saba (Ralph Breaks the Internet, Steven Universe). Resourceful and takes no shit. She was barely a teen when "the world ended," and grew up with no support and no pity.
The full series, based on the hit, post-apocalyptic graphic novel series of the same name, will premiere on January 27 on Crunchyroll across 200 countries and territories, with subtitles available in English, Spanish, Portuguese, French, German, Russian, and Arabic. Hiroshi Shimizu (MEGALOBOX, Blue Exorcist, Lupin III) is on board as Character Designer with Osamu Masuyama serving as Art Director (Made in Abyss, Studio Ghibli).
FreakAngels is a unique project based on the sci-fi and post-apocalyptic genre. With influences from steampunk. The series started as a popular Webcomics and became a series of six successful volumes. The series has already won multiple awards making it an award-winning story. With Crunchyroll producing and a star-studded cast, excitement for this upcoming anime is high. Hopefully, the anime series can bring honor to the legacy of the FreakAngels.
FREAKANGELS SYNOPSIS
Welcome to Whitechapel: last bastion of humanity. Six years ago, the world "ended" in a single, apocalyptic event, trapping Great Britain behind a mysterious dome of purple energy. London's last neighborhood has persevered thanks to the protection of the "FreakAngels" — a small group of psychically-powered twenty-three-year-olds. Their fragile peace becomes threatened, however, when an exiled friend returns, exposing past conspiracies and new conflicts within their fractured, makeshift family. Can Whitechapel survive?
KEEP READING: FRAGGLE ROCK: BACK TO THE ROCK DEBUTS ADORABLE FIRST LOOK FROM APPLETV