The Legend Of Vox Machina is just over a week away and Critical Role is giving Critters another behind-the-scenes look into the highly anticipated animated series. The Legend of Vox Machina is bringing the world of Exandria to life and with it a huge cast of characters. In the campaign, Matt Mercer creates and performs all of the NPCs, non-player characters, that populate the world. However, with the animated series, these characters will be brought to life with an impressive cast of voice actors. The new video below, The Legend Of The Cast Of The Legend Of Vox Machina, reveals who will bring these characters to life in the new animated fantasy series.
"As Matt painted it Exandria is such a broad, diverse, crazy place filled with all kinds of voices from around the realm, and to populate that with voice actors who aren't just the main eight cast members of Critical Role was always a big goal of ours to make this world feel expansive and real." – Sam Riegel
RELATED: CRITICAL ROLE NEW LEGEND OF VOX MACHINA BTS PROMO REVEALS FINAL CHARACTER DESIGNS BY ANIMATION LEGEND PHIL BOURASSA
The Legend Of Vox Machina has an impressive voice cast including actors like David Tennant, Gina Torres, and Stephanie Beatriz bringing these beloved characters to life. It is clear in the video that the cast of Critical Role is excited about the actors they have cast to embody these fan-favorite NPCs. Critters will spot a few familiar names in this case with The Legend Of Vox Machina including guests from a number of Critical Role campaigns with Kahry Payton, Anjali Bihmani, and Felicia Day.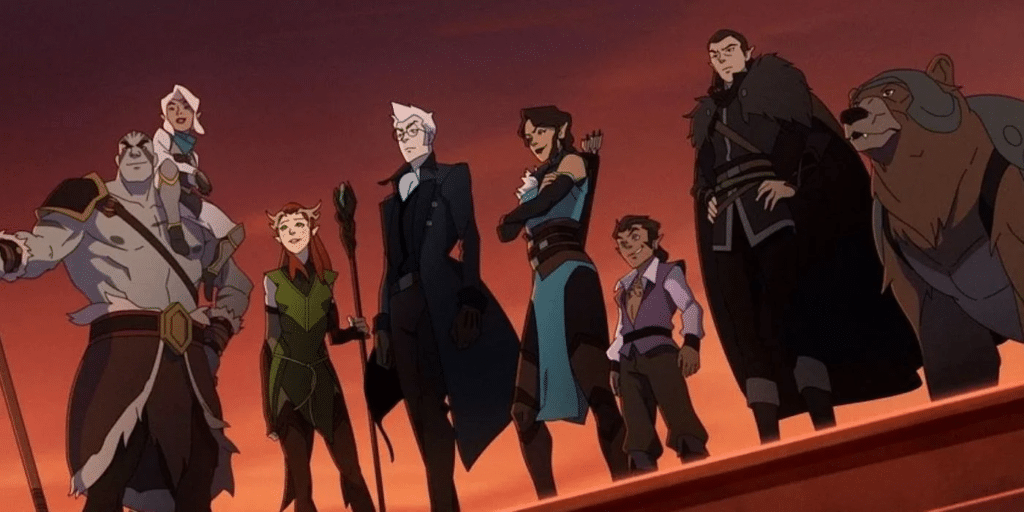 David Tennant's role is especially interesting as General Krieg, a pre-stream character that fans have never truly experienced. There are three characters that Critters are surely looking forward to seeing on screen, Gilmore, Allura, and Kima. Sunil Malhorta has some especially big shoes to fill as Gilmore with fans falling in love with the character due to Matt's glorious performance. But it's obvious in the video that the cast was blown away by his performance and Sunil feels a connection to Gilmore that is sure to shine through on screen. Matt Mercer created and embodied these characters for years from the most beloved Vox Machina allies to the most despised villains.
RELATED: WATCH THIS NEW THE LEGEND OF VOX MACHINA BTS VIDEO THAT REVEALS HOW RECORDING CHANGED DUE TO THE PANDEMIC
Most of these characters will be brought to life by new voices that are sure to bring a new energy, but Matt Mercer is still taking on at least one of his most infamous NPCs from Campaign 1. Matt Mercer will be sinking his teeth into the nefarious Sylas Briarwood, one of Vox Machina's most fearsome adversaries with horrifying ties to Percy's past. With this spectacular cast, The Legend Of Vox Machina will bring the story of Critical Role's Campaign 1 heroes to life in a thrilling new way. The full Legend Of Vox Machina cast that was announced in the video can be seen below and it is glorious.
THE LEGEND OF VOX MACHINA EXTENDED CAST
Stephanie Beatriz as Lady Kima
Anjali Bhimani as Head Cleric
Eugene Byrd as Jarrett
Esmé Creed-Miles as Cassandra de Rolo
Felicia Day as Captain of Emon
Darin De Paul as Kerrion Stonefell
Grey Griffin as Delilah Briarwood
Tony Hale as Sir Fince
Bobby Hall aka Logic as Palace Guard
Kelly Hu as Dr. Anna Ripley
Sunil Malhotra as Gilmore
Rory McCann as Duke Vedmire
Max Mittelman as Desmond
Dominic Monaghan as Archibald Desnay
Khary Payton as Sovereign Uriel Tal'Dorei
Mason Alexander Park as the Tavern Keeper (a character created in our Tavern Keeper Build video!)
Stacey Raymond as Bryn
Stephen Root as Professor Anders
David Tennant as General Krieg
Tracie Thoms as the Everlight
Gina Torres as Keeper Yennen
Indira Varma as Lady Allura Vysoren
RELATED: THE LEGEND OF VOX MACHINA NEW BTS VIDEO TEASES EPIC SCORE AND HILARIOUS ORIGINAL NEW SONGS FOR SCANLAN SHORTHALT
The long-awaited animated series The Legend Of Vox Machina is almost here and based on these behind-the-scenes videos it is clear that everyone involved is as enthusiastic and passionate about the series as the Critical Role cast and Critters themselves. Critical Role broke records with their Kickstarter for an animated special raising more than $11 million with over 88,000 backers.
Because of this Critical Role's animated special grew into The Legend of Vox Machina animated series which is animated by Titmouse and will be exclusively released on Prime Video. The Legend of Vox Machina has already been ordered for two 12-episode seasons. The first three episodes of The Legend of Vox Machina's first season will premiere on Prime Video on January 28, 2022, with three episodes debuting each subsequent week.
The Legend Of Vox Machina will premiere on Prime Video on January 28, 2022. What do you think about the extended cast of The Legend Of Vox Machina? Are you excited for their performances in the new animated series? Leave your thoughts in the comments below or on our social media and check back with The Illuminerdi for more Critical Role and The Legend Of Vox Machina.
KEEP READING: THE LEGEND OF VOX MACHINA: WATCH THE 1ST ACTION PACKED RED BAND TRAILER OFFER FANS AN EXCITING LOOK AT NEW ANIMATED SERIES