Netflix just released the first trailer for their upcoming crime comedy series Murderville, which will see Will Arnett solving crimes with a variety of celebrity guest stars.
Based on the the BAFTA award winning BBC3 series Murder in Successville, the series is perhaps best described as a crime-comedy mixed with improv. The series follows eccentric detective Terry Seattle (Will Arnett) as he tries to solve a new crime every episode, accompanied by a variety of guest stars.
RELATED: WINSTON DUKE REALLY WANTS TO BE IN THE LEGENDARY STAR WARS UNIVERSE
The catch? None of these guest stars have the script, which means that we're set for a lot of hijinks and real reactions as they try to think on their feet and adapt to whatever Detective Seattle throws their way. Celebrity guests include Conan O'Brien, Ken Jeong, Kumail Nanjiani, Marshawn Lynch, Sharon Stone, and Annie Murphy.
Improv In Murderville
Check out the trailer for the improv-heavy Murderville below!
Murderville is being produced by Electric Ave, Abominable Pictures, Artists First, and Sony Pictures Television. The showrunner is Emmy Award-winning writer Krister Johnon, who is best known for his writing credits in Wet Hot American Summer, Another Period, I'm Sorry, and Children's Hospital, for which he won his Emmy. He was also a writer for Saturday Night Live for 9 full seasons. With all of this under his belt, it will be interesting to see how he tackles this new challenge…writing a script that is only being seen by half the cast in any given episode.
Other writers include Anna Drezen, Chadd Gindin, Craig Rowin, Jack Kukoda, Marina Cockenberg, Kerry O'Neill, Hannah Levy, and Adriana Robles.
Krister Johnson is also executive producing, along with Will Arnett, Marc Forman, Jonathan Stern, Peter Principato, Brian Steinberg, Tom Davis, Andy Brereton, and James De Frond. The 6-episode series will be directed by Iain Morris and Brennan Shroff.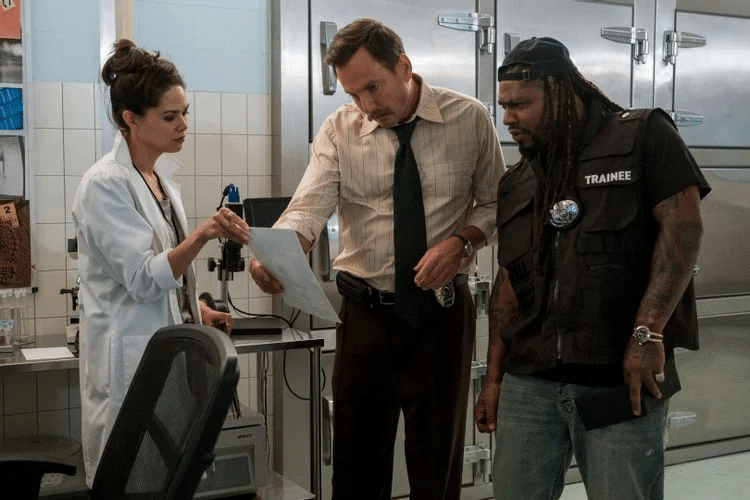 The original BBC show was a smash hit, and it's great to see that director James De Frond is returning to produce this new series for Netflix. With the BBC version, De Frond put a lot of effort in to make sure that the celebrities were not allowed to grow to comfortable on the set; even going to the extreme of blindfolding them and keeping them apart from the rest of the cast before shooting started. "I don't give them any direction," he said. "I direct the experience. It's like a haunted house at Thorpe Park."
It will be interesting to see if the Netflix show will do the same.
Of course, Murderville will also work as somewhat of a cross-marketing machine for the streaming service, which currently have streaming rights to Ken Jeong's Community and Annie Murphy's Schitt's Creek, and Will Arnett's Arrested Development. With so many great sitcom stars and comedians, the series should be guaranteed to bring some good laughs.
Check out the official synopsis and poster below!
"Meet Senior Detective Terry Seattle (Will Arnett), Homicide Division. For Terry, every day means a new murder case and a new celebrity guest star as his partner. But here's the catch: each episode's guest star isn't being given the script. They have no idea what's about to happen to them. Together, the guest star and Terry Seattle will have to improvise their way through the case… but it will be up to each celebrity guest alone to name the killer. Join them as they punch a one-way ticket to Murderville. The six-episode procedural crime comedy premieres globally on Netflix on February 3."
Murderville premieres all episodes on Netflix Feb 3, 2022.
KEEP READING: ROBERT PATTINSON EXPLAINS BATMAN'S NO-KILL RULE IN THE UPCOMING FILM