The newest episode of The Book of Boba Fett is cleverly titled "The Return of The Mandalorian," as it took a break from the main storyline to focus on the man Din Djarin himself.
But in doing so, it appeared to feature the live-action debut of a character from Star Wars Jedi: Fallen Order, whom fans should recognized immediately.
RELATED: COULD THE MCU'S PROFESSOR X BE FROM THE X-MEN '97 ANIMATED SERIES?
Major SPOILERS lie ahead, so proceed with caution:
When the bounty hunter returns to Tatooine to collect his brand new ship, we learn that the Mos Eisley mechanic, Peli Motto, has obtained a new droid who is now working for her. It looks pretty similar to BD-1!
Who Is BD-1 In The Book Of Boba Fett?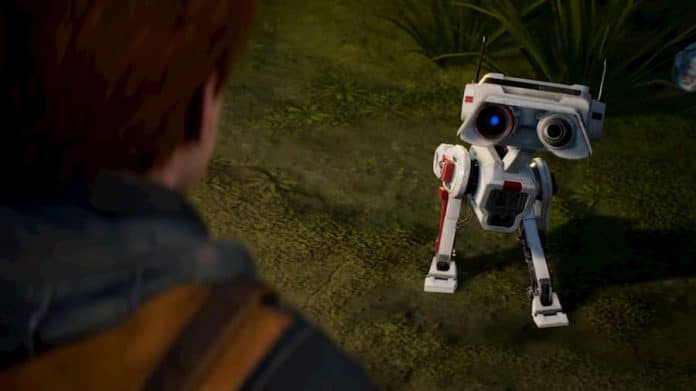 This cute droid was introduced in the Fallen Order video game, becoming a loyal companion to Cal Kestis and joining him on journeys.
The little lad, who helps Djarin with his repairs in The Book of Boba Fett, is supposedly the same model as the original but may not be the actual BD-1. After all, fans noticed that the color design is different. Since this show takes place a little after Fallen Order, this might mean that BD-1 was separated from Kestis and found his way to a completely different part of the galaxy – or that it's a different android altogether.
BD-1 is new to live-action Star Wars, if this is actually him. Some fans said that watching him on Disney+ was like seeing a old friend they haven't seen in awhile. This could also mean he will appear in Season 3 of The Mandalorian. Fans are excited to see what other potential future cameos the showrunners have in store for the episodes coming up, and wonder whether any other video game characters will make a live-action appearance.
A new episode of The Book of Boba Fett premieres on Disney+ every Wednesday. Stay tuned for the next episode to see what will happen.. Will there be another cameo? I guess we will have to find out! Stay tuned…
KEEP READING: THE BOOK OF BOBA FETT: HOW MANDO COULD BE THE PERFECT ALLY IN BUILDING BOBA'S FORCES IN THE EPISODES TO COME
Source: Comic Book Movie