It's nearly here. The 2022 WWE Royal Rumble hits The Dome at America's Center this Saturday.
That's right. The event begins this Saturday, as WWE continues its new monthly "Premium Live Event" schedule with this year's big shows. WWE started off the year with WWE Day 1 and now heads to WrestleMania season with its annual Royal Rumble show. The key part of any WWE Royal Rumble show is the exciting matchups themselves, where 30 Superstars vie for a title shot at WrestleMania.
RELATED: ROYAL RUMBLE PPV MAY FEATURE 2 SURPRISE NXT STARS
As one of WWE's Big 4 events, WWE Royal Rumble is the formal start for the Road to WrestleMania, and the major title matchups and main events will begin to take shape with this event. Once again, this year's show will feature Rumble matchups for the respective men's and women's divisions. Here's a breakdown of the key matchups and our predicted winners.
Fair warning: we will be discussing rumors and possible spoilers that are being reported regarding this year's WWE Royal Rumble. So, if you are trying to avoid any rumor-related spoilers, now is the time to stop reading.
EDGE & BETH PHOENIX VS. THE MIZ & MARYSE
The husband and wife Hall of Fame team of Edge and Beth Phoenix team up for the first time in WWE history against The Miz and his wife Maryse. This should more or less serve as the blowoff to this feud now that Edge and Miz's respective spouses have gotten involved. This will be a nice moment since Edge and Phoenix have never had the chance to team up before, and Phoenix will get a nice victorious moment.
I could easily see this being the opening matchup to warm up the crowd and get the fans in St. Louis excited for what's to come. This should be an academic victory for Edge and Beth Phoenix. There's no reason to drag this feud out any further after WWE Royal Rumble. Edge and Phoenix defeat the sinister Miz and Maryse and a career highlight win for them both.
Our Winners: Edge & Beth Phoenix
RAW WOMEN'S CHAMPIONSHIP: BECKY LYNCH (C) VS. DOUDROP
Goofy main roster name change aside, it's nice to see the NXT UK wrestler formerly known as Piper Niven in a major title matchup on one of the biggest WWE events of the year against a huge Superstar such as Becky Lynch. Both of these women are capable workers and know what to do in the ring when given a good amount of time. Doudrop has also done fairly well for herself ever since she broke off from Eva Marie.
Now, is this the time for a title change? Smart money says no. While it's likely Lynch and Doudrop can have a competitive matchup, this isn't the time to unseat Becky Lynch as the heel champion just yet. In light of recent rumors, now isn't the time to break off from Lynch's momentum on the way to a major title showdown for her at WrestleMania. It will be a hard-fought win, but Becky Lynch walks away with the win and her title.
Our Winner: Becky Lynch
WWE CHAMPIONSHIP: BROCK LESNAR (C) VS. BOBBY LASHLEY
This is easily one of the most intriguing and anticipated matchups on the card. It also has a very unique attribute because it's the first time Brock Lesnar and Bobby Lashley have ever faced each other one-on-one in WWE history. Lashley is actually coming off one of most successful years ever. Last year saw him finally capture the WWE Championship, the one major title that had eluded him for his entire career.
Due to circumstances related to COVID-19, Roman Reigns was forced to withdraw from his originally scheduled Universal Championship matchup against Brock Lesnar at WWE Day 1 on Jan. 1. As a result, Lesnar became a last-minute addition to the WWE Championship matchup at that event, which enabled Lesnar to capture the WWE Championship from Big E.
The only drawback here is that this first-time title matchup isn't happening at WrestleMania. The good news is that fans finally get a brand-new title matchup after what's seemed like a constant string of championship rematches. Lashley has wanted a match with Lesnar for a long time, and he finally gets to see it come to fruition here.
Now, I see this going one of a few different ways. Lashley wins the matchup and frees up the WWE Championship for WrestleMania 38. Or, Lesnar beats Lashley and then goes on to face Roman Reigns again WrestleMania 38 in a winner takes all match. While the WWE brand extension has already long eroded, WWE seems to stubbornly be sticking to the notion of separate rosters, even though it's all but meaningless at this point. In short, having two world champions makes no sense at this point.
Other scenarios I could see playing out here: Maybe Lesnar loses the title here due to shenanigans by The Bloodline, but goes on to win the Rumble match anyway. Or, perhaps Lesnar conquers all. He beats Lashley and then wins the Rumble, running the gauntlet to go to WrestleMania 38 with the WWE Championship and a title shot against Roman Reigns. This is Brock Lesnar, after all, and Vince McMahon is still dedicated to his greatness as a top star and main eventer.
Ultimately, I'm not expecting Lesnar to run a total gauntlet and win both this match and the Rumble. I think he will lose here due to some sort of shenanigans from The Bloodline and/or Paul Heyman. Lesnar will then enter the Rumble and win, but more on that later.
Our Winner: Bobby Lashley
30-WOMAN ROYAL RUMBLE MATCH
As of writing this, the women's Royal Rumble match has 21 confirmed out of 30 scheduled participants. There's also the factor that we are still in a global pandemic, which can't be underestimated. Case in point, Reigns was forced to withdraw from WWE Day 1 earlier this month. Thankfully, he recovered without issue. However, WWE has had to deal with COVID-19 outbreaks in the past. Point being, there's always a possibility of last-minute changes resulting from the pandemic.
Here's another issue: Almost half of the announced participants aren't even under contract with WWE. Heck, Mickie James was someone they released from the company less than a year ago. With all of WWE's releases due to budget cuts in 2020 and 2021, their women's division has been absolutely gutted. As a result, they didn't even have enough women on the roster to support a Royal Rumble, so they had to bring a number of WWE Legends and former talents. And there still aren't 30 women scheduled yet. Nine slots are still. Some of those will likely be NXT Superstars.
In light of recent rumors, I would say the outcome is obvious. Ronda Rousey returns and takes the Rumble. She wins the match and secures a title shot against none other than Becky Lynch, creating a feud with instant heat for WrestleMania 38. Rousey is not confirmed for the Rumble or WrestleMania. But if there's any truth to recent rumors, Rousey winning to set up a WrestleMania title match against Lynch makes sense. This was the match that should've headlined WrestleMania 35 in 2019 anyway.
Now, Rousey rumors aside, there are a couple of Superstars who are overdue for a return, and the Rumble could be the best way for them to make the biggest splash. Asuka has been MIA since Money in the Bank 2021. Bayley has also been on the injury shelf since last July, and while a Rumble return is not confirmed for her either, it would be a way to easily reinsert her into the mix. Bayley has even joked on Twitter about returning at the Rumble.
The women's Rumble really has the most unpredictability with all the returning Legends, former Superstars, and there are still nine unnamed entrants. But now that I've heard the Rousey rumor, I can't get it out of my head for how her Road to WrestleMania would play out. I'm thinking Rousey is going to walk in and take the title shot.
Our Winner: Ronda Rousey
RELATED: SAMI ZAYN SIGNS A NEW CONTRACT WITH WWE
30-MAN ROYAL RUMBLE MATCH
Right now, the men's Royal Rumble matchup has 22 confirmed entrants. One of them is Jackass star Johnny Knoxville. It's pretty safe to say that Knoxville can easily be ruled out as a winner. WWE has had some questionable creative blunders in recent years, but the only way Knoxville would be walking out the winner is if Vince Russo was still in charge.
The Royal Rumble is usually a good place for some returns. MVP and Edge returned at WWE Royal Rumble 2020. Carlito was one of the surprise entrants at WWE Royal Rumble 2021. One WWE Superstar who has been MIA lately and isn't confirmed as an entrant is Elias. He's been off TV since he threw his guitar in a fire on Raw last August. He'd be the perfect candidate for a surprise return and entrant this weekend.
Regardless of who makes a surprise return this Saturday, I'm leaning heavily toward a Brock Lesnar win here. The Lesnar vs. Reigns matchup is the heavily rumored plan for WrestleMania 38, and this event will likely put together some course correction. As tired as that matchup is, it doesn't appear that WWE is gearing up the likes of Big E or Drew McIntyre for a WrestleMania title run.
In terms of who will get the proverbial "Diesel Push" for this year's Rumble, the best candidate appears to be Omos. Since his split with AJ Styles, he looks to be on his way to bigger and better things.
Ultimately, I'm still leaning heavily toward Brock Lesnar pulling double-duty and picking up the Rumble win and WrestleMania title shot.
Our Winner: Brock Lesnar
UNIVERSAL CHAMPIONSHIP: ROMAN REIGNS (C) VS. SETH 'FREAKIN' ROLLINS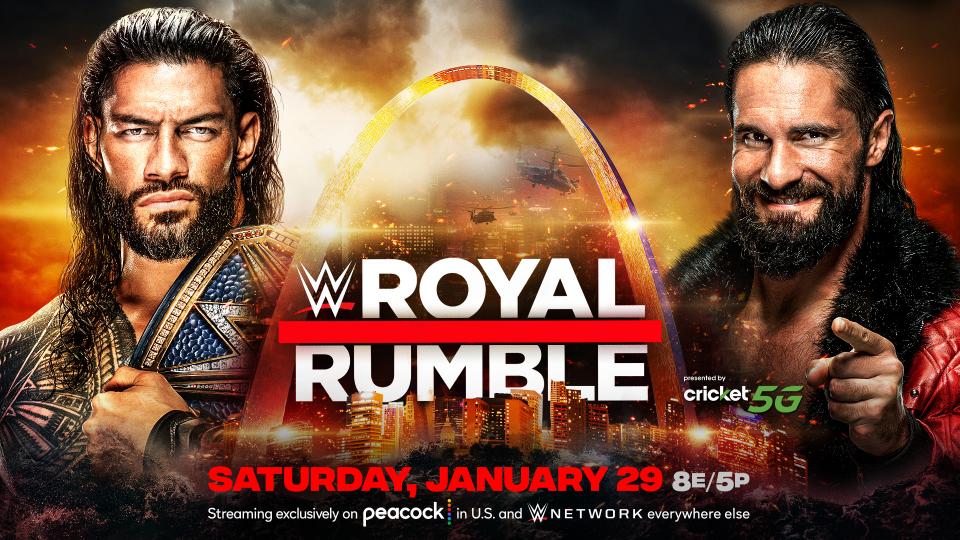 The former Shield members and teammates collide for the Universal title. Unfortunately, the WWE title scene has become so stagnant that SmackDown had to recruit a Raw Superstar to challenge Roman Reigns this weekend.
On paper, this is a decent matchup, but Rollins has no chance in hell of winning. Reigns isn't losing the title before WrestleMania. In fact, I doubt he even loses the belt at WrestleMania this year, but that's a conversation for another day.
Rollins was able to reinvent and revamp his character after his main event credibility was hurt due to shaky booking during his feud with The Fiend. He managed to rebound after his days as the Monday Night Messiah and eventually transformed into his current persona, Seth "Freakin" Rollins. It works for Rollins, but he's still not going to upset Reigns this weekend. The main event slot at WrestleMania 38 is as good as the Tribal Chief's, and so is his victory on Saturday against Rollins.
Our Winner: Roman Reigns
Regardless of who wins the key matchups on Saturday, at the very least, WWE Royal Rumble will hopefully give fans a better idea of what we are in for at WrestleMania 38 later this April in Dallas. WWE Royal Rumble 2022 airs on Saturday, Jan. 29 on Peacock for fans in the U.S. The WWE Royal Rumble event will be available everywhere else on the WWE Network streaming service. The main card starts at 8 p.m. ET/5 p.m. PT, while the free Kickoff show starts at 7 ET/4 PT.
KEEP READING: BROCK LESNAR REFUSED TO WORK WITH A FORMER WWE CHAMPION