The first-ever cinematic Spider-Man could make another return and team up with the powerful sorcerer himself, Doctor Strange.
Tobey Maguire's Spider-Man is one of cinema's most iconic and legendary superhero portrayals. The original Spider-Man trilogy is regarded by many launched the boom of Superhero films in modern cinema. One of the main reasons for the original Spider-Man trilogy's success was director Sam Raimi. His direction and vision helped make everyone's favorite Wall-Crawler a household name and firmly established Maguire, Willem Dafoe, Alfred Molina, James Franco, Thomas Haden Church, Topher Grace, J.K Simmons and Kirsten Dunst as global superstars. Maguire's solo Spider-Man movies even grossed more than $750M worldwide. 
RELATED: MS. MARVEL DIRECTOR ANNOUNCES RESHOOTS WITH NEW BEHIND THE SCENES IMAGES
A fourth Spider-Man movie starring Maguire, with Raimi returning as the director, was initially planned after Spider-Man 3. However, there were many disagreements with the studio and Raimi about the fourth film's script. Those disagreements made Raimi leave the project, and Sony decided to make The Amazing Spider-Man films starring Andrew Garfield. Then a few years after, Tom Holland was cast as Spider-Man for the Marvel Cinematic Universe, and the rest is history.
Is Tobey Maguire Staying In The MCU?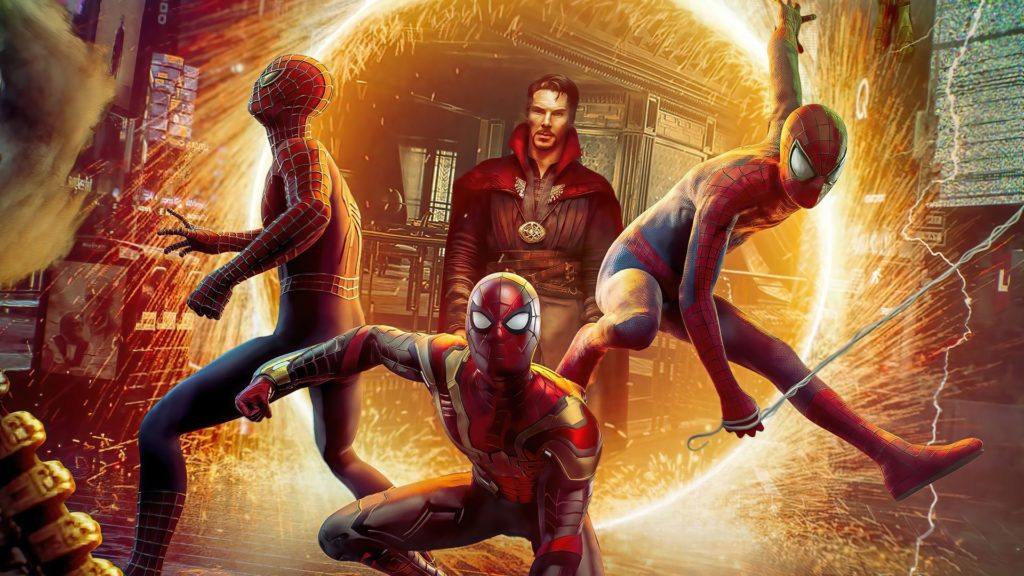 However, Maguire made his grand return as Spidey in Spider-Man: No Way Home. He also was able to team up alongside Garfield's and Holland's respective Spider-Men. No Way Home became a box office hit, and one reason for its huge success was, of course, the epic team-up of all the Spider-Men. The film was a special tribute to Spidey's cinematic history. Ever since his grand return, fans wished and hoped for more movies or cameos starring Maguire's Spider-Man. Maguire might suit up again in Doctor Strange's upcoming new film, according to a new rumor.
Doctor Strange In The Multiverse Of Madness will be set after the events of No Way Home while also being a sequel to 2016's Doctor Strange and the recent series WandaVision. Multiverse Of Madness will delve deeper into the Marvel Cinematic Multiverse and is rumored to have many cameos of past Marvel cinematic heroes from different studios, a long list that now includes Tobey Maguire. It's also good to note that Raimi will be directing Multiverse Of Madness.
The DisInsider Show shared a rumor in episode 70 suggesting that Tobey Maguire's Spider-Man would make an appearance in Multiverse Of Madness. While talking about Doctor Strange's upcoming sequel, DisInsider Show Editors-In-Chief Derek Cornell and Skyler Shuler revealed that Multiverse Of Madness would be a game-changer for the Marvel Cinematic Universe.
They further explained how they heard Tobey Maguire would reprise his role as Spider-Man, alongside Andrew Garfield: 
"Obviously, [Doctor Strange in the Multiverse of Madness] is going to be a f—ing game-changer. We thought No Way Home was going to be a game-changer, no, this will be the game-changer."… "Tobey Maguire will be in Doctor Strange In the Multiverse of Madness. We do not know about Andrew Garfield yet, but we can assume that he may be in the movie as well."

The DisInsider Show
Not a lot of information is known for Multiverse Of Madness except that it will continue Doctor Strange's story and explore the Marvel Cinematic Multiverse even further. That includes the upcoming Doctor Strange sequel potentially being Marvel's most important film to date, even becoming more historic than No Way Home. If the rumors are true, we could see Maguire's Spider-Man's epic return and potentially even Garfield's. Then, of course, potentially seeing Maguire and Raimi working together after many years.
DOCTOR STRANGE IN THE MULTIVERSE OF MADNESS PLOT SYNOPSIS
"The door of the multiverse, full of mystery and madness, opens.
"Now that Iron Man and Captain America have left after a fierce battle in Avengers: Endgame, former genius surgeon and the strongest magician of them all, Doctor Strange, is expected to play an active role as a central figure in the Avengers. However, using his magic to manipulate time and space at will with a forbidden spell that is considered the most dangerous has opened the door to a mysterious madness called 'the Multiverse.'
To restore a world where everything is changing, Strange seeks help from his ally Wong (Benedict Wong), the Sorcerer Supreme, and the Avengers' most powerful Scarlet Witch, Wanda (Elizabeth Olsen). But a terrible threat looms over humanity and the entire universe that no longer can be done by their power alone. Even more surprising, the greatest threat in the universe looks exactly like Doctor Strange …
"Director Sam Raimi, who has expressed a unique world view, will captivate the whole world with overwhelming scale and unprecedented visual experience that will transcend time and space!"
Doctor Strange In The Multiverse Of Madness will star Benedict Cumberbatch, Elizabeth Olsen, Chiwetel Ejiofor, Benedict Wong, Rachel McAdams, and Xochitl Gomez. The screenplay will be done by Jade Halley Bartlett and Michael Waldron. Cinematography will be done by John Mathieson. Bob Murawski will do the film's editing. Sam Raimi will serve as the film's director. Marvel Studios President Kevin Feige will produce the film. The film will premiere on May 6, 2022, exclusively in theaters worldwide.
KEEP READING: ANDREW GARFIELD AND TOBEY MAGUIRE SECRETLY SNUCK INTO SPIDER-MAN SCREENING TOGETHER
Source: The DisInsider Show