Welcome to Sony, Madame Web.
Spider-Man: No Way Home has been a monumental success for Sony and the entire theater industry as we know it. Of course, Sony is driving head-on to expand its universe of Marvel characters.
According to Deadline, The road ahead has just been made clearer as Dakota Johnson has been tapped to star as the all-powerful Spiderversal queen in Sony's upcoming live-action Madame Web movie. S.J. Clarkson will direct the film, bringing a screenplay to life by scribes, Matt Sazama and Burk Sharpless.
Who Is Madame Web?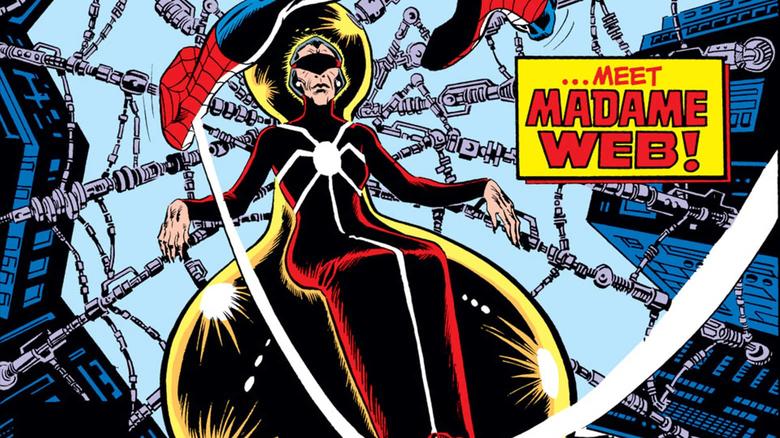 The casting may come as a surprise to many, especially for those familiar with Madame Web in the comics. Madame Web has been depicted as an elderly woman with myasthenia gravis and was subsequently connected to a life support system that just so happens to look like a spider web. Due to her age and medical condition, the original Madame Web never physically fought any villains.
RELATED: COULD VIN DIESEL APPEAR AS BLACK BOLT IN DOCTOR STRANGE IN THE MULTIVERSE OF MADNESS?
For that reason, Deadline's sources have suggested that it's possible the project could turn into something else. She is basically Sony's version of Doctor Strange due to her psychic sensory powers, according to insiders. Considering Johnson's age, it seems likely that they'll focus on the Julia Carpenter iteration of the character.
A female-driven IP in Sony's universe of Marvel characters is a major asset for them, the demand for female superheroes is higher now than ever due to the rising popularity of characters like Black Widow, Wonder Woman, Spider-Woman, and even Harley Quinn although her superhero status is debatable. Now is the perfect time for Madame Web to make a name for herself and Sony is rightfully taking advantage of this opportunity. Sony execs have taken their time in an extensive search for their Madame Web, meeting with quite a few A-listers. Over the last two months, the list has been cut down, with Johnson gaining front-runner status among big names like Jennifer Lawrence right before Christmas.
The Spider-Verse is Rising!
The entire Spider-man franchise is a golden goose for Sony, and their own little Marvel universe gets to reap the rewards. Venom: Let There Be Carnage estimated more than $500 million worldwide, while Spider-Man: No Way Home became the highest-grossing film of 2021 with $1.7 billion in worldwide sales. I can't wait to see how Madame Web stacks up.
As for Johnson, she has had a very good year starting with her acclaimed role in Netflix's The Lost Daughter. Her Sundance film Cha Cha Real Smooth sold to Apple for $15 million after premiering at the festival. She can be seen next in Persuasion.
Clarkson is currently directing and executive producing the adaptation of the bestselling novel Anatomy of a Scandal. She directed an episode of Jesse Armstrong's Emmy-winning series Succession and directed and executive produced the miniseries Collateral, starring Carey Mulligan. She was also the lead director and executive producer on Marvel's The Defenders and Jessica Jones.
Are you looking forward to seeing Madame Web in theaters? Let us know in the comments. If you like what you just read and can't wait for more, feel free to follow us on Twitter or Facebook so you don't miss more Marvel or Spider-Man-related content like this in the future!
KEEP READING: ORIGINAL VENOM DIRECTOR UNCERTAIN ABOUT RETURN FOR SPIDER-MAN CROSSOVER FILM
Source: Deadline