Catherine Zeta-Jones has been officially cast in Disney+'s National Treasure series.
Last month, we reported that Catherine Zeta-Jones was offered the role of Billie, a ruthless crypto-currency billionaire who went from rags to riches thanks to her steadfast determination which she has now focused on acquiring the Pan-American treasure. She may play by her own rules, but she knows her history and has the resources and fluid morality to get what she wants at all costs. Now Disney+ has confirmed that Zeta-Jones has accepted to join the National Treasure series!
RELATED: NATIONAL TREASURE EYES CATHERINE ZETA-JONES AS VILLAIN FOR DISNEY+ SERIES: EXCLUSIVE
Disney+ has finalized their casting of Catherine Zeta-Jones for the National Treasure series! The Academy Award and Tony Award-winning actress will be playing a series regular in the series that is expanding the popular movie franchise. The series is centered on a young woman, Jess (Lisette Alexis), who is a brilliant and resourceful DREAMer who embarks on the journey of a lifetime to uncover the Pan-American treasure and the truth about her family's mysterious past.
National Treasure Series Officially Casts Catherine Zeta-Jones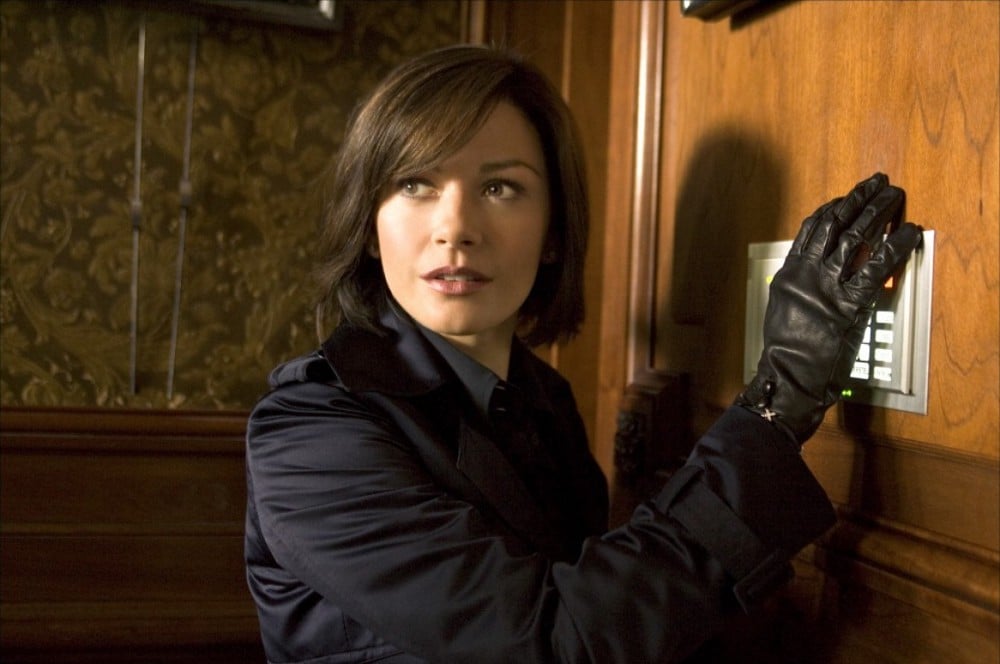 Zeta-Jones will portray Billie, a badass billionaire, black-market antiquities expert, and treasure hunter who lives by her own code. She transformed herself from a penniless orphan to a shrewd, stylish businesswoman and adventurer. Billie's used to getting what she wants—and she wants the Pan-American treasure. But not just for the money. This treasure has deeper stakes for her.

Catherine Zeta-Jones is a multi-award-winning actress whose talents range from film to theater. She garnered an Academy Award for her portrayal of the scandalous Velma Kelly, in the screen adaptation of "Chicago." Catherine was also nominated for a Golden Globe and took home the Critics' Choice Award, a Screen Actors Guild Award and the BAFTA Award for Best Supporting Actress for her performance.

She won the Tony Award for Lead Actress in a Musical for her critically acclaimed Broadway debut as Desirée Armfeldt in Stephen Sondheim's "A Little Night Music."

Her other starring roles include, Steven Soderbergh's "Ocean's 12," "Side Effects," and "Traffic," for which she earned a Golden Globe nomination for her portrayal of the wife of a drug-runner. She also starred in Steven Spielberg's "The Terminal," opposite Tom Hanks and the Coen Brothers' dark comedy "Intolerable Cruelty," opposite George Clooney. Recently she starred in the telefilm "Cocaine Godmother," based on the true-life story of the notorious drug lord, Griselda Blanco.

She first gained international recognition in the action-adventure film "The Mask of Zorro," opposite Antonio Banderas and Anthony Hopkins. She then captivated audiences in "Entrapment," opposite screen legend Sean Connery.

Zeta-Jones is repped by UTA and Ziffren Brittenham LLP.

Disney+ Official Press Release
Disney essentially confirmed what we reported but did provide a little more intrigue in Zeta-Jones' Billie. We were not aware of her other stakes in the Pan-American treasure. This is all speculation, but as it is hinted Jess's family has a connection to the Pan-American treasure, could Billie's family also have a connection? Could Billie and Jess also have a connection? A family connection? Is the real national treasure family? The series has already hooked me in, and production is just about to start.
RELATED: New Report Further Hints at 'Obi-Wan Kenobi' Releasing in May '22 on Disney+
The National Treasure series has a top-tier actress with Zeta-Jones in the cast who is sure to bring out the best of the protagonists, Lissette Alexis' Jess, Zuri Reed's Tasha, Jordan Rodrigues' Ethan, Antonio Cipriano's Oren and Jake Austin Walker's Liam. She will also likely bring out the vileness of Billie, which always makes for great content. Production is set to begin on the National Treasure series this month in Baton Rouge.
Are you excited Catherine Zeta-Jones is joining the National Treasure series? How do you think the series fits with the films? Are Jess and Billie fighting against each other only to find out they're family? Let us know what you think in the comments below or let us know what you think on Twitter.
KEEP READING: The Daily Bugle Giveaway – 1 Official Copy of The Daily Bugle from Spider-Man: No Way Home
Source: Disney Media